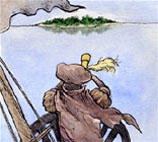 Florida has the longest winemaking history in the North America, with the first wine made here 300 years before California became a state. Since then, winemakers have planted and replanted thousands of acres of vines, ever-searching for the right ecological key. Vignerons repeatedly attempted to grow the desirable vinifera varietals, but due to the tropical climate, and most recently to Pierce's disease, they failed. During the 1930s, with the help of the University of Florida, more ecologically suitable clones of the indigenous Muscadine were developed. Next came the development of the Florida bunch varietals. Crossing traditional cluster varieties with Muscadines, researchers produced thin-skinned, disease-resistant grapes, able to grow in large clusters. Today, the bunch varietals found here are: Stover, Blanc Du Bois, Swanee and Miss Blanc. Florida's wineries are spread across the state. With a built-in tourism market and the desire to continue developing technical and vineyard practices, Florida could be a viticultural promised land.

WAWGG Banquet Explores Washington State Terrior
By
Roger King
February 2, 2014
The multiple appellations of Washington will be tasted in a unique banquet dinner at this years Washington Association of Wine Grape Growers Annual Meeting and Trade Show. Nuances of that regional diversity have been paired with the meal being prepared by Chef Dan Carr.  [>] continue

Taking Focus on Appellation
By
Clark Smith
December 9, 2013

Whitehall Lane Winery, A 20 Year Story of Vineyards
By
Roger King
July 15, 2013

Embracing Virginia's Terroir
By
Richard Leahy
June 2, 2013

Shake Ridge Ranch - Gem of the Sierra
By
Roger King
May 16, 2013

Tannat, Vibrant Across the America's
By
Barbara Trigg
May 6, 2013

Welcome Middleburg Virginia AVA
By
Roger King
January 4, 2013

Humboldt County: Is Too Much Terroir Possible?
By
Clark Smith
October 14, 2012