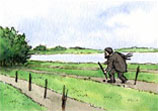 Wisconsin's first wine grapes were planted here in 1847 by the legendary Agoston Haraszthy. The site of Haraszthy's original planting is today the location of the Wollersheim Winery, the only winery making wines carrying the Lake Wisconsin AVA identity. This is Wisconsin's only official viticultural area, located in the south-central part of the state. Lake Wisconsin and the Wisconsin River form part of the appellation's boundaries, both moderating winter temperatures. Vineyards are at 800-900 feet, with south and southwest-facing slopes enjoying good water and air drainage. This results in delayed frost and a growing season of 140-160 days, two to three weeks longer than adjacent growing areas. Average annual precipitation is lower than most of the state. Deep, well-drained, gravelly and sandy loam glacial till soils also distinguish this AVA. Currently, there are a little more than 20 acres planted, primarily to the red French-American hybrid, Marechal Foch.

WAWGG Banquet Explores Washington State Terrior
By
Roger King
February 2, 2014
The multiple appellations of Washington will be tasted in a unique banquet dinner at this years Washington Association of Wine Grape Growers Annual Meeting and Trade Show. Nuances of that regional diversity have been paired with the meal being prepared by Chef Dan Carr.  [>] continue

Taking Focus on Appellation
By
Clark Smith
December 9, 2013

Whitehall Lane Winery, A 20 Year Story of Vineyards
By
Roger King
July 15, 2013

Embracing Virginia's Terroir
By
Richard Leahy
June 2, 2013

Shake Ridge Ranch - Gem of the Sierra
By
Roger King
May 16, 2013

Tannat, Vibrant Across the America's
By
Barbara Trigg
May 6, 2013

Welcome Middleburg Virginia AVA
By
Roger King
January 4, 2013

Humboldt County: Is Too Much Terroir Possible?
By
Clark Smith
October 14, 2012