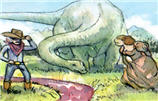 Just 45 minutes from Hollywood is a small valley whose extremes in climate and soil allow it to grow Pinot Noir and Chardonnay at the cool lower extremities and Cabernet on the higher hillside areas. Leona Valley is a long, narrow valley in the northeastern corner of Los Angeles County, about 50 miles (80 km) inland from the Pacific Ocean and north of the Los Angeles metropolitan area.

This valley is separated from the Pacific Ocean by the San Gabriel Mountains to the south and the Los Padres National Forest to the west. Portal Ridge on the northeast divides Leona Valley from the Antelope Valley. The 8,600 acre AVA includes the valley basin plus the adjacent hillsides along the edges of the valley floor as well as projecting and isolated hills. The geology of the area is very young alluvium surrounded by very old parent rock. These old rocks have weatherd to clay, which is incorporated in the alluvial soils of the valley. This clay component is releasing valuable mineral nutrients that contribute to the complexity of the wines.

The first wineries in California were established in and around the Leona Valley. Once flourishing, Prohibition shut them all down. When federal regulators came to break up the wine barrels so they could no longer be used, it was said the creeks ran red. Many old-timers in the wine industry from Napa and Sonoma still remember and speak of the Leona Valley for its outstanding wines from the pre-prohibition days, from the History of the Antelope Valley 1978. Many of the vineyards planted so long ago are still growing and producing useable grapes, that will one day go into wine production in the region, through Leona Valley Winery and other vineyards.

Bi-State Upper Hiwassee Highlands an AVA
By
Roger King
August 6, 2014
In the southern Blue Ridge Mountains of North Carolina and Georgia vineyards are small and few, yet the establishment of the Upper Hiwassee Highlands could bring much more.  [>] continue

Remote Manton Valley New California AVA
By
Roger King
July 31, 2014

WAWGG Banquet Explores Washington State Terrior
By
Roger King
February 2, 2014

Taking Focus on Appellation
By
Clark Smith
December 9, 2013

A Day in the (Rutherford) Dust
By
Barbara Trigg
August 2, 2013

Whitehall Lane Winery, A 20 Year Story of Vineyards
By
Roger King
July 15, 2013

Embracing Virginia's Terroir
By
Richard Leahy
June 2, 2013

Shake Ridge Ranch - Gem of the Sierra
By
Roger King
May 16, 2013