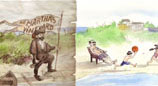 The AVA designation of Martha's Vineyard (Island) proved to be quite controversial. Objections came from the proprietors of Martha's Vineyard vineyard, the much lauded Napa Valley source for some of California's most collectible and expensive Cabernet Sauvignons. The final ruling granting AVA status came down to historical precedence, with the island's nomenclature claim dating back to 1602. And, of course, Martha's Vineyard is internationally famous as a summer resort area popular with New Englanders. As a wine growing area, part of the broader S-E New England AVA, Martha's Vineyard has natural conditions favorable to the native American varieties that are an established part of the natural ecology. With mixed results, vinifera varieties were introduced in 1971 for the purposes of commercial wine production. Despite its somewhat northern latitude, Martha's Vineyard has a growing season which is almost 3 weeks longer than mainland areas of coastal New England. Surrounded by the warm autumn waters of Vineyard and Nantucket Sounds and the Atlantic Ocean, Martha's Vineyard enjoys a prolonged ripening period late into the fall.

WAWGG Banquet Explores Washington State Terrior
By
Roger King
February 2, 2014
The multiple appellations of Washington will be tasted in a unique banquet dinner at this years Washington Association of Wine Grape Growers Annual Meeting and Trade Show. Nuances of that regional diversity have been paired with the meal being prepared by Chef Dan Carr.  [>] continue

Taking Focus on Appellation
By
Clark Smith
December 9, 2013

Whitehall Lane Winery, A 20 Year Story of Vineyards
By
Roger King
July 15, 2013

Embracing Virginia's Terroir
By
Richard Leahy
June 2, 2013

Shake Ridge Ranch - Gem of the Sierra
By
Roger King
May 16, 2013

Tannat, Vibrant Across the America's
By
Barbara Trigg
May 6, 2013

Welcome Middleburg Virginia AVA
By
Roger King
January 4, 2013

Humboldt County: Is Too Much Terroir Possible?
By
Clark Smith
October 14, 2012