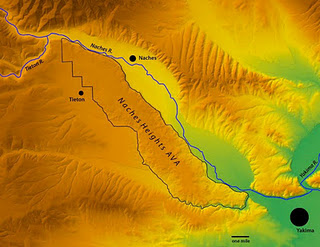 With just 37.3 acres planted at approval, 1-13-2012, Naches Heights is the smallest planted AVA in Washington state. Encompassing 13,254 acres as an AVA it has considerable room to expand plantings and 80 new acres are planned. It is estimated that 10,000 acres of the AVA are suitable for planting. Naches Heights was unaffected by the ice age floods that dominated the area some 15,000 years ago due to it's elevation and location. Ranging from 1,200 to 2,100 feet in elevation, higher than many Washington appellations, the soils continue to be wind blown and of much older orientation. Soil deposition continues to this day. Rainfall and heat are plentiful providing the needed resources to cultivate quality wine grapes.

WAWGG Banquet Explores Washington State Terrior
By
Roger King
February 2, 2014
The multiple appellations of Washington will be tasted in a unique banquet dinner at this years Washington Association of Wine Grape Growers Annual Meeting and Trade Show. Nuances of that regional diversity have been paired with the meal being prepared by Chef Dan Carr.  [>] continue

Taking Focus on Appellation
By
Clark Smith
December 9, 2013

Whitehall Lane Winery, A 20 Year Story of Vineyards
By
Roger King
July 15, 2013

Embracing Virginia's Terroir
By
Richard Leahy
June 2, 2013

Shake Ridge Ranch - Gem of the Sierra
By
Roger King
May 16, 2013

Tannat, Vibrant Across the America's
By
Barbara Trigg
May 6, 2013

Welcome Middleburg Virginia AVA
By
Roger King
January 4, 2013

Humboldt County: Is Too Much Terroir Possible?
By
Clark Smith
October 14, 2012