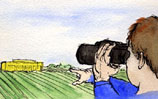 The very first license for a bonded winery in North Dakota was granted to the Pointe of View Winery by the BATF on April 17, 2002. This marked the very first time that all 50 American states have had at least one bonded winery. Operating their winery from a yellow, four-car garage, Jeff and Diana Peterson and Ken and Cindy Eggleston have enjoyed making wine together for the past 15 years for consumption by family and friends. Now they've decided to share their enthusiasm. In April, 2003, a legal amendment was signed by Governor Hoeven to promote agriculture and economic development. This allows for the establishment of commercial wineries and provides growers with an alternative cash crop. We shall see what the future holds for North Dakota and the Pointe of View Winery. As we write, there is another potential winery in the works.

WAWGG Banquet Explores Washington State Terrior
By
Roger King
February 2, 2014
The multiple appellations of Washington will be tasted in a unique banquet dinner at this years Washington Association of Wine Grape Growers Annual Meeting and Trade Show. Nuances of that regional diversity have been paired with the meal being prepared by Chef Dan Carr.  [>] continue

Taking Focus on Appellation
By
Clark Smith
December 9, 2013

Whitehall Lane Winery, A 20 Year Story of Vineyards
By
Roger King
July 15, 2013

Embracing Virginia's Terroir
By
Richard Leahy
June 2, 2013

Shake Ridge Ranch - Gem of the Sierra
By
Roger King
May 16, 2013

Tannat, Vibrant Across the America's
By
Barbara Trigg
May 6, 2013

Welcome Middleburg Virginia AVA
By
Roger King
January 4, 2013

Humboldt County: Is Too Much Terroir Possible?
By
Clark Smith
October 14, 2012