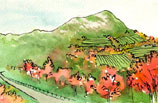 The unfortunately named Rocky Knob AVA appears to be a case of premature application. The original petitioner for the appellation, Woolwine Winery, no longer exists, but two other wineries now operate in the area. The AVA is located in a mountainous area east of the well-traveled Blue Ridge Parkway in southwest Virginia. The area was granted its AVA petition based on having a colder spring, with bloom occurring one week after the surrounding area, and high winds that reduce frost accumulation. Soils in the area are a mixture of silt loam and gravel, providing necessary drainage. Of the two wineries, only Chateau Morrissette has, on occasion, used the Rocky Knob name on some of its products. The progressive Villa Appalaccia focuses on Italian varietals, including Malvasia Bianca, Sangiovese, and Corvina for production of an Amarone-style wine. However, Villa Appalachia does not use the AVA designation, as their vineyards may or may not fall within the AVA boundary. Only time will tell if consumers will demand to see the Rocky Knob designation on products from the area.

WAWGG Banquet Explores Washington State Terrior
By
Roger King
February 2, 2014
The multiple appellations of Washington will be tasted in a unique banquet dinner at this years Washington Association of Wine Grape Growers Annual Meeting and Trade Show. Nuances of that regional diversity have been paired with the meal being prepared by Chef Dan Carr.  [>] continue

Taking Focus on Appellation
By
Clark Smith
December 9, 2013

Whitehall Lane Winery, A 20 Year Story of Vineyards
By
Roger King
July 15, 2013

Embracing Virginia's Terroir
By
Richard Leahy
June 2, 2013

Shake Ridge Ranch - Gem of the Sierra
By
Roger King
May 16, 2013

Tannat, Vibrant Across the America's
By
Barbara Trigg
May 6, 2013

Welcome Middleburg Virginia AVA
By
Roger King
January 4, 2013

Humboldt County: Is Too Much Terroir Possible?
By
Clark Smith
October 14, 2012