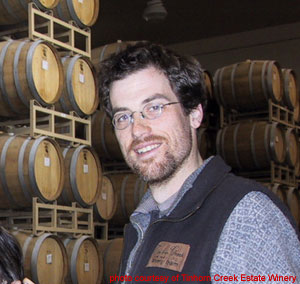 The Okanagan's new mobile bottler
''If everything currently was done in screw cap instead of cork, and someone came along and said, I've got this great new device called cork, I don't think it would ever fly.''

~ Norman Cole, Artus Bottling
by John Schreiner
March 9, 2006
---
<!>
JS:
Where did you get the idea to open up a custom bottling company?
NC:
There were three key things I looked at. You look at
California
, at Europe, at Australia and New Zealand -- a lot of wineries there rely on a service provider to do their bottling for them. California right now must have close to two dozen trucks going around, bottling for wineries. In New Zealand and Australia, it is common practice to ship your wine to a bottling plant and have it bottled there, and not at your facility. It is fairly common in Europe as well.
In the Okanagan,
Sumac Ridge
has its line on a mobile trailer – but, now that they are owned by Vincor, they are not actively pursuing the custom bottling market. With the amount of small wineries popping up, the market is growing. A lot of these small wineries need an efficient way to bottle their wine.
At Tinhorn Creek, when we switched over to screw caps for the Oldfield's Collection (a premium
Merlot
released in 2004), we had to rent a machine from California. We'd only have it for a day or two, and the cost was prohibitive.
With the wave of screw cap coming, and a lack of a way to put it on, I recognized that now is probably a great time to start this. Because if I didn't, somebody else will.
It's pretty much those three things coming together: it is done in other areas; the market here is growing; and a wave of producers are switching over to screw cap.
JS:
Where did you get your equipment?
NC:
Most bottling equipment comes from Europe. My unit is from Italy. The make I have is GAI [an Italian manufacturer of bottling lines since 1946 that now boasts its lines are in two-thirds of the world's wineries]. I put it out to tender and that's what I settled on. That's the same make I ran at Tinhorn when I ran the bottling line there. The machines didn't give me any problems so it was a good line to go with.
One of the keys for the trailer has to be size. In California, those bottling lines are on the back of 53-ft semis. But they are also servicing larger clients. They bottle at wineries that produce 40,000 to 80,000 cases a year but don't want to bother owning a bottling line. They are larger facilities, with the room and the infrastructure to support a larger bottling line -- the electricity and everything else.
Here in the Okanagan, everything is on a smaller scale. A winery that I'm bottling at might only be producing 2,000 – 3,000 cases a year. The driveway is going to be smaller. They might not have a loading dock. So everything had to be tailored to be as small as it could so I could get into and service the clients. That was one of the key considerations in choosing the equipment.
You have to do a balancing act. You want to have the ability to do what the customer needs, whether it is rinse the bottles, close it with a cork or with a screw cap. It was a bit of a balancing act to get everything to fit right into the trailer.
JS:
How long is the trailer?
NC:
Thirty-two feet long. There is 24 feet of what I call working room, where it is full height inside the trailer.
JS:
When did you start operating?
NC:
We started in June, 2005. The bottling seasons are spring and late summer. Usually in April and May it is very busy for bottling; and in August as well, when people are trying to make room in their wineries for the upcoming harvest.
One of the appealing aspects of the bottling line was that during harvest, I didn't think that many people would be looking to bottle. I thought that would give me the opportunity to make wine.
But this past year has shown me that people bottle all the time. There definitely are busy seasons but even when things slow down, they are looking for the service. People want to bottle when their wines are ready.
JS:
What's the cost of your unit?
NC:
It's worth more than my farm, and I am in Naramata right now, where land is selling for $100,000 an acre plus. [Cole has a three-acre
Pinot Noir
vineyard.]
Wineries decide to use a customer bottler so they don't have to tie up capital in equipment they are only going to use a few days a year.
You can get by with bottling manually, where you have to put the bottles by hand onto a four-spout filler, take them off, put them through a corker, put them back in the box, and then go back later to label them. But you get more chance for oxygen pickup and because you are handling the bottles by hand, you have increased risk of contamination and refermentation. And manual bottling is also inefficient.
People don't necessarily want to have to know how to run a bottling line. They are happy to have me come in, set up, and bottle their wine. They don't have to worry whether the machine is running. They don't have to worry that the wine is going into the bottle properly and not getting any oxygen pick up.
The bottles come back out of the trailer filled, closed, labelled, capsuled. They go back into the box and that's it. They don't have to worry about it any more.
If you take a bottling line equivalent to mine, which is what a small winery would buy -- if they had everything they need to run it, and looking at the real estate it takes in the winery and the value of the labour you'd need to run it -- if you are at 10,000 to 15,000 cases a year, the cost works out to $7 a case.
When you talk to potential clients, they say they can buy semi-automatic fillers for $40,000. [I say] what about the labeller you need afterwards? What about the boiler you need to sanitize it? When you piece it all together and look at the whole picture, it's a different story.
JS:
What do you charge for filling?
NC:
My standard rate is $3.25 a case for cork-closed and $3.50 for screw cap closed bottles. That includes rinsing, sparging with inert gas to minimize oxygen pickup, filling, closing, capsules, labels, right back into the box. Along with that, I also pull up with two staff members as well as myself. A lot of small wineries see value in that. Everything I do is geared to make bottling less stressful and hectic for the clients.
JS:
How quickly are screw caps being embraced?
NC:
Last year from June to December, about five percent of my production was screw cap. To date this year, so far over forty percent of the wine I have bottled has gone into screw cap.
The reason is, when my line started up it gave people a viable method for choosing screw caps. A lot of producers that ordered corks last year want to do screw cap this year.
JS:
Why is there a higher charge for screw cap filling?
NC:
One of the largest reasons is there is a lot more to running the machine: making sure the cap is put on right. There is a lot of testing equipment to make sure the threads are formed right, that the liner is pressed down and compressed enough.
Bottling with cor