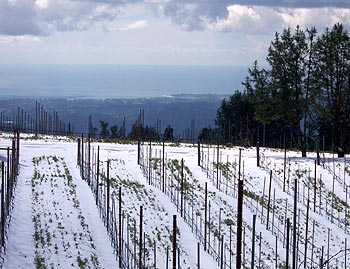 Snow in The Santa Cruz Mountains
The unusual late winter weather that has been affecting much of Northern California in 2006, sees another vineyard area blanketed in snow.
by Laura Ness
March 16, 2006
---
It's rare that we get snow of any measurable quantity in the
Santa Cruz Mountains
. Even more rare when you get several days of consecutive snow! However, the record cold late winter storm that brought snow levels down to sea level, dropped upwards of 4 inches at a time in the Summit area of the Santa Cruz Mountains.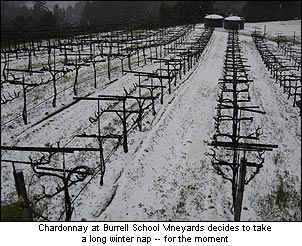 Winemakers actually welcome this break from the unusual early balminess, and dryness, of February. There was virtually no precipitation in the appellation for the entire month of February, until the very last day of the month. Then, the weather turned wet. And on March 10, it turned downright snowy.
For the record, the
Chardonnay
vines up here were thinking about budding during the amazing warm spell we had in February, but with the arrival of serious winter, they have thankfully changed their minds. With any luck, the remaining weeks of winter will be more moderate. The good news is that from a precipitation perspective, the rainfall has, to date, been pretty much right on target for this rainy season. This area of the Santa Cruz Mountains typically gets upwards of 40 to 50" of rain per year. The Lexington Reservoir looks plenty swollen!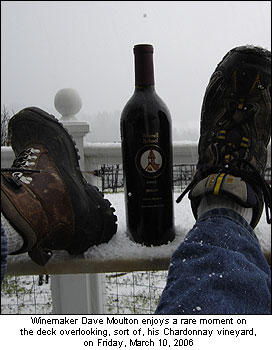 Vineyards are beautiful at any time of year, but with a wintery blanket, they're even more charming. Many thanks to Dave Moulton, owner/winemaker at
Burrell School Vineyards
, and to Mary Lindsay, of
Silver Mountain Winery
, both in the Summit area of the Santa Cruz Mountains, who provided us these great pictures taken on Friday and Saturday, March 10 and 11, 2006.
~ Laura Ness, Santa Cruz Mountains Editor
To comment on Laura Ness's writings and thoughts, contact her at
l.ness@appellationamerica.com