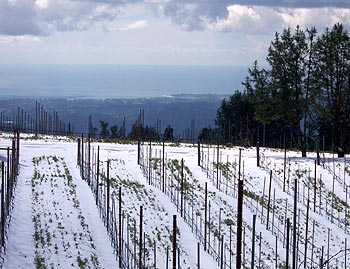 Snow in The Santa Cruz Mountains
The unusual late winter weather that has been affecting much of Northern California in 2006, sees another vineyard area blanketed in snow.
by Laura Ness
March 16, 2006
---
It's rare that we get snow of any measurable quantity in the
Santa Cruz Mountains
. Even more rare when you get several days of consecutive snow! However, the record cold late winter storm that brought snow levels down to sea level, dropped upwards of 4 inches at a time in the Summit area of the Santa Cruz Mountains.