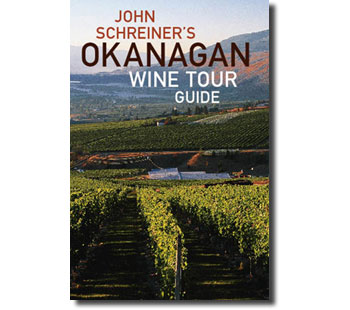 John Schreiner's latest book to be released this month
by Adam Dial
April 6, 2006
---
We are excited to announce that
John Schreiner
, AppellationAmerica's Regional Editor for British Columbia, has completed his 10th wine book.
John Schreiner's Okanagan Wine Tour Guide
, is being released in April, 2006, by Whitecap Books of North Vancouver.<!>
A compact 248-page paperback for $19.95, the book offers concise profiles of 94 wineries that are open or being developed in the
Okanagan
and
Similkameen
Valleys. It provides contact information for another five that have emerged in these booming wine regions since the manuscript was completed earlier in the year. That makes this most up-to-date resource available for wine touring in the British Columbia interior.
Schreiner brings fresh insights and details that take readers beyond his two recent Whitecap bestsellers,
British Columbia Wine County
(2003) and
The Wineries of British Columbia
(2004). The text provides thumbnail sketches and telling anecdotes about winery principals. It points readers toward recommended wines and provides the required contact information, including wine shop hours, needed for wine touring. A quick guide at the front of the book groups wineries by regions for the most effective touring. The book is liberally illustrated with photographs and includes a winery map.
More than 20 new wineries are profiled. Among them:
Twisted Tree Winery
in Osoyoos, the first to plant a rarely seen red variety called
Tannat
;
Van Westen Vineyards
of Naramata, where all wine names begin with V; and
Tantalus Vineyards
of Kelowna, the rebirth of Pinot Reach Cellars.
The book also includes a glossary of useful wine terms and detailed tables drawn from a recent vineyard census.
For more information: contact John Schreiner by phone at 604-980-5964, or by email at
j.schreiner@appellationamerica.com