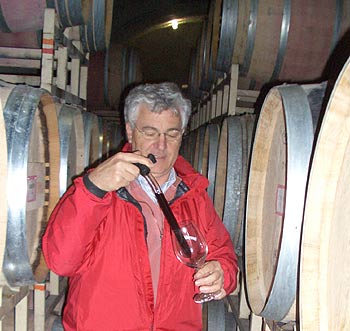 Joe Cafaro: The Winemaker's winemaker now has more control
After years as the man behind the wines of countless others, Joe Cafaro is now content to connect with his very own piece of the Napa Valley
by Alan Goldfarb
April 24, 2006
---
Heretofore, Joe Cafaro had been the man in the middle. From the beginning, in 1969, first at
Charles Krug
(until '71), then putting in winemaking stints at a gaggle of places such as
Chappellet
('71-'77),
Robert Keenan
('77-'83),
Acacia
('83-'84),
Robert Sinskey
('85-'91) and consulting at
Jaeger Vineyards
,
Oakville Ranch
,
Dalla Valle
,
Graeser
,
Lewis Cellars
and
Emilio's Terrace
for the last 16 years to the present, Cafaro seemed to be a man without a center. Even now, with his own vineyards for the last 10 years, the unassuming Cafaro finds himself in a sort of no man's land.<!>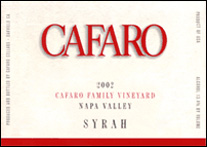 The 15 acres that he planted in '96 sits on a rise that looks down on the
Stags Leap District
vineyard that the
Shafer
winery uses for its "Relentless"
Syrah
. Cafaro's own Syrah,
Merlot
and
Cabernet
parcel's northern property line is the southern boundary for Stags Leap. And within eyeshot, Cafaro's land is so close to the
Napa Valley
's newest AVA,
Oak Knoll District of Napa Valley
, that in the event of an earthquake, the vines could be inched into that appellation.
Cafaro Cellars
turns out 3,000 cases a year of Merlot and Cab and Syrah, each with the designation of Napa Valley on the front label instead of that of another sub-region which in the end, suits him just fine.
While it's true that "Napa Valley" at this point carries much more cachet than say an Oak Knoll designation, the 59-year-old Cafaro isn't about to put up a fuss, nor will he ever seek to better define what it is that he does.
While he recently hired, for the first time, a publicist to try and get his name out to the consumer, Cafaro rests easily knowing that for the first time in his 37-year career he's totally in control of his destiny.
While he also seems flattered that those inside the industry regard him as a "winemaker's winemaker," he knows that sobriquet like that given to the late singer Mel Torme as a "singer's singer," can be construed as: He's great, but he's not the most well-known.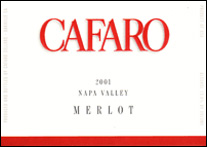 "I'm not a self-promoter. I tend to stay in the background," Cafaro, who's been making wine under his own name for 20 years, tells me as we drive around his property. "(But) I'm trying to expand on that a bit because my sales need it."
But suddenly, he catches himself and concludes, "What my plan is – this is it. I'm not expanding. If I can expand to 4,000 cases …"
While he's toiled for so many others, the idea of having his own winery facility isn't in the offing. He seems to be satisfied making his wines at
Miner Family Vineyards
a few miles up the Silverado Trail in
Oakville
, and storing it in a darkened tributary of its caves.
"To build a winery today in the Napa Valley, you need to be around 30,000 cases," he says. "… It doesn't make economic sense. Life doesn't mean getting bigger and bigger and bigger."
Nor does he plan to purchase any more land. He explains that he subsidizes his income by selling about three tons a year of the Merlot, Cab, and Syrah fruit to his neighbors at Shafer.
The parcel he has been working for the last decade has thin soils with 18- to 30-inch depths, with fractured, loose rock, loam and a bit of clay. He was told the piece – which hadn't previously been planted to grapes – wasn't worth anything when he bought it.
"They (the owners) were allergic to poison oak – and they never walked the property," he tells me with a hearty laugh.
Piña Farms, one of the more high profile vineyard management companies in the Napa Valley, oversees the vineyard, but Cafaro insists on working it himself, too.
"I've graduated from a shovel to a tractor," he says proudly.
Which means, that in the final accounting, the vineyard is all Joe Cafaro.
"It's really a blast having your own vineyard," he declares. "It's the little things that I can do that don't cost much – thinning, watering.
"You try to balance a knife edge (with) vigor and crop load. You don't want to create too much stress because you'll get plumy, prune-y (fruit). You want the plant happy, but you don't want it too happy."
So then what does the terroir, his own terroir as it turns out, have to do with the wine in his bottles?
"It's a hillside, so it's always about concentration of flavors, but not necessarily overwhelming," he explains, as if a metaphor for his own self-effacing personality. "You want bright and ripe fruit without being over the top.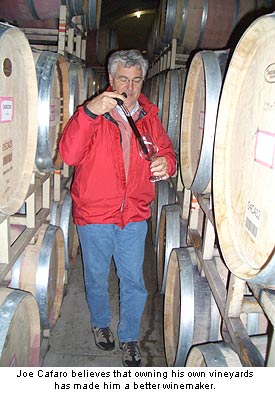 "I've always worked with the vineyards. The vineyard/winemaking philosophy is all related. You can't make good wine without knowing the vineyards."
And that brings us back to Cafaro's own vineyard, which seems to have finally defined him as a winemaker after nearly four decades.
"Since I've had my own vineyards, I've become a better winemaker," he proclaims without a hint of self-aggrandizement. "It's like being a dictator, almost god-like. I have absolute control -- short of Mother Nature. I also have consistency in style from vintage to vintage."
Cafaro says that he used to purchase fruit from different AVAs "that gave me the layers I was looking for. Now that I have my own vineyard, I have to use different techniques. Now I'm using different varieties to add layers.
"My style isn't different, but my approach is … This is a different approach."
But it's not a diffe