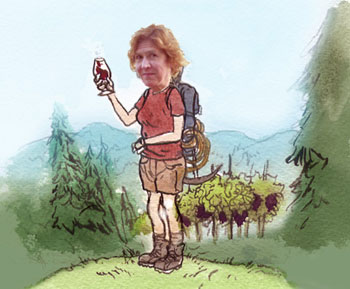 Santa Cruz Mountains: there's a lot going on in them hills
A recent trade tasting reveals that from Pinot to Mataro, sparkling to distilled, the Santa Cruz Mountains appellation has something for just about everyone.
by Laura Ness
May 5, 2006
---
There's a lot shaking in the
Santa Cruz Mountains
besides
Pinot
these days. This was evident at a trade tasting held in Palo Alto early last month. Although the sheer volume of Pinots could have kept fans busy swirling and sniffing for hours, the event showcased a diverse range of wines from brand new and venerated wineries alike<!>, helping to attract a diehard cadre of trade buyers. The event was a welcome relief from the persistent showers and accompanying misery that has relentlessly plagued much of California for what seems like months.
There were at least 200 wines from 60 winemakers at this event, which provided lots to choose from, and plenty to ignore. Among those that caught my attention were a number of wines from well established Santa Cruz wineries such as
Ahlgren Vineyard
,
Storrs
,
Clos Tita
,
Burrell School
,
Muccigrosso
,
Silver Mountain Vineyards
and
Bargetto
.
Despite, the variety of wines offered at the event, Pinot Noir still accounted for a disproportionate share of the Santa Cruz Mountain wines that inspired me to write notes.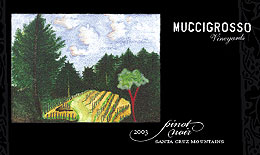 Amongst the wines that drew my attention was the
2003 Muccigrosso Pinot Noir
. It is a thing of beauty. The wine opens with a graceful and charming Pinot nose with aromas of sweet raspberries. It looks and tastes like raspberry velvet, with sumptuously juicy ripe white peaches and dripping sweet plums. This gorgeous wine ($378/case from the winery) has delightful touches of cinnamon and nutmeg, with nicely balanced acids and soft tannins. This wine proved to be another stellar effort by winemaker Jacob Kaufman. But this should come as no surprise, since Jacob Kaufman, winemaker at Muccigrosso, knows a few things about sourcing great fruit. The demise of many grape grower contracts due to the internal tsunami that shook
David Bruce Winery
earlier this century, became the inspiration for many of the finer wines we now can enjoy throughout the appellation, thanks to Jacob' six years at David Bruce, where he developed many relationships with growers, and a respect for their viticultural practices. So, as they say, when one door closes, another door opens. Muccigrosso has snagged several of these contracts to create a refreshingly win-win situation, perhaps all too rare in this increasingly competitive industry. Kaufman takes the carefully nurtured fruit and beautifully showcases it in these masterfully crafted wines. It's as though a graceful wood nymph has been ever so tastefully veiled in gossamer. Light touch is the watchword here.
Speaking of the David Bruce influence, Silver Mountain Vineyard's winemaker/owner Jerold O'Brien turns out some righteous estate
Chardonnay
and a rafter of fine Pinots, with some consulting help from 'Pinot Star' Tony Craig, presently at
Savannah-Chanelle
, and who also has his own
Sonnet Wine Cellars
label. For those who don't know, Tony was the spruce behind the Bruce: that is, he was the magic ingredient that made David Bruce wines so special for all the times they were special. He has been at Savannah-Chanelle for a few years now, and has not only brought those wines up to exemplary status, but has also achieved greatness for Silver Mountain and Sonnet. I was particularly impressed by two of Silver Mountain's Pinots. One sourced fruits from Monterey's
Santa Lucia Highlands
, and the other a
2003 Silver Mountain Vineyards, Miller Hill Pinot Noir
($36 bottle, available from the winery), sourced from the Santa Cruz Mountains AVA. Yo!! The nose of this wine goes right to your baking spice sweet spot, with aromas of ginger and nutmeg, ripe plum and cedar. And then, it will waft into a forest floor with dark cola notes. And that's just the nose! On the palate, wonderful flavors of dark plum, mission figs and elderberry, with a perfect balance of acid, tannin and cardamom plus baking spice, and a good deal of sweet oak. This is a nicely interwoven wine that will work perfectly with spicy New Mexican pork, green chili and jalapeno chicken, and orange-chipotle duck dishes.
Other Pinot Noirs that had my nose on high alert included:
2003 Clos Tita, Santa Cruz Mountains Estate Pinot Noir
($36). This wine exhibits a rich, Burgundian nose of sweet, rich earth, gorgeously rich dried cherries and plums, with a most intriguing hint of cedar. Aged in 75% new French oak for two years, this wine is ever so "almost ready," but so worthy of another year of patient aging. OK, go ahead and drink it now, but before you do, pour the wine into a lovely wide-bottomed decanter, accompany it with a rack of lamb covered in rosemary and juniper, and served with a spicy currant and dried apricot chutney, and finally complete the meal with a warm spinach and feta salad, drenched with balsamic, olive oil and toasted garlic.
The
2002 Burrell School Vineyards, Santa Cruz Mountains Pinot Noir – Reserve, "Principal's Choice"
($42) proved to be a wonderfully woven blend of three different, but similar, vineyards in the Santa Cruz Mountains. This bold but elegant Pinot makes a statement. It declares its Burgundian allegiance with bright, aggressive cherry, plum and elderberry flavors, framed by dark licorice, sandalwood and baking spices on the finish. This wine will simply not give up. To use the word "finish" would be premature, as it persists, in a very welcome way, long, long after most Pinots would have put on their coats, hats and gloves, and made their way to the waiting limo.
A pleasant surprise was the
2004 Bargetto, Santa Cruz Mountains Pinot Noir
($24). Bargetto usually has lots of wines to offer, some not particularly distinctive, but is making some more interesting wines of late. This wine has a pretty Pinot nose with cherries and anise, then peaches and good acid on the palate. A blend of three clones of Pinot Noir: Dijon, Pommard and Martini. The grapes were grown at Regan Estate Vineyards above Corralitos. This wine is soft, light and ready to enjoy now: a good value.
Thankfully the event wasn't all about Pinot Noir. In fact some venerable old veterans such as Ahlgren Vineyard showcased some stylish wines crafted from Bordeaux varietals. Valerie and Dexter Ahlgren are institutions in this area. Their eclectic home and vineyard, established in 1976 outside of Boulder Creek, are for sale. For those who fantasize about owning a charming, solar-friendly and secluded mountainside vineyard property in an area where irrigation is never an issue, this is the opportunity of a lifetime. The lucky buyer will perhaps inherit some gems including the
2000 Ahlgren Vineyard, Bates Ranch

Print this article  |  Email this article  |  More about Santa Cruz Mountains  |  More from Laura Ness