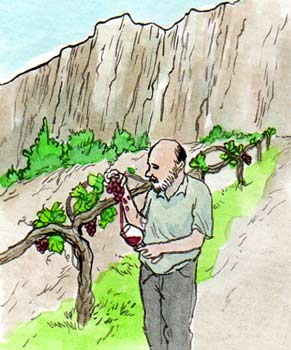 Stags Leap District ~ Napa Valley (AVA)
Doug Fletcher coaxing the natural terroir out of the Stags Leap District
"Is there a real regional character? I would say there is, but it's often colored by all the characteristics of growing grapes and making wine."

~ Doug Fletcher
by Alan Goldfarb
August 25, 2006
---
Alan Goldfarb (AG):
In all the years I've known you, you seem to be a fount of knowledge about the Stags Leap District (SLD).
Douglas Fletcher (DF):
(Laughing). I do what I can.
AG:
I know you've been asked this before, but is there a real possibility that SLD wines display a difference or distinctiveness compared to other Napa Valley wines?
DF:
I think they do. Typically, SLD fruit tends to have a very forward fruit character. It tends toward blackberry, mulberry, and other berry flavors. Everybody would say that about Cabernet. The distinguishing characteristic of our wines is that they tend to have soft tannins along with those flavors. People are always surprised at how drinkable the wines are right out of the barrel. Our SLD wines tend to be smoother, with more integrated tannin. At Chimney Rock, that's the hallmark as well.
AG:
Is that description a manifestation of terroir and/or winemaking?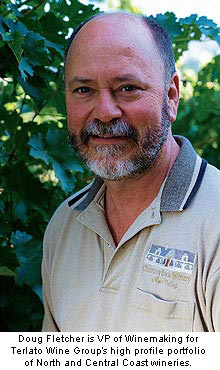 DF:
To me, it's clearly in the fruit. I think it's actually easier to distinguish SLD fruit as fruit rather than as wine. It gets muddled a bit by winemaking. What causes that I don't know. In a blind tasting, it's easier to pick out our SLD fruit than the wine.
But I don't know what terroir means. There are a lot of different soil types in the district. It (terroir) must be more weather related than soil related.
AG:
When you say you don't know what terroir means, do you mean that literally, or are you saying that because you know how amorphous the term can be?
DF:
It's a catch-all phrase and everybody seems to know what it means. "What makes a wine taste like this?" The answer is always terroir. In many cases, when I visit vineyards, the wines are out of balance. Is there a real regional character? I would say there is, but it's often colored by all the characteristics of growing grapes and making wine.
AG:
Even in France and Italy?
DF:
Of course. It's gotten even more confused by the biodynamic crowd. They think it helps bring out the terroir of the wine. Bull.
If you want a hypothesis, I have one, but I can't prove it. SLD is far enough down the valley that it would seem to be too cool for
Cabernet
in general, as compared to Yountville. But it isn't necessarily too cool.
Why is it not cool here? It's the rock outcroppings (the palisades) – they absorb heat and then reradiate out at night. It tends to be warmer in the evening and slightly cooler in the day. The temperature is closer to
Rutherford
than to Yountville.
(But) it's not the same (as Rutherford). The actual temperatures in the day and evening are different. SLD is warmer at night and cooler during the day. Is that what makes SLD unique? I don't know. It's the same for every appellation in the world. And if anyone tells you different, they're lying. If you go to Bordeaux, they give you a hand-waving argument, nothing based on fact.
AG:
That brings us to what your website calls "micro-terroir" in your vineyard.
DF:
We have lots of different soil types, but I wouldn't call it micro-terroir. On the valley floor, we have rich soils so the vines will have more leaf area. If we spread that leaf area out, then each individual cane will only grow as long as you want it to.
It's the reverse of what you hear all the time. The conventional wisdom is that you plant closer together on rich sites to get root competition. I'm sorry, I don't think that works. We do the reverse. We plant them further apart (12-feet). The whole concept of balance is to balance the leaf area to the water potential of the root system.
On rocky hillside soil, roots won't be able to collect much water so the top of plant has to be small, so those plants are planted close together because the leaf area is not very big.
By doing that, we've minimized the soil as a component of terroir. So terroir then becomes more about the little regional climate that the grapes grow in.
AG:
Explain further your "balanced vine" method.
DF:
By using this technique, you can at least try to standardize viticulture that allows regional character. It recognizes that if soil types are different, the vines will have more or less vigor depending on the soil. Vigor is the direct result of soil types. Heavy loam makes vines more vigorous than does rocky soils.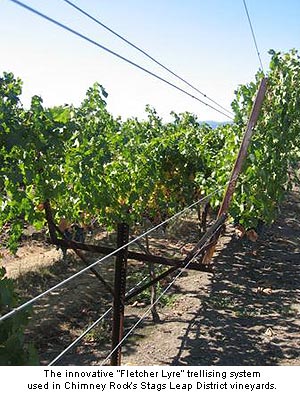 The same result for both types of soil is what we're aiming at.
The reason I think terroir is related more to the weather than the soil type is this: If I grow the most perfect vine in Lodi, it doesn't taste like SLD.
AG:
Could you explain further the "Fletcher Lyre" trellis system?
DF:
We use it on the richer soil types. It's an approach that is architecture for the leaf area.
AG:
How is it different from other lyre systems?
DF:
It's tilted to take into account the latitude of the vineyard. You measure the angle from the top of the vertical shoot position (VSP) to the fruit zone in the next row over. You get a certain number. If you take a lyre trellis system and measure the same thing, you get a different number.
It makes the (Fletcher) lyre system equivalent to the VSP. By raising the angle of the lyre up, I make it equivalent to a six-foot row VSP.
You might ask, why not do a VSP that is six-feet apart? By having rows 12-feet apart (as with the Fletcher system), you can use a normal tractor, you minimize trips back and forth – and it's cheaper.
---
In an article by Doug Fletcher, called 'Creating Balanced Vines', he sums up the virtues of his approach by saying:
" It works with, rather than against, nature. It utilizes the essential traits that all vines possess to create healthier, more flavorful grapes. My experience has shown that the concepts laid out in the 'Balanced Vine Theory' work. I am convinced it is why our current wines are purer and more complex than they ever have been."
---
~ Alan Goldfarb, Napa Valley Regional Correspondent
To comment on Alan Goldfarb's writings and thoughts, contact him at
a.goldfarb@appellationamerica.com