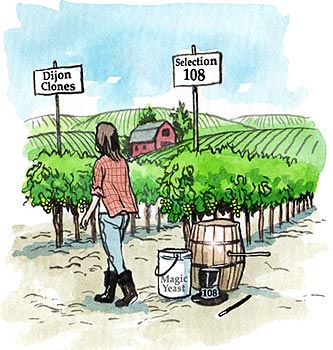 The Oregon Chardonnay Alliance Makes a Case for Willamette Valley Chardonnay
"Anyone who tastes the current wines (from Dijon clones) who knew the Oregon Chardonnays before – they are blown away!"


~ Eric Hamacher, Hamacher Wines
by Rebecca Murphy
August 18, 2006
---
Oregon
's Willamette Valley is
Pinot Noir
country. In fact, many have called
Willamette Valley
the Burgundy of the U.S. So, if Burgundy can successfully grow Pinot Noir and
Chardonnay
side by side, why isn't the Willamette Valley also considered Chardonnay country? Why has Oregon's Chardonnay acreage declined from 1,512 to 842 in the last decade? Nearly half of that decrease – 405 acres – occurred in the Willamette Valley.<!>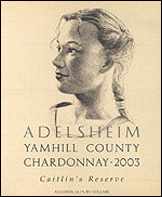 For David Adelsheim of
Adelsheim Vineyards
, an educational tour to Burgundy in 1974 brought an "Ah ha!" moment that helped explain this puzzle. At that time in Oregon, Chardonnay ripened about two weeks later than Pinot Noir, but in Burgundy, Adelsheim noticed that Pinot Noir and Chardonnay ripened at about the same time. The difference was in the clonal selections of Chardonnay.
Among the vine cuttings brought to Oregon from
California
by many of Oregon's post-Prohibition wine pioneers in the 1960s were Chardonnay clones UCD 4 and UCD 5 which are collectively known as "Selection 108." This is a grape well suited to California, but it seldom fully ripened in the Willamette Valley. Rollin Soles of
Argyle
explained that they started with Chardonnay in 1987, which was a very warm year. After producing 1000 cases of wine, which were warmly received by the public, it was a natural decision to continue making Chardonnay.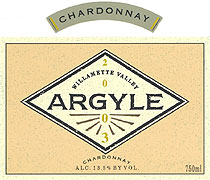 Despite this initial success with Selection 108, Soles realized that the type of Chardonnay vine that most wineries and growers started with was just not suited to the Willamette Valley. He noted that many Oregon growers abandoned Chardonnay because it is more difficult to make a cutting-edge Chardonnay. "You have to get the flavors right in the vineyard. Then you have to handle the fruit carefully in the winery. Also, competition in the Chardonnay category is strong."
From his Burgundian trip, Adelsheim recognized the need for more suitable Chardonnay clones for the Willamette Valley. He encouraged Oregon State University (OSU) to set up a program to allow the importation and evaluation of Burgundian grape cuttings, though the first vines to go through this program were not the clones Adelsheim had observed in Burgundy. For the important first clones, Adelsheim wanted to use clones that were developed by Raymond Bernard, a scientist in the Dijon office of the French Ministry of Agriculture. Bernard was working on finding Chardonnay clones that did not carry the destructive fanleaf virus.
Adelsheim first enlisted the assistance of David Heatherbell, Professor of Enology at Oregon State University. "Heatherbell came to OSU from New Zealand," said Adelsheim. "On the way he stopped in Burgundy where he met Bernard and convinced him to send Chardonnay and Pinot Noir clones to OSU." In 1984, Bernard was invited to speak at the Cool Climate Symposium in Corvalis, Oregon and was able to see how the clones he had sent were doing in Oregon. "He took us under his wing and encouraged us to plant them," said Adelsheim.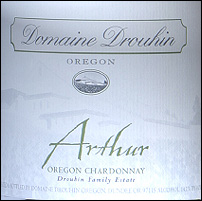 From 1983 through 1988 the Burgundian clones were grown and tested at OSU. The first four clones imported were 75, 76, 96, and 98. On a return trip to France in 1988, Adelsheim arranged to import an additional three clones: 77, 95 and 277. Lab technicians at OSU nicknamed them the "Dijon clones" after the return address on the shipping container, and they are known by that name on the West Coast to this day.
In the late '80s and early '90s in Willamette Valley, some vintners, such as Susan Sokol Blosser at
Sokol Blosser Winery
, chose to rip out Chardonnay for good. Others, like Soles, began moving enthusiastically from Selection 108 to the Dijon clones, although he still uses 108 for its crisp acidity in his sparkling wines. Still others like Véronique Drouhin at
Domaine Drouhin
Oregon began their plantings with Dijon clones.
"When we first came to Oregon in 1987, we carefully researched the possibilities for both Pinot Noir and Chardonnay," says winemaker Véronique Drouhin. "Since our Pinots seemed to adapt well, we tried the same clones and rootstock we use in Burgundy for our Chardonnay. The classic grape of white Burgundies is extremely well suited to our Oregon estate site and we are very happy with the results."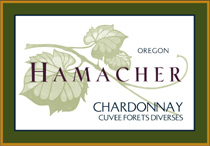 Eric Hamacher of
Hamacher Wines
said, "In 1995 I made a Chard with 108. I cut back to one cluster per shoot, then cut the shoulders off the bunches, then cut the remaining cluster in half and the tonnage was still on a par with that of the Dijon clones, yet the flavors of the 108 wine were still weak." He continued, "Coming from California, I was young and probably arrogant. I thought these guys just don't know how to make Chard. This was a pretty humbling experience."
"Anyone who tastes the current wines (from Dijon clones) who knew the Oregon Chardonnays before – they are blown away! It shows the importance of clonal difference in what we are working with now. You could explain it by saying the industry has become more professional, that we have better viticultural practices, but that is still secondary to getting the right plant material."
Making wine from the Dijon clones is a different experience than making wine from Selection 108. Since 108 grapes were never quite ripe, winemakers used all their tricks to add flavor to the wine. Luisa Ponzi, winemaker for
Ponzi Vineyards
said, "We don't need to do so much with the new clones …[we] don't have to be so involved. The fruit is already there. We don't need heavy oak tricks or lees stirring. I back off new oak. We use all wild yeast, wild ML. It is much more hands off. Whole cluster press adds texture. We use less new barrel. We keep the wine in barrel for 18 months. It helps the wine to age. The last 6 months develops the mid palate and a creamy texture. With the 108, we put in new oak then bottled it."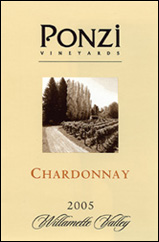 Soles agreed, "In the cellar you have to be light handed, not so aggressive. No big butter. No big time oak. We allow the vineyard to express the mineral and the fruit. If you take the mineral expression of Old World
Print this article  |  Email this article  |  More about Willamette Valley  |  More from Rebecca Murphy