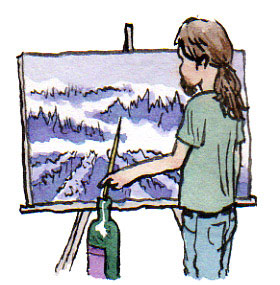 What Are They Growing in the Mountains?: An Interview with Jeff Emery
"I can see the need for sub-appellations within the Santa Cruz Mountains. Ben Lomond Mountain was set up many years ago and I thought that would be the start of many more such sub-appellations."
by Laura Ness
October 3, 2006
---
<!>
Laura Ness (LN):
What are the greatest challenges to wine grape growing in the Santa Cruz Mountains appellation?
Jeff Emery (JE):
The obvious challenges are the terrain, poorer soils and steeper sites, and the coastal influence makes mildew control a much bigger issue than it is in many other regions. You can add to that the situations which occur because our vineyards are usually surrounded by forests. For instance, there is a higher incidence of Pierce's disease and we have a huge problem with birds wanting to eat all of our crops.
LN:
What practices have people adopted that are improving the quality of fruit?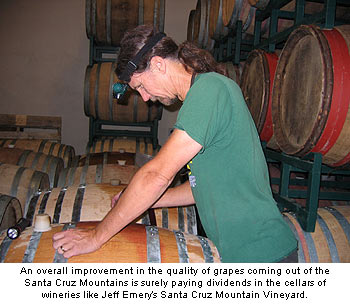 JE:
I've seen a great improvement in the quality of the fruit grown during the three decades that I've been involved in this area. The most effective "bang for the buck" technique which I've seen is simple leaf removal. Getting more sun into the fruit zone and onto the fruit on the vines has made a huge difference in this relatively cool climate grape growing region. Modern trellis arrangements, which are usually vertical canopies in this region, have made a big difference, primarily by making it easier to get the sun into the canopy of the vines.
LN:
Were you part of the move to define this appellation?
JE:
I can't say I had any direct input in the process of defining this appellation. I do think it is hugely significant that the Santa Cruz Mountains appellation was the first American AVA to be defined on climatic and geographical criteria, which is more like the European system. Prior to this appellation, the regions could simply be political boundaries. For instance, Napa Valley is Napa County. The boundaries are not defined by where it is best to grow grapes and where it isn't.
The size and varied micro-climates are both the blessing and the curse of this appellation. It spans three counties, two major geologic tectonic plates, contains great ranges in both elevation and the degree to which the ocean influence is a factor. Yet at the same time I would definitely say there is a Santa Cruz Mountains appellation style. But it's hard to put that into a catchy one or two sentence statement so we have had an identity crisis over the years.
LN:
Do you think the region would benefit from having smaller micro-appellations to account for climate and topography differences?
JE:
I can see the need for sub-appellations within the Santa Cruz Mountains.
Ben Lomond Mountain
was set up many years ago and I thought that would be the start of many more such sub-appellations. But the nature of the process to approve a new appellation is so time-consuming that it takes a few people willing to put in a lot of time and effort to run it through the process. I could make a case for having a Woodside area region, definitely a Corralitos region, a Saratoga hills region, a Summit region: all of these and more would make sense and would be appropriate in my opinion.
LN:
Do you see any movement by the wineries in these regions to sub-divide the appellation?
JE:
I don't see any serious interest in subdividing the appellation right now. However, I think it would give consumers more handles to hold onto. It would help communicate the characteristics of each area more clearly. I think in the long run, it would help the region.
LN:
How so?
JE:
It would provide augmentation of the region. And it would refine the appellation, subdividing it by more by individual terroir, much like France.
LN:
Let's take a closer look at the areas you mentioned. Woodside has some real steepness and an intense marine influence on the West side, but some nice warm toasty spots facing east. Saratoga tends to be much warmer and less fog-affected overall, and Corralitos has a cooler, decidedly Pinot-friendly climate, although they also grow Cabernet Sauvignon there with some success. Talk more about the varietals that do best in each and their characteristics.
JE:
Take Cabernet Sauvignon. In the Woodside area, Cabernet tends to be chalky, earthy – a lot like "
Rutherford
dust" – and it is very dark and chocolatey. Down in the southern part of the appellation, along Redwood Retreat Road, you have Bates Ranch and Harvest Moon (now Martin Ranch). The Cabernet there tends to be more berry-focused. The emphasis is on blackberry fruit. Cab from the Saratoga Hills area, like Mt. Eden, for example, tends to be somewhere in between: it has the earthiness, the chocolate and the berries. I'd say that's fairly typical of
Kathryn Kennedy
Cabs (also in Saratoga Hills) as well.
LN:
Are there areas of the appellation that are more prone to lack of ripeness issues for Cab?
JE:
Certainly Cabernet in Portola Valley and down in the Redwood Retreat area are really going to experience problems with an early fall.
LN:
Presumably Cabernet Franc would work, especially in the cooler areas. Would you say this is a region that grows it well and what are your experiences with it?
JE:
Cooper-Garrod
Cabernet Franc is classic. I just opened a 1985 Congress Springs (from the same area as Cooper-Garrod), which is now known as
Savannah-Chanelle
, and it was awesome! Bates Ranch (in the Corralitos area) has about one acre from which we made some Franc in the early 90s that did quite well. I think Cabernet Franc is a natural here.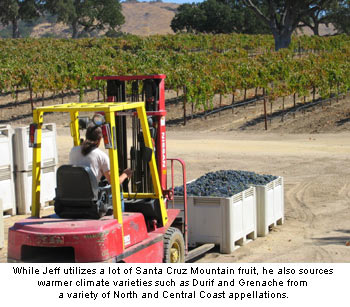 LN:
You've been something of a legend for your Durif/Petite Sirah, but I know you have been using fruit from Paso Robles and Mendocino for quite some time now. Is anyone still growing Petite Sirah in the Santa Cruz Mountains? Is it viable in this lofty environ?
JE:
I got a tiny bit of Petite Sirah from Jay Shepherd off Pierce road (near Mt. Eden) last year. Our main source for Durif was
McDowell Valley
up in
Mendocino
(i.e. Redwood