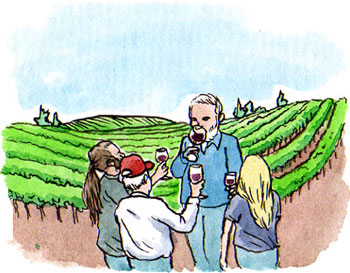 Papa Pinot Reflects on 40 Years of Willamette Valley Pinot Noir
"Oregon is not a good place for the huge, corporate-conglomerate wineries... The climate here limits crop sizes and the varieties which we can grow, so we focus on quality instead."
~ David Lett
by Cole Danehower
November 13, 2006
---
Where would
Oregon
be without David Lett? We might still be producing wine, even
Pinot Noir
, but we would likely be nowhere near the level of quality and worldwide respect that we enjoy today.<!> Thank you, David! It is hard to believe, but it was only 40 years ago that David put the first Pinot Noir cuttings into the ground in Oregon.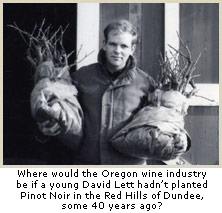 Reflecting on the past 40 years of winegrowing in Oregon, David and his wife Diana shared with me some of their thoughts. Here's how David recalls his move north to Oregon:
"I'd gathered my 3,000 vine cuttings together from various vineyards and the Variety Collection at UC Davis in the Fall of 1964, and right after the Christmas holidays, I headed up to Oregon. Trouble was, there had been an immense snow pack in the mountains, followed by a sudden thaw. Every river from northern
California
on up was completely flooded. It took days to get up here, and when I finally got to the Willamette Valley, I-5 (still in the process of being built) was just a ribbon of asphalt through water. The rest of the valley all the way up to Portland looked like a lake. While I was at Davis, I'd researched Oregon weather records, but there was nothing like this. I thought, my God, they weren't kidding about Oregon being wet!"
Wet or not, David had 3,000 siblings to take care of. David first placed his vines at a nursery outside of Corvallis, giving them a temporary home until he could ready his vineyard in the Red Hills of Dundee.
"After I got up here, I rented a little plot, maybe 100x200, in a rye grass field outside of Corvallis, so I could get the cuttings in a nursery situation while I looked for vineyard land (and a job!). I planted the cuttings in March, 1965. As I recall, the weather was a series of Spring showers off and on. It took about a week or ten days in between showers to get everything planted. Spring in Oregon -- I couldn't believe how beautiful it was up here!"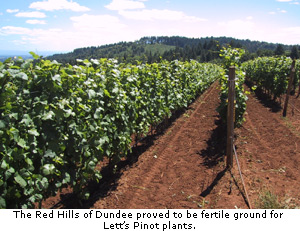 Those first Pinot Noir vines represented the beginning of what is today a vibrantly healthy and growing wine industry, one that has earned a global reputation for both quality and innovation. Did David have any sense of what was to come as he christened those first vines with a bottle of burgundy?
"Yeah, I did. From the beginning, I knew -- hoped anyway -- that it was momentous. These were the first Pinot Noir vines in the
Willamette Valley
, and the first time that some of these other varieties, like
Pinot Gris
, had ever been planted in the US. Yeah, it felt important."
Oregon proved to be fertile ground for Lett's Pinot plants. And it wasn't bad for his love life, either. The next year David married Diana, and together they toiled to create
The Eyrie Vineyards
.
Diana remembers:
"Even though I wasn't in the story yet when David planted those first cuttings, we did spend our honeymoon the next year digging them out, and getting The Eyrie Vineyards started, so I got in on the pioneering ground floor, too! We've had a great partnership in our business as well as in our family, and it has been fascinating to be involved all these years, in helping, and in seeing so many interesting, fun, energetic people put their resources and lives into building this industry."
And what an industry has been built! 40 years after those first vines went into the ground, Oregon can boast over 350 operating wineries -- and that is a source of pride to the Letts. Here's David, reflecting on what has been his greatest satisfaction during the past 40 years:
"To see a viable industry grow out of nothing. To see winegrowing become a sexy agricultural industry for Oregon. To know that winegrowing has helped save some Oregon farmland. To see Oregon Pinot Noir take its place on the world wine stage, and to see Pinot Gris being grown all over the New World—not bad!"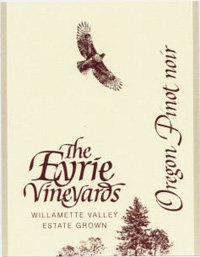 Diana agrees, but adds: "For us, personally, there's also a satisfaction in knowing we've created a good way of life for our family and the people we work with, and the feeling that we've spent our lives doing something that has maybe improved the world a little bit."
She continues: "What no one could have predicted was how the whole food and wine scene was going to explode all over the world. Back in 1965, there were only 4 or 5 tiny premium wineries in the
Napa Valley
. Nothing much was going on in the other states, in fact, there was no wine industry at all in much of the New World. Europe was going along pretty much as it had for centuries. Very few Americans drank wine, even fewer had ever heard of Pinot Noir . . . or of Oregon, for that matter!"
"Luckily," David chimes in, "Oregon is not a good place for the huge, corporate-conglomerate wineries which we see in many places these days. The climate here limits crop sizes and the varieties which we can grow, so we focus on quality instead. From Day One, the Oregon industry has been pretty much made up of small family wineries, just as it is in Burgundy, owned by some hard-headed individualist who is convinced he or she can make the best wine. This is just as it should be, since that brings diversity, instead of this incredible homogenization and boredom that marks a lot of the wine world of today."
David Lett has hewn his own course over the years, often to the consternation of others in the industry, who sometimes see his winemaking style and his strict adherence to principles as "old fashioned." But none of them have had the experience of being able to stand in the same vineyard for forty vintages; none of them have the long-term perspective that Lett has.
Asked how it feels to look over vines he's tended for more years than many Oregon winemakers have been alive, David responds:
"It's kind of fun, because I've gotten to know each one of those vines almost by name. In all immodesty, we have some of the best sites in the Dundee Hills, and these are the oldest vines around, so they're producing fruit that no one else can produce. We've farmed organically from the beginning, and in the process created something really, really unique—you can't just build an ecosystem in five years! It's exciting to see how the vineyards have evolved. They're fully mature now, and they're producing amazingly nuanced wines."
It was no accident that David focused on Pinot Noir when he came to Oregon. He knew that when fruit can come to maximum ripeness at the very end of its natural growing season, the varietal flavor will be at its most true and intense.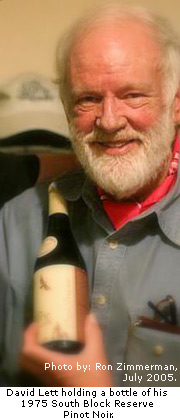 He saw California's climate as too warm, the fruit ripening in the heat well b