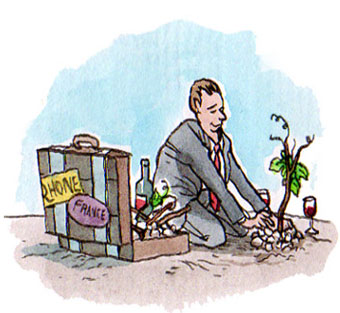 Blending Rhone Style with Napa Terroir: An interview with Craig Williams
"Joe Phelps believed in Syrah and Rhône varieties from the very beginning. The path was difficult at times, but it proved to be very rewarding in time."
by Alan Goldfarb
November 17, 2006
---
<!>
Alan Goldfarb (AG):
Phelps was the first to produce a Syrah in the Napa Valley. Why did you make a Syrah; and did you think it would gain in popularity as much as it has?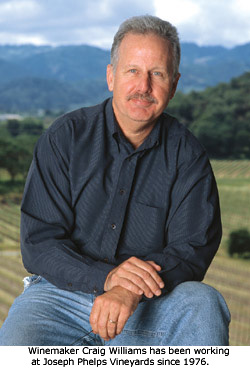 Craig Williams (CW):
Joe Phelps
believed in Syrah and Rhône varieties from the very beginning. The path was difficult at times, but it proved to be very rewarding in time.
AG:
Can you elaborate on what you mean by a "difficult path at times."
CW:
Joe began his relationship with Syrah in '74. It was more than 20 years later that Syrah became widely "known" by the consumer. As recently as 1990, along with other Rhone variety producers from here and France, we were involved in orchestrating a symposium at Meadowood which was designed specifically to focus attention on these wines.
In my opinion, it took another five years before significant attention materialized, although the growth of Rhône varieties/wines from
Central Coast
producers helped, too. Wine writers have helped enormously. Look at the phenomenal interest and price support today for Châteauneuf-du-Pape!
AG:
From what vineyard did that first Syrah for Joseph Phelps come?
CW:
It came from the Christian Brothers vineyard that was planted in 1959, on the recommendation of professor Harold Olmo (University of California at Davis). Interestingly, the vineyard was located nearby, on Zinfandel Lane (south of
St. Helena
), only a half-mile from Spring Valley (where Phelps eventually planted his Rhône-style vineyard).
AG:
Where are the best spots to grow Syrah?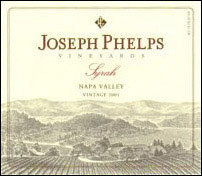 CW:
I prefer cool sites … Carneros and areas in south Napa Valley, are the best, in my opinion. At the same time, Syrah has performed well -- and still does perform well -- in hot locations here (St. Helena) and elsewhere.
AG:
Where do you source your Syrah?
CW:
Currently it comes from Larry Hyde's vineyard in Carneros. We plan to plant new Syrah vines next year, in our Soscal Vineyard location (in the Coombsville area east of the city of Napa).
AG:
What is the future for Syrah in the valley?
CW:
I think it's positive, although Bordeaux varieties make such a compelling statement that growth in Syrah production will be limited.
AG:
Do you think it will ever surpass Zinfandel?
CW:
Yes, in time. Syrah and associated Rhône varieties (such as
Viognier
which Phelps utilizes in its Châteauneuf-du-Pape-style Le Mistral red blend) have a wonderful affinity for most of California's growing regions owing to our "Mediterranean" climate and landscape.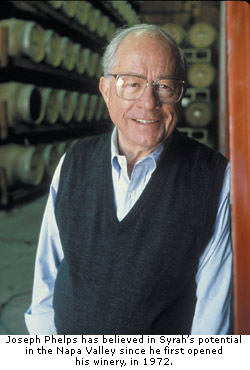 AG:
What needs to be done to improve it though?
CW:
Continued work with (clonal) selections, vineyard architecture and rootstocks.
AG:
What are the best soil and clones?
CW:
Many believe the Estrella River selection (reportedly originating in Hermitage from M. Chapoutier) is strong. Also, 470 and 877 (clones) are highly regarded, as are a few imports.
Not surprisingly, well-drained soils, preferably with some rocks, gravel and stones are good. Although in Carneros, the clay loams also perform well.
AG:
It's clear then, after hearing from Craig Williams, that Syrah may one day soon challenge and surpass Zinfandel in the Napa Valley in terms of acres planted and/or popularity. And we can owe most of it to the progenitor of the variety -- Joseph Phelps himself.
~ Alan Goldfarb, Regional Correspondent – Napa Valley
To comment on Alan Goldfarb's writings and thoughts, contact him at
a.goldfarb@appellationamerica.com