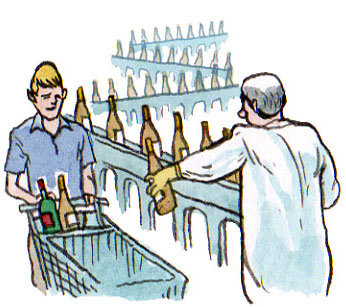 Riding the Crest of Riesling's Resurgence Part II: Discussing the winemaker's art
"I can't make enough Riesling. If you hear of some growers with Riesling to sell, please let me know. We're pulling in almost 60 tons of Riesling in 2006 and we could probably use another 120 tons and sell all the wine. There is such a demand."

~ Lee Lutes, Black Star Farms
by Eleanor & Ray Heald
December 1, 2006
---
<!>
Eleanor and Ray Heald:
Given the number of Riesling styles produced from grapes grown on Leelanau Peninsula, if we ask you to discuss harvest parameters, are we going to get responses that are all over the board?
<!>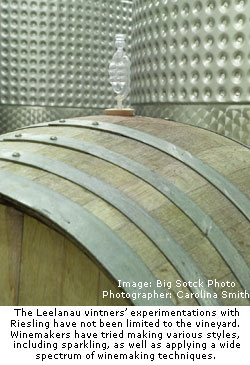 Charlie Edson (CE):
I'm guessing not. Here's why. Riesling gets ripe late on
Leelanau Peninsula
. We all pick it on the late side and not on harvest parameters like we might for other varieties. We let it go until the leaves fall off the vine and then we pick. It's that simple.
Bruce Simpson (BS):
Hopefully, that's before the first snowfall.
CE:
So what you see on the vine when there are no more leaves, that's what you get.
Adam Satchwell (AS):
Vintage 2005 was an exception. We picked Riesling earlier. I wanted to get it off so that I could make
"Michigan"
Riesling. In another couple of weeks, acids would have dropped.
Lee Lutes (LL):
I'll chime in here. We're picking Riesling also based on site. One site we pick for a semi-dry style and another for dry. We harvest those vineyards earlier than vineyards dedicated to late harvest, where bunches hang until mid-to-late October or early November if we can.
For a dry Riesling, I don't like to see sugars get much above 21° to 21.5° Brix.
Shawn Walters (SW):
All of our style differences are achieved in the cellar.
AS:
Because I make all three styles of Riesling, I'll admit that semi-dry is the bread and butter. I do pick for sparkling Riesling much earlier and from a specific block where I have lower sugars and a slightly higher pH. That's usually in the range of 19° Brix. For dry Riesling, I shift a little and pick from vineyard portions that typically get riper. For semi-dry, it's generally 21° Brix and a TA of 9g/L. For the dry style, I like sugars at 22° Brix or more, but capped at 23° Brix. We ferment it drier so that alcohol is 12.5% at bottling.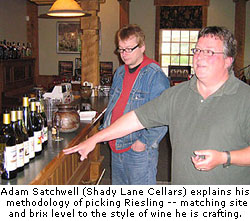 ERH:
What regimen are you following for crushing and pressing operations?
BS:
We lightly crush without SO2 addition before pressing. Pectic enzymes are pumped into the juice as it is transferred to tank to settle overnight. Fermentation proceeds at about 60°F after the addition of Epernay2 yeast. SO2 at 0.80 molecular is added after the first racking when fermentation completes.
Riesling has an incredibly low pH so SO2 addition is minimal.
CE:
I'm going to follow here because my practice is not too different but I typically add 25-30ppm SO2 at the crusher. Juice settles for 48 hours instead of 24. Each year, I experiment with different yeast cultures; eight different in 2005. But another reason that I use SO2 early on is that I have had unwanted malolactic fermentation begin.
ERH:
Yeast manufacturers say that designer yeasts used with specific varieties enhance precise properties, such as aroma. Some winemakers agree. Others say, once the wine is in the bottle, there's little to no difference. So where do you stand on the point of designer yeast cultures?
CE:
I've not done experiments with replicated lots up to bottling but I have done experiments with replicated lots up to blending and I see the difference carry through to that time. Some yeasts do enhance floral characteristics and have a definite impact on the mid-palate. But I have tasted bottled replicated lots and after 24 months in the bottle, the differences were much less apparent. Since most of us sell our wines in the first couple of years, I think using specifically designed yeasts is beneficial.
Wine complexity, breadth of flavor and interest are all important to me and therefore I try to bring in subtle differences. A mix of clones, and maybe a mix of vineyards, although I don't have that luxury, mix of yeasts and different cellar treatment for different lots are all important.
LL:
I'll second that and add that all those considerations are important for us in lesser vintages.
I'm almost embarrassed to admit this but because of consumer demand, we've fermented, bottled and released a late-harvest Riesling in a matter of eight weeks. It was a challenge put to us by our distributors to get the wine to market before Christmas in the same year it was harvested. It was a cash-flow issue early on.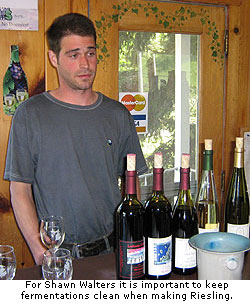 Cote des Blanc is a yeast culture that gave us a gorgeous and fragrant fermentation. The resulting wine is fruity, floral and easy-to-drink. So we cleaned it up quickly and put it in the bottle. These floral and fruity characters are what our customers like in that wine. We sold 500 cases but the unfortunate part is that we've now created a monster.
Later, however, these wines do develop very different characteristics which may not be as appealing.
SW:
I use several yeast cultures too because it's important to me to keep fermentations clean and it helps us to get Riesling ready for the market fairly immediately.
LL:
With Bruce's [Simpson's]
Rieslings
, I always associate depth, intensity and a honeyed richness early on. I don't get that with others. But, Bruce, I've never had any of your Rieslings to learn how this may or may not change over time. Now, that we're discussing your cellar methods, I wonder if what I detect may be due to your not adding SO2 early. Because I'm in the SO2 addition school and we're not sourcing all our Riesling from Leelanau, it travels 40 miles, so bunches are sitting in some juice when it gets to the winery.
ERH:
What size bin are you using?
LL:
It's one-ton, standard cherry bins, so there's a lot of weight.
BS:
What has been found [by some researchers] is that if SO2 is not added, whatever juice did oxidize does precipitate during fermentation.
AS:
I'd like to know what Charlie [Edson] is doing with respect to crushing or using whole clusters in the press.
CE:
We lightly crush but we've experimented with whole clusters and did skin contact in the press for six to eight hours. That's another reason we add SO2 to grapes.
ERH:
Sean [Walters] indicated that he was going to whole cluster press some grapes from the 2006 vintage. What is the reason?