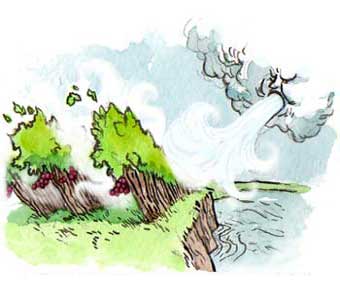 Interview: Jim Schultze of Windy Oaks
Terroir Discoveries: The Corralitos Wine Trail
Corralitos, with five wineries within about 10 minutes of each other, focuses on Pinot Noir and Chardonnay, and tends to produce very terroir driven wine. With the distinctive character of the grapes and wines, several of us have been kicking around the notion of creating a sub-appellation for the Santa Cruz Mountain area.
~Jim Schutze
by Laura Ness
December 27, 2006
---
<!>
Laura Ness (LS:)
First off, tell me about the Corralitos Wine Trail and how the idea came about.
Jim Schultze (JS):
Corralitos now has five wineries within about 10 minutes of each other (with a sixth on the way). Most of the wineries focus on Pinot Noir and
Chardonnay
, and tend to produce very terroir driven wine. With the distinctive character of the grapes and wines, several of us have been kicking around the notion of creating a sub-appellation for the area—not unlike
Sonoma Coast
, which produces some wines which are fairly distinctive from the rest of Sonoma. We felt, at the least, we should coordinate times when we are open and cooperate in marketing and advertising for the area.
LN:
Is there a specific character or set of defining characters that make Pinot from the Corralitos region different from say, the Summit region of the appellation, or the Woodside region?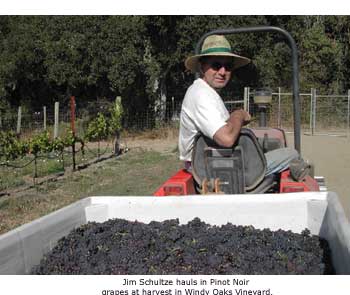 JS:
I think Corralitos has a much stronger ocean influence, with more consistent temperatures throughout the growing season. The growing season itself is very long. We have budbreak typically in February and harvest in October without many heat spikes. This tends to produce complex Pinots with nice layers of flavor and elegance. Also, it is very consistent from year to year. At Windy Oaks, we are able to get our fruit physiologically ripe each year, without very high sugar levels. That being said, even within Corralitos, there are some interesting microclimates.
LN:
In terms of flavor profiles, how do your wines from Windy Oaks compare to other Pinots from those microclimates in your region? Can you talk a bit about Windy Oaks Pinot in comparison to Pinot from Regan Vineyards, Alfaro Estate, Nicholson Vineyards etc?
JS:
We consistently have the earliest bud break and the latest harvest for our Pinot. This typically results in a complex wine that has many layers of red and dark fruit and a silky long finish. I don't know the other wines well enough to make accurate comparisons, but they seem to be more fruit forward. I think some of this comes from the fruit, but Windy Oaks typically is aged longer than most other Pinots. Our current Reserve was aged 25 months.
LN:
You sell your estate fruit to both Testarossa and to Martin Alfaro. I'm curious to know if you think your identifiable vineyard "taste" comes through under Bill Brousseau's winemaking style. How about with Martin Alfaro's?
JS:
I can certainly taste elements of our vineyard in both wines, in the nose and the palate. Bill's tend to be more fruit forward and Martin Alfaro's somewhere in between, but I think the vineyard is clearly there in both wines.
LN:
Do you see any value in subdividing the appellation into smaller sub-AVAs, in order to more accurately reflect the individual area characteristics?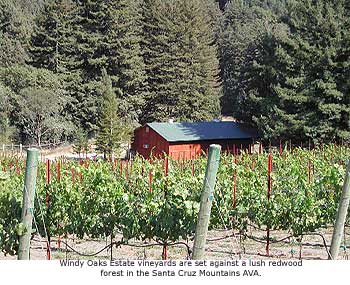 JS:
There are plusses and minuses, but on balance I think it would be a good idea. I think it is similar to Sonoma Coast,
Russian River
, or
Carneros
; they all have fairly consistent images for Pinot lovers. What if we merged Carneros into the
Napa
appellation? Probably both would suffer in terms of market image. Consumers seem to like wine regions with clear varietal characteristics.
LN:
What would be the logical sub-AVAs in your mind?
JS:
I haven't thought much about this beyond Corralitos, but I suppose at least a coastal area and a warmer eastern area. I'm not sure about the areas in-between.
LN:
Do you think this would help consumers to better understand what they are buying?
JS:
Yes, each area could then be associated with one or two varietals and a more consistent sense of terroir. It's no coincidence that the best known wine regions focus on one or two varietals. If Chalone was simply part of a Monterey appellation, for example, I don't think it would have had anywhere near the success it has enjoyed in marketing. Also, I don't think it was a coincidence that the Corralitos Wine Trail Open House that we did earlier this month far surpassed all the broader SCM events in which we have participated (both in attendance and sales)--at all five Corralitos wineries!
LN:
When consumers hear "Santa Cruz Mountains" now, what do you think comes first and foremost to mind? What do you think the message coming from the appellation should be?
JS:
This is hard to answer (and maybe that points to the problem). Probably consumers think about small family-owned wineries, mountain terroir, and a variety of micro-climates. I suspect that varietal image is not clear. Perhaps the message in part should be around great diversity of micro-climates, with different sub-regions producing distinctive terroir-driven Pinot, Chard, Cab and Syrah.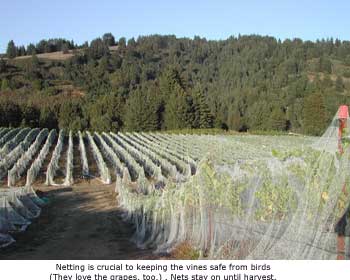 LN:
What drove the decisions to plant the clones you have on site? Was it site-dependent or personal preferences? Did you have any data on how different clones did in different areas of the Santa Cruz Mountains when you planted your vineyard?
JS:
Clonal decisions were based on extensive research into which clones produce the best wine in selected areas in Burgundy, and also in cool climate areas of California. Root stock selection was based on soil profiles and research from Burgundy and the U.S. I felt that our microclimate was different enough from most of the rest of the Santa Cruz Mountains that SCM data would not be too relevant for me.
LN:
How would you characterize the different clones in terms of aromas, flavors, contribution to the mouthfeel, etc? Do they ripen at different times or require different vineyard management techniques?
JS:
The clones we have make the case for terroir. We have seven different clones in our vineyard and they all produce similar clusters (small, tight clusters with relatively small grapes). They basically receive similar vineyard management. On our site, block position tends to determine harvest time. We normally have five or six separate harvests extending over a month. Of the diff