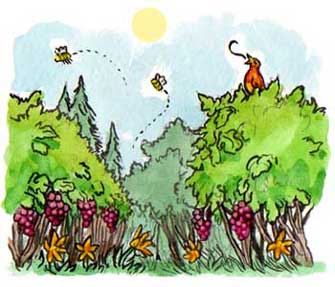 North Fork of Long Island (AVA)
The Art of Organic Terroir:
A Talk with Shinn Estate Vineyards David Page
By working to create healthy and self-sustaining soil and vines, we can ultimately achieve what winemakers call terroir, which I define as the 'taste of place'. Force-feeding vines with chemical nutrients and harmful pesticides is the extreme opposite of terroir, and cannot give anyone a true 'taste of place'.
~David Page
by Lenn Thompson
December 29, 2006
---
<!>
Lenn Thompson (LT):
You and your wife, Barbara Shinn, have enjoyed — and still enjoy — success in the competitive Manhattan restaurant scene. How did you end up on the North Fork, with your own vineyard, tasting room, winery and soon-to-open bed and breakfast?
David Page (DP):
We first visited the North Fork in 1990, the same year we moved from San Francisco to Manhattan. It was then that we discovered the incredible quality of the shellfish, fish, produce and wines available here on Long Island.
It reminded us of our experiences visiting wine country on the California coast, particularly Sonoma and Mendocino counties. Our ten years of working in the California restaurant industry taught us about the economic, social and philosophical importance of becoming integrally involved with local cuisine on every level, so we jumped right in upon opening our restaurant, Home, in 1993.
With the encouragement of many Long Island vintners, we started producing our own wine for our restaurant under the Home label, using local fruit. This ultimately led us to the purchase of the historic Tuthill farm on Oregon Road where we established Shinn Estate Vineyards in 1998.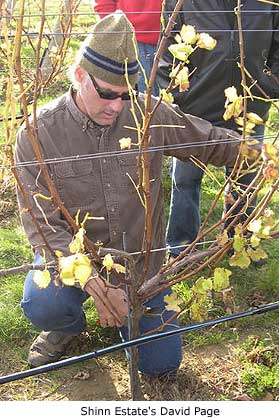 We will open The Farmhouse Bed and Breakfast on our winery site in late spring 2007. The Farmhouse will allow us to complete our dream of serving local food alongside local wine in a convivial atmosphere surrounded by grapevines and farmland forever preserved from development.
LT:
You only serve East Coast wines at
Home.
Why is that? What is it about East Coast wines that work so well with your seasonally-focused cuisine?
DP:
We serve local wines with local food so that our guests have a "taste of place" when they dine with us. To serve Italian wines and Italian food (at Home) seems - well, "foreign" to us. The wines of a particular place always taste better in the context of a local and seasonal cuisine. After all, the wine of a place plus the food of a place equals the cuisine of that place. This is why Italian wines always taste better in Italy and Shinn Estate Vineyards wines always taste best when you drink them here on the East Coast.
LT:
Do you remember the "aha!" moment when you knew you wanted to start your own winery on the North Fork?
DP:
It was 1998. Barbara and I were standing alongside a majestic 22-acre flowing field of wheat, that was what is now our vineyard. It was a couple of weeks before the closing on the purchase of the property and Barbara was talking about the soil needing to be the bread basket of the vineyard. I was looking at the beautiful wheat and joked, "Looks like we have a good start."
LT:
Shinn Estate Vineyards is at the forefront of sustainable grape-growing practices on the East Coast. What drives you to move further and further away from traditional farming and towards organic and sustainable practices?
DP:
Firstly, it is important to understand that the farming which we are engaged in is by definition "traditional." My grandparents farmed organically and in a sustainable way, before these terms existed in our modern vocabulary. After more than 50 years of abusing our obligation to steward the land, many farmers have turned back to traditional farming.
Secondly, the poor health of our nation's population is a crime that needs correcting and we are trying to do whatever we can to keep pollutants out of our drinking water, air, food and wine. Sustainable, organic and bio-dynamic farming are necessary goals if we have any hope for a healthy society in the future.
LT:
The benefits of these practices to the soil and land are obvious, but what do they bring to your fruit and — ultimately — your wine?
DP:
By working to create healthy and self-sustaining soil and vines, we can ultimately achieve what winemakers call "terroir", which I define as the "taste of place". Force-feeding vines with chemical nutrients and harmful pesticides is the extreme opposite of terroir, and cannot give anyone a true "taste of place". Once this "taste of place" is created, our wines will take on a definable personality that will, in essence, only be found here on Oregon Road. Wine appellations around the world are created, based on this important principle.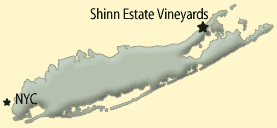 LT:
What vineyard techniques that you employ are you most proud of?
DP:
What makes us proud is when a particular vineyard practice which we have developed actually makes a real difference in the way our neighbors choose to farm. For instance, we have developed a biodynamic, non-chemical, no-till system for weed control that provides an organic source for nitrogen and gives us fantastic vigor control in wet years, while acting as mulch and retaining much needed soil moisture in dry years. Just this year, several growers have approached us, seeking advice about how to duplicate this system in their vineyards.
LT:
The "local" focus of Shinn Estate doesn't apply to the fish you liquefy for fertilizer. What fish do you use, from where, instead?
DP:
Our organic liquefied fish nutrient comes from a source along the Mississippi River. For a time, we were using a source in Massachusetts, which is closer to home, but after some time, we realized that the salt content in this product could prove to be detrimental to our soil health. There is no conclusive evidence of this, but we decided not to gamble on fish from a salt water source and elected to go with organic fish by-products from the freshwater catfish industry.
It is interesting to note that Long Island farmers used bunker fish from the Sound as fertilizer for 50 or more years before chemical nitrogen was developed. In a sense, by using organic fish emulsion, we are simply taking a step backwards to a time when farmers were more self-reliant and independent.
LT:
Until the 2006 vintage, your wines were made at Wolffer Estate under the watchful eye of their winemaker, Roman Roth. What made this the year to create your own estate winery and hire your first full-time winemaker, Juan Eduardo Micieli-Martinez?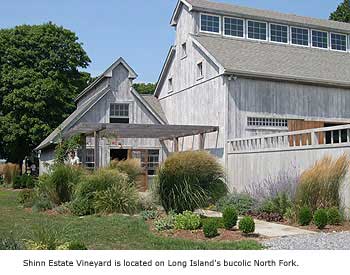 DP:
From the beginning, it has been our plan to have our first crush at Shinn Estate Vineyards in 2006. The timing and economics all pointed us towards this goal and Roman agreed. In our view Roman (who will remain as a consultant) may well be the most talented and innovative winemaker on the entire East Coast. We are proud to have him as part of our team and look forward to many years of collaboration.
However, it is our belief that our fruit is healthier when it does not have to travel down the road to another winery for processing. Having our fruit vinified on our own estate gives us greater advantages a