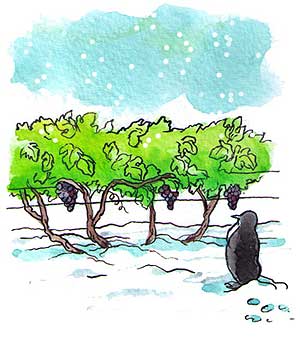 Peninsula Cellars: Harsh Climate Leads to Terroir-Driven Wines
In 2003, Peninsula Cellars lost 80 percent of the crop, yet refused to buy fruit from out of state because we want our message to be clear: this is what northern Michigan wines taste like. We ferment juice to highlight the varietal character and flavor of northern Michigan.
--Bryan Ulbrich, Peninsula Cellars Consulting Winemaker
by Eleanor & Ray Heald
January 11, 2007
---
<!>
Eleanor & Ray Heald(ERH):
How are Peninsula Cellars' vineyards different from other parcels in the Old Mission Peninsula AVA?
Bryan Ulbrich (BU):
The Kroupas own some rare, true, south-facing slopes and have three facing due west. They also lease a Cabernet Franc and Merlot site high on Hog's Back Ridge, the spine of Old Mission Peninsula (OMP) which acts as a heat trap. It's always warmer there.
ERH:
What is the soil profile?
BU:
Glacial till, sandy loam. Some blocks are more sandy, some have more gravel, and there's a narrow band of clay running through the vineyard.
ERH:
Has there been any recent planting? What clones or clonal selections?
BU:
I'm excited about our new Riesling block called Hawkeye. It's six acres and planted to five clones -- 239, 198, 813, 110 and 2. The older blocks were planted before growers paid attention to clonal selection, so we don't really know what they are. In 2006, we took the first harvest off Hawkeye block and kept most of the clones separate. It's early for answers but there are some interesting differences showing already.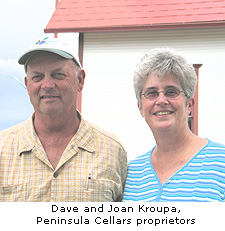 ERH:
What rootstock was chosen? Was it matched to soil composition or to the variety?
BU:
Most of the farm is planted on 3309. In the beginning, that was a knee-jerk. There's some SO4 mixed in but I prefer 3309. Vine size is balanced and we're getting sufficient ripeness from both, yet 3309 always seems more concentrated. At planting, the rootstocks were loosely matched to soil but no hard science was employed.
In 2005, we harvested a block of Cabernet Franc which was split between 3309 and SO4 roostocks, farmed and cropped identically, At 22°Brix, SO4 vines yielded solid fruit and juicy berries with typical flavors. At 25°Brix, the 3309 vines were shriveling with very ripe, concentrated flavors. We aged the wines separately and will release the 3309 as a reserve. It's significantly more interesting.
ERH:
How have the various varieties prospered?
BU:
Riesling loves Michigan. That said, everyone questions the winter hardiness of Gewurztraminer; yet Peninsula Cellars vines made it through the brutal 2003 winter with no exceptional damage. Pinot Blanc and Pinot Gris are consistent and flavorful. Small plants with loose small berries describes Merlot, which has been consistent in flavor profile. We feature it as 80 percent of our Hog's Back Meritage blend. Easy-to-grow Chardonnay is starting to win me over.
ERH:
Terroir, or site personality, has become more important in understanding wines from appellations worldwide. How do Peninsula Cellars wines represent the concept?
BU:
In 2003, Peninsula Cellars lost 80 percent of the crop, yet refused to buy fruit from out of state because we want our message to be clear: this is what northern Michigan wines taste like. We don't tinker in the cellar. Chaptalization is rare as are acid addition or amelioration. We ferment juice to highlight the varietal character and flavor of northern Michigan and many of our wines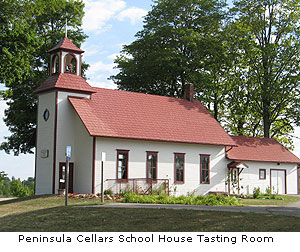 are single vineyard. Those that are blended state the vineyards and their contribution on the label.
As much as possible, we ferment each vineyard separately and blend in the winter. Residual sugar in Riesling is natural from halted fermentations. I'm not against dosage but I prefer the higher ratio of fructose in the natural grape sugar left at the end of fermentation.
ERH:
Is the estate vineyard the only source of grapes for your wines? If not, from which growers do you source fruit, and which varieties?
BU:
The estate vineyard is half of the source. We work with eight local growers, all of whom are as excited as I am about the Michigan wine industry. Some Gewurztraminer, Pinot Gris, Cabernet Franc and resistant varieties come from these growers.
ERH:
You've polished an Alsace dry style for Peninsula Cellars Gewurztraminer. How do you capture this style, both with what you do in the vineyard and in the winery?
BU:
Peninsula Cellars Manigold Vineyard Gewurztraminer is the perfect example of terroir. Distinct characteristics come through each vintage with ripe flavors in the berry skins, a signature soft acidity and high pH. All we do is let it be Gewurz.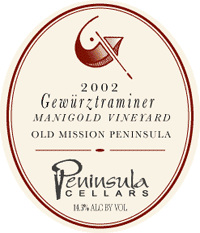 Formerly, I thought that Gewurztraminer should be treated like Riesling and I'd fight the grape but invariably lost. Winemaker Brad McCarthy [Blenheim Vineyards, Virginia] and Myron Redford [Amity Vineyards, Oregon] convinced me that this was a fruitless approach. I abandoned it in 1999 and the wines improved every year thereafter. The biggest stylistic decision is to leave the juice as is and allow alcohol and phenols to carry the structure, not acidity.
ERH:
What is your stylistic goal for Riesling?
BU:
Exactly the opposite of Gewurztraminer. Acid is the wine's vitality and phenols are kept as low as possible. It may sound trite, but it's about balance. We get firm acidity and I trust the Mosel approach of relying on natural residual sugar from halted fermentation to round the wines. Dry for dry's sake can sometimes be downright painful in the mouth.
Also, I'm finding that alcohol can be a hindrance in Riesling. It fights with the acid and exaggerates the phenol load. We now pick at lower Brix (19-20°) and let the wines carry lower alcohol than some neighboring wineries do. From 2006, Peninsula Cellars will release some 8.5 to 9 percent alcohol Rieslings. The dry style will reach 10.5 percent with 0.70 to 1.0 percent RS.
ERH:
What is your stylistic goal for other major varietally-labeled wines?
BU:
It's the same -- balance. Wines should ring clear as a bell. Terroir is always credited with positive attributes, but it can pack a punch if I'm not careful. In cool climates, green flavors and bitter phenols are a concern. To keep the fruit alive, shorter skin contact is often the trick with Cabernet Franc and Merlot.
With Pinot Gris, I like the more structured Italian style as opposed to overly fruity [the reason why Peninsula Cellars labels it Pinot Grigio]. Definitely, not Alsace style. We can't achieve that.
I like subtlety in wines. Sometimes, those from Peninsula Cellars are perceived as light, but consumers who pay attention recognize aromatic intensity and layered delicacy on the palate. To offer brightness, zing and a clean finish, all Peninsula Cellars whites are stainless steel fermented and aged. I avoid excess lees contact.
T