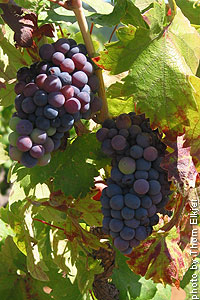 Oregon Zinfandel: Boutique, Rare, and Appellation-Specific
Zin Emerging in Pinot Country.

Really.
by Cole Danehower
January 26, 2007
---
Zinfandel is not a grape which leaps to mind when you think of
Oregon
appellations. And for good reason: in 2005 a mere 52 harvested acres produced the state's total
Zinfandel
output, the second smallest production of Oregon's tracked varietals. But if you know where to look, varietal intense and appellation-differentiated Zinfandel wines can be found from a state not otherwise known as a haven for Zin.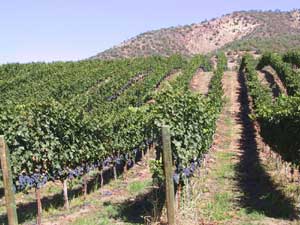 Well, "can be found" is a bit misleading: all Oregon-grown Zinfandel wines are hand-produced in extremely small quantities and are speedily sold to a cult-like following of local cognoscenti—so don't rush off to your local wine shop!
Despite Oregon's reputation as a cool climate paradise for Pinot Noir, vast parts of the state's winescape offer good ripening potential for Zinfandel grapes. Warm-climate appellations in both the north and south extremes of Oregon are home to a small but surprisingly vibrant Zinfandel community.
Indeed, one of the oldest vineyards in all of the Pacific Northwest consists of 8 acres of Zinfandel vines set in sparse soils along the Columbia River basin near The Dalles, in Oregon's portion of the
Columbia Valley
AVA. Planted sometime in the late 1800s, The Pines Vineyard is true Old Vine Zin which was resurrected in the 1980s by Lonnie Wright.
Difficult to Grow, Not Drink
"Zinfandel is very difficult to grow in the Northwest," says winemaker Peter Rosback. "It is so rain sensitive that it rots away faster and easier that Pinot Noir, and ripening can be tough in many places. It is very grower-dependent." But the Columbia Valley appellation offers lots of summer heat, and copious sunlight for strong Zin vines.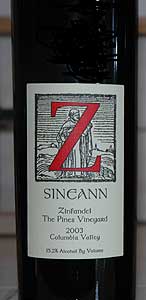 Rosback began working with Wright's Old Vine Zinfandel in 1986, while still a home winemaker, partly out of a belief that Wright was the best Zinfandel grower around. Since 1994, Rosback has produced small and highly sought-after Old Vine Zin for his
Sineann
label, and now also as the winemaker for Wright's label, The Pines 1852.
Rosback believes that a signature quality of the Columbia Valley Zinfandel fruit is a reliably high level of natural acidity. "I have never had a year where I had to adjust the acid up or down," he says. "It always does exactly what you want."
That reliability, along with the intense warm summers, ripens Zinfandel fruit with full varietal intensity and great natural balance, according to Rosback. And the vine age adds something quite special!
The same thing (minus the vine age) is believed by Zinfandel makers in Southern Oregon. The
Southern Oregon
AVA is the state's über warm-climate appellation, encompassing the
Rogue Valley
,
Umpqua Valley
,
Applegate Valley
, and Red Hill of Douglas County sub appellations.
In particular, the Applegate Valley is becoming a Zin center. "We're definitely growing Zin on the margins here," says Chris Martin of
Troon Vineyard
in the Applegate Valley. With 6 estate acres and another 2.5 under contract, Martin qualifies as a "big" Zinfandel grower in Oregon.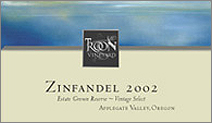 Zinfandel is an uneven ripener here—not every vintage is warm enough for full Zinfandel maturity. But when conditions are right, Martin says the appellation produces outstanding Zinfandel. The appellation's unusually wide diurnal variations produce good levels of natural acidity that Martin believes give the Zinfandel wines great balance in strong vintages. He also feels that Southern Oregon Zinfandel tends to produce wines that have a note of herbaceousness, bright fruit, and a hint of minerality.
Martin says "We don't have the heat units that they have in California, so we can't pursue the big over-the-top fruit bomb." Even so, Martin's flagship wine, the Troon Vineyard Zinfandel Reserve, had fruit picked at 28° Brix and a finished alcohol level of 16.5%. The 138-case production of his 2002 sold out at $100 a bottle—not the first Oregon wine at that price, but one of the few.
Across the way from Martin, Kara Olmo and her husband Greg Paneitz are partners in
Wooldridge Creek Vineyard
. They have a somewhat different vision for Southern Oregon Zinfandel.
"Zinfandel ripens beautifully here," says Olmo "and potentially, it could be a really important component for Southern Oregon." But she also hopes that the appellation's identity will have a larger vision than just Zinfandel.
"People in California have a generational story about Zinfandel, but that's not our story," she says. "Zinfandel can grow in enough regions here and ripen well, and there is consumer demand, so it will be important. But I hope that we remain in search of a varietal and/or a style of wine that is uniquely Southern Oregon . . and Zin is California!"
Olmo sees a role for Oregon Zinfandel as part of blends which are place specific. She also believes a Zinfandel wine style which emphasizes lower alcohol, greater balance, elegance, and age-ability is important. Olmo and Paneitz are making just that style of Zinfandel from their nearly 4 acres, keeping the price in line with their local market's expectations, and expanding their Zinfandel production to 250 cases in 2006.
"Demand seems to be increasing," she notes. "A lot of our customer base is coming from Northern California. They've already received the pitch about Zin; they have their favorites from California and are interested in exploring the novelty of Zinfandel from Southern Oregon."
So does one Oregon appellation make "better" Zin than the others? Of course not. Different styles for different appellations—and customers.
Though there aren't very many Zinfandel producers in Oregon upon which to base appellation-wide judgments, I see glimmers of stylistic/appellation-based identities in Oregon Zinfandel:
Southern Oregon Zinfandel
Big, fat and juicy wines with buckets of blowsy fruit flavors. There seems to be an emphasis on flowers over spice, and chocolate over earth. Despite the claims of great acidity, it is sometimes hard to taste in the wines, perhaps because the alcohol can be overpowering. There can be a slight leafy quality—tea on the good side, pumpkin on the bad—and an unctuous quality to the mouth feel (perhaps because of residual sugars).