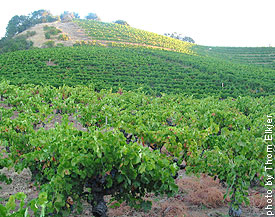 Classic Russian River Zinfandel
There are few of the classic, lower alcohol Zins left in this prime Zinfandel growing area. A few remain and they are worth seeking out. The other Zins are hot - both in style and in popularity.
by Dan Berger
January 31, 2007
---
Decades ago (seems like yesterday to me), we bought
Zinfandels
that were 13.9 percent alcohol. We called them "late harvest". Regular Zinfandel of the day was 13.0 percent; a few were lower than that. Occasionally
Ridge
made a monster; one was called Ridge Essence. It had some residual sugar from a stuck fermentation, and the flavors were not really over-ripe and port-y.