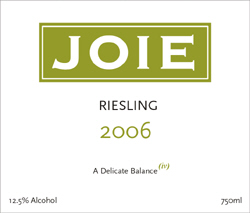 The Stereophonic Winemaking Couple
Behind Naramata's Joie Wines
You can't successfully run a winery by commuting to it. And that's why Heidi Noble and Michael Dinn now live and work at their Joie Vineyard in the Okanagan and not in Vancouver.
by John Schreiner
March 15, 2007
---
This spring Heidi Noble and Michael Dinn, the owners of
Joie Wines
and Farm Cooking School, are releasing their third vintage while planting their first vineyard.
That sounds like the proverbial cart before horse. But there is a story here of how to get into the wine business on a shoestring and win a cult following with great wines.
The 3½ acre Joie vineyard is going in on the Naramata Bench, amid the most expensive vineyard real estate in the
Okanagan
. Recently, a 10-acre orchard down the road was on the market for $130,000 an acre. It will probably cost another $20,000 an acre to convert it to vineyard. You could buy a vineyard in California's Mendocino County for less.
Heidi and Michael bought run-down five acre Naramata Road vineyard in 2002. Even if land values then were not yet over the moon, this young couple paid enough to tie up what little capital they had after previous careers in the restaurant and wine trade. Making a winery happen took creativity.
Michael was born in Victoria in 1967. He began working in restaurants while at Simon Fraser University for a history degree that "qualified me for everything and nothing." Advised that he needed to know wines to rise in the restaurant pecking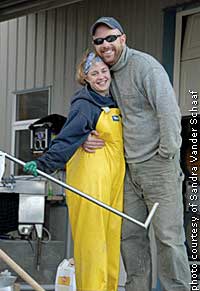 order, he found a job at a London wine bar during a post-graduation European tour. Michael briefly considered becoming a screen writer until he began studying wine seriously when he got back to Vancouver in 1994. When a new wine school opened, he was in the first class for sommelier training, and was soon looking after wines in some of Vancouver's top restaurants. By 2000, Michael decided he wanted to live in the Okanagan and make wine.
Heidi was born in Toronto in 1974 and grew up in Edmonton. She got her first part-time job as a cook when she was 14, loved it, and continued to moonlight in restaurant kitchens while at university. Her degrees are equally tangential to making wine – a degree in philosophy (she was the gold medalist in the class) and another in western literature. Then she returned to her first love, spending two years at the renowned Stratford school for chefs. Ultimately, Heidi ended up in Vancouver, first in a high-end restaurant, then a high-end catering operation, before taking the sommelier program and meeting Michael.
Now husband and wife, they are the stereophonic wine couple. They are so in tune with each other that one routinely completes the other's sentences, or even fills in the middle phrase. Here's an example of them discussing the high cost of Okanagan winemaking. Michael: "All of our materials … [Heidi interjects] our equipment all has to be sent here … [Michael concludes] most of it comes from Europe." Their winemaking is equally seamless.
At first, they made ends meet by commuting from Vancouver wine jobs to their Naramata property where they ran a summertime cooking school. The school is closed this year while vines are being planted and a winery is built. However, Heidi is just releasing a book, Menus from an Orchard Table, with the menus, recipes and wine pairings of the school's first four years.
How To Launch a Winery on a Shoestring
Their secret for launching a winery on a shoestring has been piggybacking on existing wineries. They have rented the space to make wines (with purchased grapes) which are then sold under the host winery licenses. Host winemakers, including Poplar Grove's Ian Sutherland, Pentâge's Paul Gardner and Golden Mile's Michael Bartier, also mentored Michael and Heidi. Some other new wineries have also done this, few as effectively as Joie. It helps that Heidi and Michael's friends in top restaurants ensure that the wines get listed (on merit).
Their wines are delicious but unconventional. Rather than duplicate what everyone else makes, they make the wines like those they came to love in the restaurant business. The wines of Alsace inspired a seven-grape white called A Noble Blend. Burgundy is the model for Joie's
Chardonnay
and a forthcoming barrel-aged red called PTG (for Passetoutgrain). Champagne winemaking is the model for Joie's remarkable Pinot Noir Rosé.
In the 2006 vintage, they added a
Riesling
, determining the juicy style by doing a blind tasting of 23 of their favourite Rieslings (mostly German).
Almost all of Joie's wines are released in the spring when they are eight or nine months old and bursting with youthful freshness. Fruity but dry, they are designed for the west coast cuisine that Heidi and Michael were steeped in before opening Joie.
It is all working for this couple. In 2004, their first vintage, they made and sold about 800 cases of wine. They tripled production in 2005 – and sold out. In 2006, they made about 5,000 cases. "Our goal is to get to about 7,000 and that's enough," says Michael, not wanting to burn out. He did that once in the restaurant business.
---
Get a taste of Joie. Read John Schreiner's review of Joie's 2005 A Noble Blend.