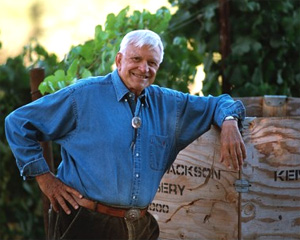 California (State Appellation)
KJ Takes the "High" Road:
Consumers' Terroir Education with Highland Estates Wines
Kendall-Jackson's new tier Highland Estates emphasizes terroir with single-vineyard, AVA labeled releases.
by Alan Goldfarb
April 26, 2007
---
Kendall-Jackson's longtime winemaker Randy Ullom exhorts, "no blending allowed" in KJ's newest appellation project. Otherwise, the point of the Highland Estates wines – with grapes sourced exclusively from various estate-owned hillside and benchland vineyards from a myriad of regions up and down the California coast – would be lost. Blending fruit from those vineyards with other grape sources would mitigate the purpose of the endeavor.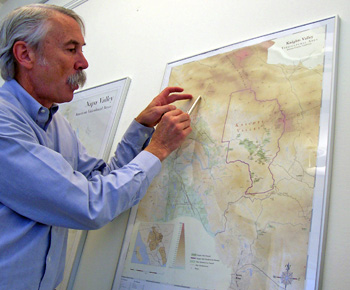 And that mission, from America's ninth largest wine company (fourth largest family owned company), is to introduce
Highland Estates
– its 32nd line – which delineates the terroir from high-ground grapes cultivated from seven American Viticutural Areas (AVA).
The impetus for the program came from none other than Jess Jackson himself, the 78-year-old founder and owner of Kendall-Jackson. That's because Jackson, who supposedly "retired" from the company in 2000, appears to be a believer in the concept of true terroir and appellation.
"I guess you'd call me a terroirist," Jackson told
APPELLATION AMERICA
recently. "I truly believe it's the source that counts. We have an internal phrase, 'it's the source, silly.' If you grow a grape in a certain area, it has a chance to be world-class."
Thus, the Highland Estate series – priced from $25 to $60 and aimed squarely at the "white tablecloth restaurant set," according to a KJ spokesperson – comprises two
Chardonnays
, a
Pinot Noir
, a
Syrah
, a
Merlot
and three
Cabernet Sauvignons
. The first releases total about 9,200 cases, which is only a blip on KJ's 5-million case production. Nonetheless, along with its Napa Valley wines from
Atalon
,
Cardinale
,
Lokoya
,
La Jota
, and
Freemark Abbey
, the Highlands project represents a furthering of
KJ's attempts to penetrate the high-end market
; and to distance itself from its lower-end wines.
So, why this significant shift, and why now?
According to KJ's public relations person, "Jess was moving in this direction. Someone said (Kendall-Jackson's wines) have, 'homogenized taste.' That's no longer KJ. Jess is zigging when everyone else is zagging. … We want to make the call-to-action the actual place (of the grapes)." The breakdown of the Highland Estate 100 percent varietal wines:
•
Camelot Highlands Chardonnay
- Santa Maria Valley, Santa Barbara ($25, 3,200 cases, 350-450 foot elevation)
•
Seco Highlands Chardonnay
- Arroyo Seco, Monterey ($30, 570 cases, 250-350 foot)
•
Seco Highlands Pinot Noir
- Arroyo Seco, Monterey ($35, 1,363 cases, 250-350 foot)
•
Alisos Hills Syrah
- Los Alamos, Santa Barbara ($35, 525 cases, 500-1,000 foot)
•
Taylor Peak Merlot
- Bennett Valley, Sonoma County ($40, 1,500 cases, 1,200-1,400 foot)
•
Trace Ridge Cabernet
- Knights Valley, Sonoma County ($55, 400 cases, 450-1,000 foot)
•
Hawkeye Mountain Cabernet Sauvignon
- Alexander Valley, Sonoma County ($50, 1,200 cases, 900-2,200 foot)
•
Napa Mountain Cabernet Sauvignon
- Mt. Veeder, Napa Valley ($60, 422 cases, 1,50-1,850 foot)
Jess Jackson – who these days says he spends about 60 percent of his time with winery operations and the rest of his time trying to qualify his thoroughbred, Curlin, for the Kentucky Derby – admits that the Highlands program is an effort to emphasis quality through single AVA-driven vineyards.
"I was trying to use it as vehicle to put out that Kendall-Jackson
is
mostly mountain and rich hillsides," he said.
Does he believe that terroir
really
exists in California?
"We know it does," he responded. "Let me over-generalize. Even in Bordeaux where you have 300,000 planted acres, only 4 percent is premier cru. Great land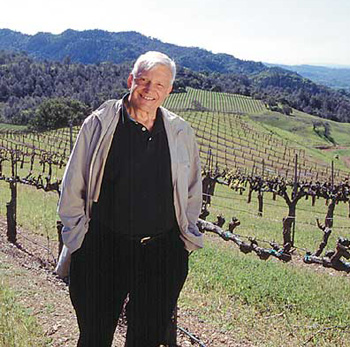 is great land. It's often well-drained, stony, well-filtered soil that has very little nutrients and water in it.
"Certainly it (terroir) exists in California. That's what we're trying to highlight with Highlands. … Terroir is what Kendall-Jackson is. It's 80 percent well-drained soil. We have discovered and pioneered a lot of terroir in California."
Jackson then took some of his competitors to task in the way they might regard – or negate – terroir.
"Too many of the so-called 'coastal brands' are now diluting the appellations," he declared. "They have (done so) by blending and by (using) cheaper, less flavorful grapes from the San Joaquin central valley and including the Delta. The point is you don't get the flavor and they (the grapes) tend to get overripe and don't maintain their flavor balance.
"By watering and trying to get huge flavor – that dilutes terroir."
Jackson continued in this vein: "With the hyperbole of marketing that we have in the U.S., we can fool the consumer, (because some wines are) adulterated by the addition of chemicals and flavonoids (which contribute color and mouthfeel).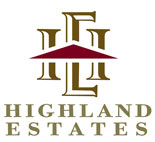 Does the consumer really care about terroir?
"Not when they don't know the difference," he said. "Education's key. We have to bring each generation of American consumers up to the knowledge and ability to make their own choices and accept responsibility for what they're choosing. Unless they know where the good grapes come from … consumers should be educated to know that wines from Mt. Veeder or Howell Mountain are where great grapes come from.
"Terroir cares."
---
Get a taste of Kendall-Jackson Highland Estate wines. Read Alan Goldfarb's reviews of
2005 Seco Highlands Chardonnay (Arroyo Seco)
and
2005 Camelot Highlands Chardonnay (Santa Maria Valley)
---

READER FEEDBACK: To post your comments on this story, click here
Print this article  |  Email this article  |  More about California  |  More from Alan Goldfarb