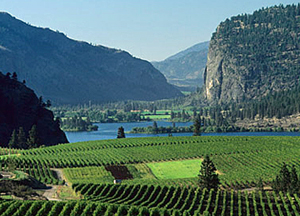 Blue Mountain Vineyard Packs 'Em In
Ian Mavety's iconoclastic vineyard architecture boosts Pinot Noir productivity with high density planting that doubles the number of vines per acre.
by John Schreiner
June 15, 2007
---
T
he most radically laid-out vineyard in the
Okanagan Valley
was planted this spring by Ian Mavety and his son Matt, at family-owned
Blue Mountain Vineyard & Cellars
, one of Canada's leading Pinot Noir producers.
On gently rolling, sandy terrain adjacent to 25 hectares (62 acres) of mature vineyard, Blue Mountain has planted four hectares (10 acres) at a density of 8,000 vines per acre. A similar-sized planting will go in next spring.
That density is double that of Blue Mountain's older vineyards. It is also double the density of other Okanagan vineyards, where the average is 3,000 to 4,000 vines per hectare. The previous upper end is the French-designed Osoyoos Larose Vineyard, at 4,000 vines per hectare.
Not only are rows of Blue Mountain's new vines packed closely together (1.25 metres or four feet between rows), the vines will be trained so low to the ground that the vineyard posts are waist-high (roughly 1.25 meters or four feet) rather than shoulder-high (two meters or six feet), as in conventional vineyards. The Mavetys think they will still grow all the canopy needed on the lower training, arguing that the canopy produced with higher training merely exhausts the vines.
"The people [in the Okanagan] who know we are doing this don't understand it in the least," Ian Mavety says. "They just don't get it."
Doing It The French Way
Like so much else that Blue Mountain does, the model can be found in French vineyards. "You see it in Bordeaux, Burgundy, Sancerre," he says. "The Europeans planted very dense vineyards, and then the 1950s came and with commercial farming, they went to wide row spacing. Then they've begun to go back to this. History has shown them that small vines like this last far longer than larger vines."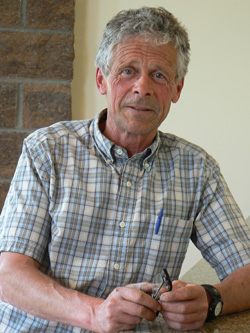 In a long career as a grower, this is perhaps Ian Mavety's most daring decision. In 1971, a new graduate in agriculture from the University of British Columbia, he and his wife Jane began growing grapes on their picturesque Okanagan Falls property, which was formerly a ranch.
In the first 15 years of his career, Ian – like all other Okanagan grape growers – grew primarily French hybrids. At the time, those were the varieties of choice in the Okanagan according to the conventional wisdom that the climate was too harsh for
vinifera
grapes.
Ian began slowly converting to
vinifera
in 1986, by which time a handful of other growers had shown success with the variety. The Mavetys had also concluded that there was no serious future for wines from the hybrid grapes. By 1991, their vineyard was fully converted to
vinifera
and they launched the Blue Mountain Winery.
At the time, Blue Mountain broke away from the pack in the Okanagan, producing only dry table and dry sparkling wines. Almost everyone else back then was making off-dry white wines from Germanic grape varieties (Scheurebe, Ehrenfelser, Gewürztraminer, Auxerrois). Having travelled French vineyards looking for pointers, the Mavetys had also cultivated a taste for dry table wines.
They modelled Blue Mountain on Burgundy, not only because they liked those wines but because they believed their site shared soil and climate features of Burgundy. After planting
Pinot Noir
,
Gamay
,
Chardonnay
,
Pinot Gris
and
Pinot Blanc
, they opened the winery in 1992. The only varietal change since then was the addition this spring of
Sauvignon Blanc
.
In 1997, son Matt joined the winery after completing postgraduate viticultural studies at Lincoln University in New Zealand. At his urging,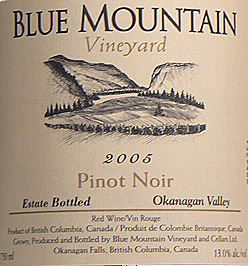 Blue Mountain became the Okanagan's first winery to test biodynamic viticulture (still an ongoing experiment). Ian also credits Matt with having first espoused the radical vineyard architecture now being adopted.
The change is happening at this time because Blue Mountain is preparing for the time when its older plantings will reach 25 to 30 years and need renewing. That will begin only after the new plantings are producing, so that overall wine production can be maintained at about 9,000 cases a year.
The Architecture of Vineyard Success
The apparent risk in the new vineyard architecture is that the scale must be substantial to justify the investment in vines, vineyard preparation and equipment. "You can't do an experiment," Ian says. "You have to go at it in a big enough way so that you can afford to capitalize the equipment that is needed."
The equipment includes a specialized vineyard tractor purchased from a manufacturer in Macon. Unlike any other vineyard tractor in the Okanagan, it is designed to straddle the rows, on a frame which lifts the engine and the operator above the top of the canopy. Among other things, the driver's top-down view of each row facilitates mechanical weed control.
The mature Blue Mountain vineyards are not organic because, Ian says, the terrain and the vineyard architecture makes mechanical weed control too difficult. It will be easier to adopt organic practises in the new planting, although the treated wooden posts being used will bar Blue Mountain from organic status. Ian adds that it would have been "economic suicide" to use metal posts in a planting this dense.
"And environmentally," Ian asks, "are metal posts any better, when you figure out that the stuff has to be manufactured while these posts are grown?" In any event, Blue Mountain's objective is sustainable farming, applying organic or biodynamic practices where practical.
The new tractor is a case in point. With a 38 horsepower engine, a light frame and slightly ballooned tires, it compacts the earth far less than the more commonly used heavy tractors.
"We'll do it [farm the vineyard] with 50 percent horsepower, and 50 percent less weight on the ground," Ian notes. "That is a huge factor and something they are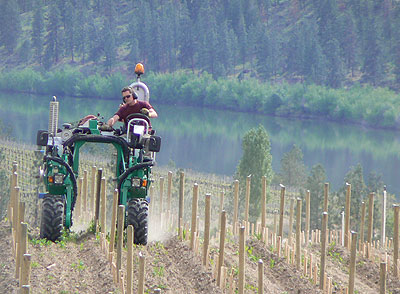 starting to come to grips with in Europe. The tractors are getting bigger and bigger and they are just destroying the vineyards."
Becaus