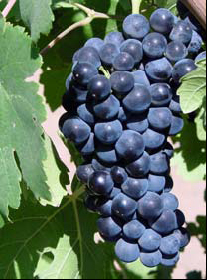 Stags Leap District ~ Napa Valley (AVA)
Is Petite Sirah's day in the sun coming?
by Alan Goldfarb
July 31, 2007
---
W
hy is it that this brooding black grape hasn't had its day in the American sun like so many others?
Chardonnay
had its day.
Merlot
had its.
Pinot Noir
is still taking bows, even more than three years after that movie.
Zinfandel
has been the bad boy rock star for years, drawing more than 10,000 groupies to San Francisco every year to celebrate its brawniness. Even
Riesling
is on the rise.
Sangiovese
had about a minute in the spotlight and
Syrah
seems to be sputtering along. And, of course, there's
Cabernet Sauvignon
, which has always been the leading man.
But what about the lowly
Petite Sirah
grape; when will its time come?
Well, perhaps never, which would be a shame because this misunderstood, low profile variety has a lot going for it; certainly as much or more than Zinfandel and Syrah, to which it can be compared. The misunderstood part: Americans know about Syrah but they're confused about Petite Sirah, although the latter has been in this country since 1878, way longer than Syrah. Secondly, various people have played with its spelling. Is it Petite Sirah, or Petite Syrah?
Thirdly, what is it? It's not exactly Syrah and it's most certainly not petite. After many years of research, Petite Sirah has been identified as Durif, or a cross (not a hybrid) between Syrah and Peloursin, the later of which is a very old French variety from the Isère region of France (southeast of Lyon near Grenoble), on the east side of the Rhône River.
Lastly, and perhaps most poignantly, those that do know Petite Sirah have experienced a dark, muscular, tannic wine whose time in the bottle never seems to come. And in this unfortunate day of instant gratification, it stands nary a chance.
Typically dense, it can be extremely fruity, with plum, wild berry and blackberry flavors, but can also swerve into beefy, peppery, earthy scents. New oak can give it a bitter chocolate aroma.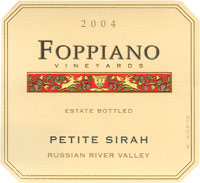 Lou
Foppiano
at his
Russian River Valley
winery and the
Concannons
at their
Livermore Valley
property are among the first progenitors of the variety here, going back to the turn of the last century. "Pets," as the growers call it, reached its loftiest heights in 1976 when 14,000 acres were planted in California, and reached its nadir in '95 when that number fell to 2,400. Today, there are a little more than 5,000 acres and it seems to be gaining a small spike in popularity (not considering that a lot is going into Zinfandel blends).
There are more than 60 producers of Petite Sirah in California and about 20 percent of those are in the
Napa Valley
. While Pet is behind Petit Verdot, Cabernet, Cab Franc and Merlot in price-per-ton, according to the Napa Valley Grapegrowers Association, the suggested price of $3,200 to $3,600 for 2007 is higher than Pinot Noir, Merlot, Syrah, Zin, and Sangiovese in that order, in the valley.
Early Champion – a Don Quixote Like Quest
One of the earliest advocates of the grape is Carl Doumani, who began making it at his
Stags' Leap Winery
in 1972. Doumani sold the property to Beringer Blass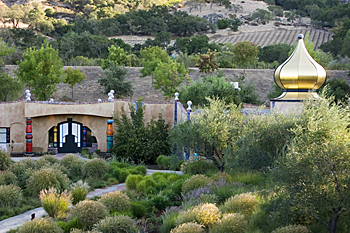 25 years later and began making it in '99 next door at another site, which he named Stags Leap Ranch Vineyard and
Quixote Winery
. In the eastern foothills of the Stags Leap promontory off the Silverado Trail, Doumani produces about 2,000 cases a year of Petite Syrah (he chooses to spell it that way because "it's prettier") from half of his nearly 30-acre parcel. (Note: Beginning with the 2006 vintage, Doumani will no longer release the Petite Sirah under the Panza brand, his second label, but will make a Quixote pets exclusively, and sell it for $60.)
According to Michael Wolf, who began consulting on Doumani's vineyard three years ago, Petite Sirah is "distinctive to that place. It's a huge wine but that's Petite Sirah. At the same time, it's not a wine that overwhelms you. It's wonderful with big foods (Doumani believes barbecued lamb is its perfect foil) that can stand up (to it), and at the same time there's a softness that's really attractive."
On the other hand, says Wolf, who consults for about a dozen Napa Valley clients across most of its sub-regions, Doumani's Petite Sirah is the first with which he's worked.
"It's hard (to farm) because it tends to over-crop," he explains. "The clusters can be huge and it's susceptible to sunburn and heat damage. At Quixote, it doesn't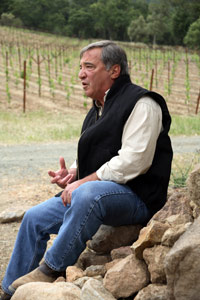 have a favorable row direction (where it's north-south facing) so it gets clobbered in the afternoon (heat)."
So then, why is Petite Sirah "distinctive" to Stags Leap Ranch Vineyard?
"They were trying to find a sense of place long before I ever got there and I need to respect that; to feel that, to understand where you are, and try to bring that out as best as I can," Wolf says.
"It's (the vineyard) kind of a tipping point of the valley and the real mountains on the eastside of the valley where it sits and how it sits, feels quite isolated … (It's) the geography and the way the sun hits it. It feels like its own little world. It's not valley floor soil by any stretch of the imagination," he continues. "There's rock, but it's not real mountain soil."
Wolf explains that the soils (farmed organically but not certified) are very well drained, and the clay content is low. The vineyard sits in an elongated shallow bowl. It slopes down to a flat area that's fairly rocky and meanders gently back up again, east to west. Some of the 15 acres of Petite Sirah are 15 years old. So, how does Wolf intend to deal with the heat on the site so that it won't "clobber" the vulnerable pets? He explains that the trellis system is V-shaped to make a lot of shade and he leaves some clusters as umbrellas or sacrificial lambs, "knowing t