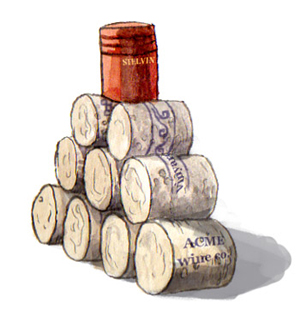 Are Screw Cap Wine Bottles Sensible or Not?
Pop Quiz: If a screw cap wine closure offered the same qualities that a traditional cork does while providing the convenience of easy removal and easier re-capping, which would you prefer: Screw Cap or Cork?
by Eleanor & Ray Heald
August 20, 2007
---
Eleanor & Ray Heald (ERH):
What further explanation did you give the consumer?
Jason Haas (JH):
At Tablas Creek, we do our best to match the wine with the closure that allows the wine to age and evolve gracefully over time. It's not the same for all wines, just as one-size-fits-all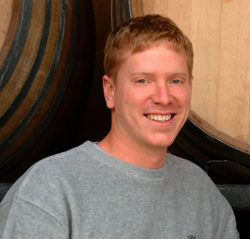 methods for winemaking are not. A winemaker would revolt if told that he/she must choose either all barrels or all stainless steel tanks for every wine in the cellar.
ERH
Yet, don't many winemakers accept such direction, without much research, when they choose screw cap closures for every wine they make?
JH
Most of the coverage of alternative closures is terribly reductive, either taking the position that anyone who stuffs a piece of tree bark into a bottle of wine deserves the contamination they're likely to get, or talking in mushy language about the romance of opening a cork-finished bottle of wine. Probably the most public debate of this sort was played out in the March 15, 2005 issue of the
Wine Spectator
, where James Laube and James Suckling shared cover space with dueling articles entitled "Why I Hate Cork" and "Why I Love Cork".
ERH
: Isn't it true that a significant percentage of all natural corks are tainted by 2,4,6-trichloroanisole (TCA), a chlorine compound that makes a cork, and any wine in contact with it, smell and taste musty?
JH
: Industry estimates of the amount of tainted corks range from three percent to as high as 10 percent. Even at three percent, this is a very large number of bottles that are ruined each year. For a winery the size of Tablas Creek (16,000 cases annually), this means that we could potentially release over 5,000 compromised bottles. If we're lucky, the consumer would recognize that a bottle was corky and request a replacement. If we're unlucky, the consumer just decides that he/she does not like Tablas Creek (or at least that particular bottling).
ERH
: So it's easy to see why so many winemakers are passionate advocates of alternative closures?


JH
: Yes, on the surface, but the issue is far deeper than that. At Tablas Creek since 2002, we've bottled samples of the same wines, finished in both cork and screw cap. We've tracked evolution to garner some of our own impressions about various impacts of both options - cork or alternative closure.
ERH
: Is this a totally organoleptic assessment?
JH
: When we taste the wines, we do it blind, and ask ourselves (and anyone who joins us for these tastings) to describe what is tasted. We - and everyone who's joined us - describe consistent differences between the cork-finished and screw capped wines, and have noted these differences as early as three months after bottling.
ERH
: Can you enumerate the differences?
JH
: Wines bottled under screw caps taste fresher, higher in acid, younger, tighter, and more minerally. Wines bottled under cork taste mellow, sweeter, richer, more open and more evolved. By sweeter, I mean the way that people describe sweet oak. It also tastes lower in acid, which translates to a perception of sweetness.
ERH
: Which is better: natural cork or screw cap?
JH
: That's not a simple question. It depends on what we want the evolution of the wine to be. For an aromatic white, or for our Rosé, we like the brightness and freshness that the screw cap closure provides, and believe that the screw cap will have the additional benefit of keeping these wines (which are typically meant to be enjoyed young) tasting youthful longer.
ERH
: Is it the same for all Tablas Creek whites and then all the reds?
JH
: Brighter, younger characteristics do not benefit Tablas Creek
Roussanne
or the Roussanne-based Esprit de Beaucastel Blanc, both of which we want to develop the mellowness and sweetness that time brings to wines meant to age. Also,

youthful characteristics discovered in wines under screw caps do not benefit most of our reds (including our Côtes de Tablas, Esprit de Beaucastel,
Syrah
, and
Mourvèdre
). In fact, the only red wine we've preferred the screw cap finish on is our 100 percent Counoise that we produce for our wine club.
ERH
: What is there about the nature of Roussanne and a Roussanne-based wine, such as Esprit de Beaucastel Blanc, that requires that evolution in the bottle that other white grape varieties don't?
JH
: Roussanne, unlike most white grapes, produces texture- and spice-driven wines rather than wines dominated by floral or fruit character. These textural qualities (a rich, almost oily texture, full

body, and lots of sweet spices) become more pronounced with time. Under screw cap, we've found that the wine stays youthfully disjointed longer, and displays less richness. Other white grapes, particularly
Viognier
and
Grenache
Blanc, are more floral, and also more prone to oxidation. The screw cap preserves the floral freshness in these wines and extends their lifespan.
ERH
: Can you explain more about why 2005 Counoise is better under screw cap than natural cork?
JH
: The 2005
Counoise
is a wine that we have chosen to bottle in screw cap because it's very prone to oxidation, it's meant to be drunk young, and because it's quite floral. We've also experimented with our Grenache-based Côtes de Tablas, which we think may benefit from screw cap in the long-term (although we're not ready to commit the bulk of our production to that). The Mourvèdre-based and Syrah-based wines appear to benefit from the cork, which makes sense as both varietals are prone to reduction and require more exposure to oxygen throughout the fermentation and aging process.
ERH
: Oregon State University (OSU) researchers released a study on July 26, 2007 (which will appear in the American Journal of Enology and Viticulture) that may shed new light on consumer attitudes on wine closures.