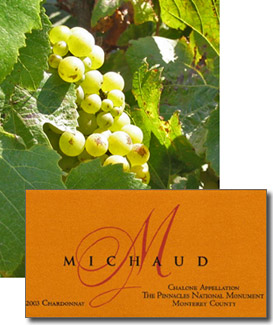 Want Classic Chardonnay?
Michael Michaud Still Makes It That Way
He's one of a trio of Chardonnay producers that have been making Chardonnay for decades with a careful touch to avoid over-use of oak, over-the-top alcohol, and all-important acid - honest-to-goodness Chardonnay that reveals the place from where their grapes originate.
by Alan Goldfarb
August 21, 2007
---
Alan Goldfarb (AG):
Jim Laube (Wine Spectator) and Robert Parker once called Chalone Vineyards' Chardonnays the 'Montrachet' of California. I disagree. I think your Chardonnay is the 'Chablis' of California.