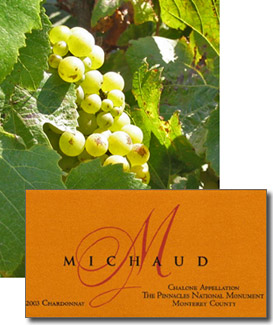 Want Classic Chardonnay?
Michael Michaud Still Makes It That Way
He's one of a trio of Chardonnay producers that have been making Chardonnay for decades with a careful touch to avoid over-use of oak, over-the-top alcohol, and all-important acid - honest-to-goodness Chardonnay that reveals the place from where their grapes originate.
by Alan Goldfarb
August 21, 2007
---
Alan Goldfarb (AG):
Jim Laube (Wine Spectator) and Robert Parker once called Chalone Vineyards' Chardonnays the 'Montrachet' of California. I disagree. I think your Chardonnay is the 'Chablis' of California.
MICHAEL MICHAUD (MM):
I would go with that kind of idea. But I'd rather drink a Domaine Leflaive (which makes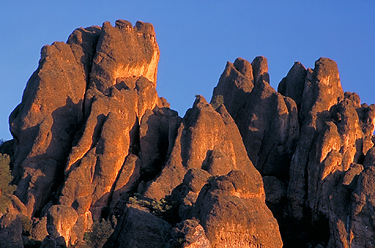 Montrachet and Puligny Montrachet Burgundies) Chardonnay. They're an absolute benchmark. We don't have quite the acidity (of Chablis). There is nice acidity here, and the wines aren't too lean, but lean for California. The profile of flavors for me is very similar (to Chablis). But the aspect of the mouthfeel is different. But we have the minerality and flintiness that complements the fruit. These wines have an amazing ability to evolve in the glass and in the bottle.
AG:
When I say your wines are reminiscent of Chablis, I mean that they do have the acidity and oak restraint of Chardonnays from Chablis. I agree that the acidity in your wines is not as prevalent as in Chablis, although they are beginning to use more new oak. But your Chardonnays show they can age as do Chablis and they take on a patina of honey as they age, just as in Chablis. What is your thinking behind holding back your wines?
MM:
They are tight and closed in their early years. After a year or so of bottle age, they tend to open up more. If we were an older wine culture, like in Europe, it would be handled a little differently. It would be decanted in restaurants. But we're not quite there yet.
AG:
When people here think of Chardonnay, they don't think of it as age-worthy. Why is the '98 still available?
MM:
The '98 was set to be released in 2000 and a certain publication came along and wrote that the '98 was crap. So I held it back. Then the dotcom crisis came, then the energy crisis, then September 11. So it's been a lot harder to sell, and that slowed my release dates down. But the good news is the wines age well and we're aging them on our nickel.
AG:
Your wines definitely do buck the trend in the marketplace.
MM:
I'm kind of stubborn that way. I'm hoping before I get tired or get hit by a meteorite, I can continue to do this. But you know wine is trendy. (And now) we're obscuring the very thing that's important, and that's place.
AG:
I want to know more about your vineyard. You have 28 ½ acres planted about 20 years ago, with another seven that is staked and irrigated. You use only estate fruit from your vineyard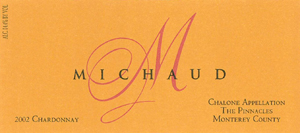 that is comprised of limestone and decomposed granite and the Chardonnay comes off a little more than 13 acres, most of which are planted on their own roots. The village of Chablis happens to be loaded with limestone and fossilized soils. Do you think it's similar to your vineyard?
MM:
They don't have that decomposed granite. Perhaps the high level of calcium in the limestone has an effect, too. Ours is a rare combination in that it's embedded in that limestone base. I've never found an actual fossil, but we have found limestone that looks like it's been on the bottom of the sea.
AG:
What specifically do you think the limestone and granite does for your Chardonnay?
MM:
When you look at all the wines, you can find the same thing in the Pinot and the Syrah. There's a mineral-ness, a flintiness.
AG:
I've detected a licorice flavor or fennel in the Chardonnays.
MM:
There is a wild herb, spiciness component, but it's not necessarily soaking up the wild herbs that grow up there.
AG:
What is it about the Chalone AVA that attracted you?
MM:
It's little understood and it's extremely difficult to grow grapes. We have a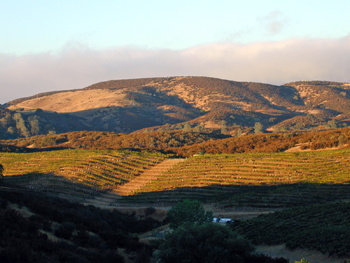 lot of predators, not a lot of water, and no major highway. Chalone (Vineyard) had nothing in 1979, just generators and a radio telephone in the truck where we had to move around to find a signal and you'd have three minutes to tell someone what you were going to tell them. We had one foot in the 20th century and one in the 19th.
All of those things make growing difficult. I have only a certain amount of water I can buy and this year we have very low rainfall. There are very big temperature swings – 40-50 degrees – and 100 degrees between the hottest day and coldest day. We have frost, and now it's every other year instead of every five. I'm going to buy a wind machine because I don't have enough water (to fend it off).
AG:
So, why did you go up there in first place? It really does sound like a recipe for failure.
MM:
Even though it was remote, I fell in love with the place. I saw the results with the grapes that you could grow up there, and this wonderful potential for wine and grape quality. I thought it would be a great place to have a vineyard.
And the land prices were vastly different from Napa. It was $350 an acre in the early '80s.
AG:
You seem to be picking at under 24 Brix (measure of sugar), yet your Chardonnays consistently come in at over 14 percent alcohol. I must say I was amazed that they all are over 14 because you could have fooled me – and did.
MM:
You get great grape flavor at 23-24. As we move into the new era with climate change now, it gives you 14. I would guess that the native yeasts (are an influence too, resulting in higher alcohols). Whatever we have in our local yeast population has more efficiency or the fermentation is slower.
AG:
Wouldn't you prefer less alcohol?
MM:
I'm starting to pick a little less ripe -- closer to 23 and 23.5 with the '06. But I don't want to diverge too quickly.
AG:
You seem also to be using one-third new French barrels for less than a year fermentation time. I detected no evident oak flavors or aromas, which I love, but you're obviously using the new wood to round the juice out. How did you decide on 33 percent new wood?
MM:
It's drifting back to 25 percent. I've always felt if you have very good fruit, the oak should be a serving platter and not a lid that you have to pul