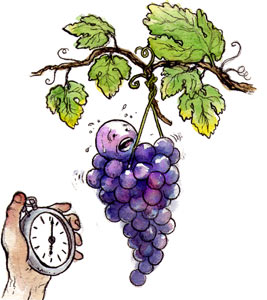 Vintner/wine industry educator
George Vierra says
grapes are hanging around too long
The controversy about long hang-times, high alcohol levels in wine, and the retreat from terroir continues.
by Alan Goldfarb
September 18, 2007
---
W
ant an earful of what former vintner, winemaker and educator George Vierra thinks about the trend of overly mature wines? Just listen for a few minutes and you quickly realize he thinks they are anathema to what some people believe, as he puts it, are "historically proper" wines.
"The wine in the Napa Valley has never been worse because there's no sense of what a balanced wine is," says Vierra, who is the "VI" in the long defunct acronymic Napa Valley winery, Vichon. He is addressing the subject of maturity of grapes as it pertains to high alcohol wines.
Vierra has been teaching oenology and winery management at Napa Valley College since 1994 and has consulted for wineries all over the world for the last 15 years, including Washington, California, Arkansas, as well as Napa and Sonoma counties.
He also dropped this bombshell as he spoke to
APPELLATION AMERICA
: "Hang time (in which grapes are kept on the vine for long periods) can be absolutely worthless … The only thing you're getting is hydration and the wines are undrinkable, and have no balance. The only thing you have left to do is bring it to
Clark Smith
(whose company, Vinovation, reduces alcohol among other technological advances) and let him take some alcohol out."
Vierra contends that "there's never been a relationship between sugars and aromas, flavors and character. There's no correlation," as winemakers leave fruit on the vines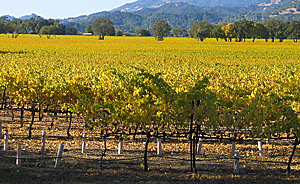 in search of physiological maturity of their grapes. "It's all secondary - aromas, flavors, phenols (derived from skins, seeds and stems). Those are things we don't measure, so we want to find a way associated with grape maturity.
"There's never been any way of measuring optimal grape maturity - i.e. maximum amount of fruit characteristics, balance, and acid. We have to decide when to pick the bloody grapes, and that means we have to have some sort of guess. It's a problem and it's purely empirical."
Furthermore, he insists winemakers are "hoping all elements of a grape will come together at the same time, and that hardly ever happens. Ninety-percent of flavors are precursors, they're sugar-bound. Most flavors are in the skins. It's a major problem with merely tasting the grapes."
He suggests that many winemakers taste their grapes out in the field and don't have the time or the resources to put the fruit through extenuating trials before deciding if the grapes have reached optimal levels of maturity.
Changes in Vineyard Practices Mean a Change in Our Wines
Vierra also cites a paradigm shift in vineyard practices and the success against some diseases as factors that have resulted in high alcohol wines. He says that when he started in the wine business at
Charles Krug
in 1971, nine years before he co-founded Vichon, the practice was to pick in early November, and at 21.5° Brix (a measure of sugar). Today, harvesting in the Napa Valley is generally conducted between late September and October for red grapes and the average Brix levels are now approximately 25.5°.
"Between 1971and '77, except '74 which was very warm, I had to buy high-proof alcohol to fortify the wines to bring them up to 12%," he says, in juxtaposition to today's Napa Valley reds that average about 14.6 percent alcohol.
Vierra claims that higher alcohol wine is the result of several factors: the elimination of red leaf virus, caused by a mealybug, which stunts growth in

Editor-at-Large, Dan Berger, agrees that overripe grapes make wines for the cola generation.

Read his thoughts on
'the Unreal thing'
grape clusters; the over-use of irrigation, and some types of trellis systems. In the '70s, the norm was no irrigation and head-trained vines.
"We've changed the ground rules; the operating procedures have changed," he believes. "It's created 'standing up' and not 'sitting down' wines, and I think it's so wrong."
Will these practices continue and, why do we have these unbalanced wines that you claim exist now in the Napa Valley? "Because everybody lives by (Robert) Parker and the
Wine Spectator
," he answers, as one might expect. "They are probably more influential writers than in any other industry in the world. And somebody has to have the
cojones
to put out a product that will appeal to women and others, who don't care about scores and don't like a lot of alcohol. "It's going to take some really powerful force, like a Gallo, with good marketing clout," he adds. "Too bad Robert Mondavi can't do it - (produce) historically proper-styled wines for the women in America, and not these guys, these stockholders who like 90-plus Parker wines."
---
Vineyard photo courtesy of
FreeLargePhotos.com