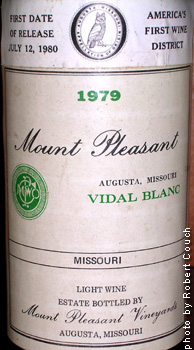 Lucian Dressel – A Talk with the Man
Behind the first AVA in the U.S.
by Joe Pollack
September 18, 2007
---
L
ucian Dressel was one of the pioneers in the rebirth of the Missouri wine industry in the 1960s and '70s and its growth in quality and popularity over the next two decades. Now he's trying again in nearby Illinois at the
Mary Michelle Winery
in Carrollton, where he is general manager and winemaker.
A couple of generations ago, the Dressels, at
Mount Pleasant Winery
in Augusta, along with the Held family of
Stone Hill Winery
in Hermann and the Hofherr family of
St. James Winery
in St. James, believed that Missouri could come close to regaining the position it held in the 1890s. At that time, Missouri was the nation's second-largest producer of wine, including many that earned medals in national and international competitions. It took hard work and some persistence, but their efforts paid off for the Missouri wine industry.
So what is Dressel up to in Illinois? Lots of interesting things, as it turns out. First, he is experimenting with viticulture that may provide some new - and extremely interesting –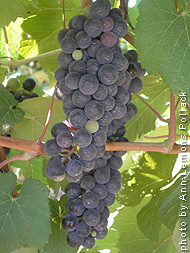 products. For example, on the 80 acres in Carrollton, Dressel has vines bearing a grape that crosses
Norton
(AKA Cynthiana or Virginia Seedling) with the California
vinifera
Zinfandel
- he's calling the finished product Zinthiana - and others crossing Norton with the French classic
Cabernet Sauvignon
. And since the grapes of the cross, usually red, occasionally produce whites as a result of a recessive gene coming forward, Dressel sees yet another wine being produced.
Dressel also is making, and selling, dry wines from the Cynthiana/Norton and the
Chardonel
grapes. His 2004 Norton recently won a gold medal in a national competition for dry Norton wines and is being sold in retail stores in Missouri, at prices considerably lower than most Missouri Nortons. He's producing a dry Chardonel (a Chardonnay-Seyval cross) as well, a crisp, all-steel vinification that shows considerable citrus and a nice acid-alcohol balance. The 2006 has won gold medals and best-of-class designations in competitions in San Francisco, Monterey and Los Angeles.
About three-fourths of the vines froze over Easter weekend when temperatures dipped below 20 for three consecutive nights, so the '07 will be in scant supply. The same freeze followed a couple of weeks of warm weather and also played havoc with the Missouri grape crop.
The First AVA in the United States
No matter what comes of these new experimentations, Lucian Dressel's place in North American wine history is secure. He is the person responsible for little Augusta, Mo., receiving the first AVA designation in the United States.
As Dressel tells the story, he was enjoying a glass of Mount Pleasant wine one day nearly 20 years ago with Millard Cohen and Howard Nason, two wine connoisseurs who were major contributors to the growth and success of Missouri wines. In fact, Cohen and this writer were two-thirds of the judging panel that awarded the ribbons at the first state-wide wine competition at the Missouri State Fair, in the mid-1970s.
Dressel, Cohen and Nason (the latter two are deceased) had the idea, obviously born during their tasting, of applying for a French viticultural appellation, based on the fact that Missouri was French territory before the Louisiana Purchase.
"I was doing some research on the project," Dressel said, "when I discovered that the United States BATF was about to do the same thing for American appellations. I filed the application, and here we are."
As a Missouri winemaker, and now as an Illinois one, Dressel always has been individualistic, even iconoclastic. He was making ice wine in Missouri in 1976, and he studied in California with the late Harold Olmo, one of the great grape hybridizers and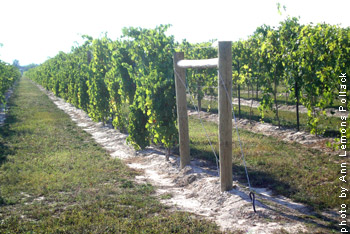 pioneers. He has no patience with the trend for
screw-cap closings
on bottles. "Cork only," he said strongly. "I think it helps the aging far better than the screw-top, and I think it creates better wine.
Dressel, who grew up on a family farm not far from the winery site, had been "in exile" (the description delivered with a wry grin) from Missouri since the early 1990s, when a combination of legal, family and financial difficulties caused him to give up the Mount Pleasant Winery (now owned and operated by his brother, Phillip). He went to California where he worked a variety of jobs, both in and out of the wine industry, before he was lured back to the Midwest in a peculiar combination of circumstances.
Ed Hindelang, a Carrollton-born Californian who had made a large amount of money in the telecommunications business and other enterprises, remembered that the Carrollton area had grapevines when he was a boy. Some Santa Barbara-based partners formed Illinois Cellars and purchased land in Carrollton and began looking for a winemaker. Coincidentally, one of the people they talked to was Fred Dressel, Lucian's son, an independent winery and vineyard consultant who has advised many Midwest winemakers, including some in and around Augusta, Mo. Fred mentioned his father.
"The partners," Lucian continued, "are dedicated to making good wine. They know that good equipment is vital, and we have some of the best." The barn-red, wooden winery building is lined with new steel tanks.
And ironically, for a man who achieved fame, if not fortune, with some of his Missouri Cynthiana/Norton wines, Dressel is less of a fan of the grape than many of his fellow winemakers on the other side of the Mississippi River. "I don't think the wines last long enough before they begin to lose their appeal," he said. "But it's a wonderful grape, resistant to just about all pests, hardy in extreme weather, easy to grow. That's why I think crossing it with Zinfandel and Cab will make some superior wines."
---
Despite his accomplishments, Lucian Dressel prefers to stay behind the scenes and accordingly requested that no photos of him be taken or appear in this story.