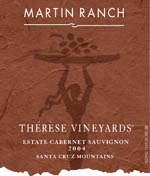 Tango in the Vineyard - The Love Affair of Martin Ranch
It takes two to tango, or so they say. But at Martin Ranch it takes two to make the wines at the Santa Cruz Mountains winery. Correspondent Laura Ness takes us on a tour and finds love in the air...and the barrel.
by Laura Ness
October 9, 2007
---

hat's
so special about
Martin Ranch Winery
? Well, first, the 11 acres of vineyards have ample sunny exposure, and the climate is quite conducive to producing good, rich flavors and even ripeness. Then, there's a beautiful pond, which provides both important irrigation water and a lovely place to relax on a summer afternoon.
Here, they grow Cabernet Sauvignon, Cabernet Franc, Merlot, Petite Verdot, Zin and Nebbiolo. Most of the rootstock is 110R, 101-14, 3309, Freedom and 305C. The Cab clones are 4, 7 and 8, and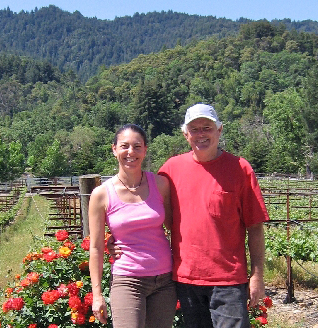 the owners, husband-wife team Dan and Thérèse Martin are currently grafting over a small percentage to clones 6 and 337. Increasingly, winemakers are lining up to buy the Martins' Cabernet fruit, and the diversity will help produce an even more complex product. Most of the established vineyards on the lower slopes of the property in front of the winery are trellised on the lyre system, with quadrilateral cordons.
At this location in the very southern part of The Santa Cruz Mountains AVA, in Santa Clara County, there is about 60 inches of rain per year, although they got far less this past winter. Fortunately, they have a beautiful 1-acre pond, which not only provides irrigation water, but also hosts a remarkable collection of bird life and a never-ending chorus of bullfrogs. There are also fish in the pond, including large-mouthed bass, bluegill and catfish. Being able to fish in the pond is a unique wine club privilege. Dan points out that the
Nebbiolo
on one side of the pond is the "odd man out" here: it must be cane pruned in order to guarantee fruit. The first 2 buds can often be infertile. Even in a good year, he might get 1 ton per acre. It's a labor of love and a constant viticultural experiment.
As we walked back to the winery through the Cab vineyard, I heard the distinctive sound of chickens. "They come in handy," Thérèse remarks. "Nothing like fresh eggs for breakfast every day, plus, we have plenty of egg whites for fining." Of course, they also have to share an occasional hen with the resident foxes that make a home in the hilly, once oak-dominated area.
Grapes Grown to Order
When Dan and Thérèse married and began planting Thérèse Vineyards vines in 1993, they did so mostly to supply the needs of the
Santa Cruz Mountains
wineries whose products they carried in their stores. "We asked our favorite wineries what they would like to have in terms of grapes," says Dan. They accordingly planted an assortment of Bordeaux vines, something the region was beginning to gain a reputation for, with many Santa Cruz Mountains wineries already making Cabernet from neighboring Bates Ranch. I can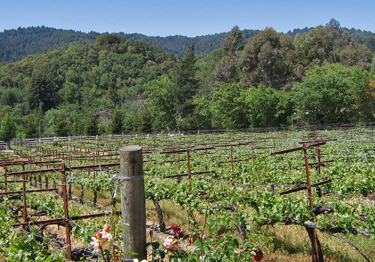 remember seeing Bates Ranch Cabernet from Ahlgren Vineyards on store shelves back in the mid '80s, and pretty much every winery making Cab from the appellation has made a trip to Bates. The Martins subsequently established a solid reputation for their Cabernet, and many wineries in the Santa Cruz Mountains have since sourced fruit from what was originally known as Harvest Moon Vineyards.
As Thérèse Vineyards came on line and began producing more fruit, and as the supply of Bordeaux grapes became more plentiful in the appellation, the couple decided to do what many growers do: become a winery. Plus, Thérèse was itching to get her hands into winemaking. They made their first wine in 1997, and their first commercial crush in 2002 was 625 cases. They've grown significantly with each harvest, changing the name of the place to Martin Ranch to highlight the new winemaking aspect of the operation.
The new predominantly "green" winery building was constructed in less than a year, and was designed to accommodate exactly 536 barrels. As Dan says, "that's plenty already!" The first piece of equipment they purchased when they decided to build a serious winery was a forklift. "We got it on e-Bay from some guy in Michigan: it had less than 200 hours on it!" says Dan. When I visited, the barrel room was stocked with 500 barrels, 5 high, each neatly color-coded to indicate vintage, varietal and vineyard source.
Fortunately, the room has a very high ceiling with lots of shutters, fans and cupolas on top that can be opened to let in the cold night air. In the morning, when the fog brings its cool moisture, they can open the winery doors and let the warm air out and the much cooler air in. Due to the very thick R-60 ceiling insulation and the thick walls with R-30 insulation, the temperature inside pretty much stays at 60 degrees or below. There's a gap in the mountain range that ushers in the fog and cool ocean air, for most of the summer. It's one of the benefits of being on the lee side of Mt. Madonna. As they say, everything in real estate is location, location, location, and there is no real estate more location-dependent than a vineyard, or for that matter, a winery.
The Martins have a swamp cooler to help maintain 70 to 80 percent humidity. Still, they have to be religious about topping: I asked Dan what the regimen was. "We usually do it every 2 weeks, and if you have to add more than a bottle in between toppings, well, you've waited too long", explains Dan. What does he use to top off? I've seen wineries that top every barrel off with the same wine, regardless of what's in the barrels. "Oh no, we do it by varietal. I use these kegs (beer kegs) to store the topping wine. First I top off all the 04 barrels with 04 juice, then I'll move to the 05 barrels."
What's the barrel regimen? "That depends on which program you're referring to", Dan explains, since both he and Thérèse have their own labels. Hers is "Martin Ranch, Thérèse Vineyards," and his is "Martin Ranch, J.D. Hurley," named for his favorite great uncle. The Thérèse Vineyards
Cabernet Sauvignon
(from the estate property) is aged for 28 to 32 months in a mix of French, Hungarian and American oak, while the
Merlot
and
Syrah
under Thérèse's label go 24 months in French and American. In '06, they added Hungarian oak to the Syrah program, because Dan really thought it added complexity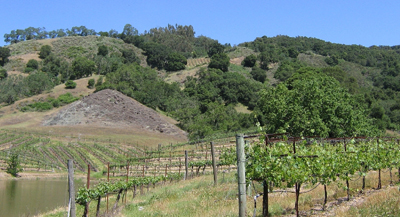 and richness. The wine they are both excited about is the Deer Park Syrah, from a Corralitos area vineyard managed by renowned viticultural consultant,
Prudy Foxx
.
The Nebbiolo is Dan's "pet project." He first made it in 1997. "It was a tann