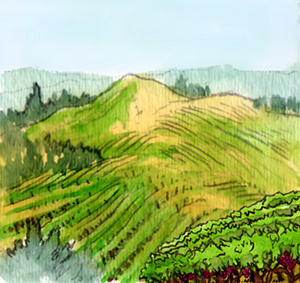 Mount Veeder ~ Napa Valley (AVA)
Mount Veeder: A Diversity of Directions
Because of its length and varied heights, Mount Veeder vineyards are influenced by breezes from San Pablo Bay to the south and warm valley conditions from the north. In the fifth part of The Napa Valley Series, Napa Valley correspondent Alan Goldfarb profiles just what makes Mount Veeder tick.
by Alan Goldfarb
October 19, 2007
---

he
Mount Veeder
American Viticultural Area (AVA) stretches about 13 miles from north to south in the Mayacamas Range on the western edge of the Napa Valley. That means it traverses almost one-third of the length of the valley. That also means that there are diverse differences in the wines that are being produced up there at elevations that range from 450 to 2,500 feet.
There are about 18 wineries and approximately 24 growers cultivating a little over 1,000 acres on Mount Veeder, which is a fraction of the AVA's 15,000 total acres.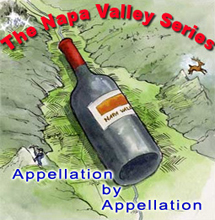 But it is the proximity to the southern part of the valley, and thereby to the cool breezes off San Pablo Bay, that determines which grape variety one plants. The same could be said for those who make and grow grapes in the northern end of Mount Veeder, which is closer to the mid-valley AVA of
Spring Mountain District
.
While
Cabernet Sauvignon
is ubiquitous on Mount Veeder (as in almost all other areas of the Napa Valley), plantings of
Malbec
and even
Syrah
are beginning to gain a foothold in the southern part of the region.
Cabernet Franc
on the other hand, seems much more conducive to the north.
But don't go calling for a bifurcation of Mount Veeder, at least not just yet. Carole Meredith for one will hear nothing about the notion of a North Mount Veeder or a South Mount Veeder. While Carole acknowledges that the AVA is certainly one of the larger areas of the Napa Valley, she believes that most of it is not plantable because of its extreme mountainous terrain and it just depends where your vineyards are situated.
"It's a very complex topography," said Meredith, whose Syrah vineyard for her
Lagier Meredith
wine, is in the southern end of Mount Veeder. "The breezes come from different directions and it depends on where you're facing."
Meredith retired several years ago as the head of the viticulture department at UC Davis. She was reached on her cell phone for this report, as she was escorting a group of some of the same Croatians who helped her identify
Zinfandel
several years ago as originating as Plavac Mali in Croatia.
But, on Mount Veeder, Meredith has thrown her lot in with Syrah, instead of Zinfandel. Her reasons are a combination of climate and soil. "Syrah does well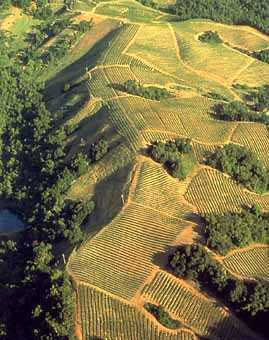 because it does better in cool regions, and the southern part of Mount Veeder is perfect for Syrah. And it gets out of control on deep soils."
Another who has eschewed
Zinfandel
after a couple of tries is Brian Nuss, the vineyard manager, winemaker and co-owner of Vinoce, the small vineyard that happens to be on comedian/actor Robin Williams' property in the northern end of Mount Veeder.
"Zin just didn't work out," he said. "It didn't have the nice berry flavors that you'd expect with Zinfandel."
Instead, Nuss is big on Cabernet Franc from that part of the region. He's recently planted 2,000 additional vines of the variety in his 24-acre vineyard from which he makes less than 600 cases a year of a Cabernet Sauvignon, Merlot and Cab Franc blend.
"Our Cab Franc is incredible," said Nuss. "We don't get the green, herbaceous flavors like they get on the valley floor. It grows more like Cabernet Sauvignon up here. It's floral, with violet aromas."
Nuss' vineyard is divided to upper and lower parcels and ranges from 1,300 to 2,000 feet. The Franc is planted in the lower portion of the vineyard.
Are his wines different from those in the southern part of the AVA? "I think so. It's our exposure, and it's a little warmer, and we're a little further from the (San Pablo) bay and a little more protected," he said. "We're actually closer to Spring Mountain than to Mount Veeder."
Dave Guffy on the other hand, doesn't do as well with Cab Franc in the
Hess Collection
vineyards, which are located in the southern end of Mount Veeder. Instead, he believes that it's Malbec that is going to come on strong in the region.
"Malbec is the new secret on the block (up here)," said Guffy, who is the director of winemaking for the 450,000-case Hess, the largest producer in the AVA. "I don't know how much my neighbors have planted.

A wide selection of Napa Valley wines
are now conveniently available
Directly from the Wineries
in the
APPELLATION AMERICA
online wine store.
"(But) it has a kind of buzz. People have resisted it because it tends to be an alternate bearer - one that will give you a reasonable crop one year and almost nothing the following year - which is why it's not planted very widely around the valley. But it's a great addition to a blend because it helps the mid-palate with a lot of richness."
Guffy went on to say that Mount Veeder "is certainly a great home for Malbec because the climate is perfect, and because it's cooler, the variety likes to ripen early."
And as far as the differences between the northern and southern parts of the area, Guffy, like Meredith, says it all depends. "You can move a half mile up the road, and it depends on what your aspect is, whether you're north-facing or south," he explained. "If you can see the bay from your vineyards, you'll get more of a marine influence and it'll be cooler to grow these grapes (such as is the case with the Lagier-Meredith Syrahs).
"Others who can't see the bay, but see the Napa Valley floor (as in the Vinoce vineyard), that vineyard will be warmer. It's a very diverse area. You really have to know what you like when you're going in looking for vineyards. It can make a huge difference."
---
Coming up: Oak Knoll District, Stags Leap District, and Yountville

Read about all of Napa Valley in the first part of

APPELLATION AMERICA

's The