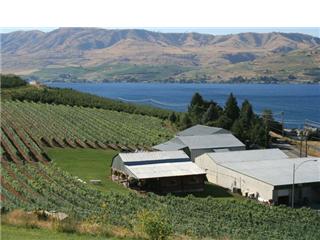 Washington's Columbia Cascade Region: An AVA in Waiting
The slow-in-coming designation of the Columbia Cascade region of Washington as an American Viticulture Area has not stopped the growth of the area's wineries. Just ask Ray Sandidge. He'll tell you all about it.
by Anne Sampson
October 31, 2007
---

n
the late '90s, Ray Sandidge viewed the world from a sun-warmed corner of Eastern Washington, where he worked as a researcher for Washington State University, gathering statistics about various regions in the state. Samdidge scoured records from 50 years of growing seasons, including duration, rainfall, killing freezes, and average temperatures. When he had assembled the data, a picture of the eastern slopes of the Cascade Mountains emerged that was far different than the leafy apple and pear orchards that blanketed the land around Lake Chelan at that time. Sandidge saw wine grapes.
In fact, the statistics showed that growers in Yakima can expect a deep freeze every six to seven years on average, while crops in
Walla Walla
will freeze on average every four years, and those at Canoe Ridge every 12 years. In Chelan, freezes average only once every 17 years.
All these numbers simply mean vines that thrive where others die. So in 2004, Sandidge followed his statistics and his instincts. He had already left the university behind for a position as head winemaker at
Kestrel Vintners
in the
Yakima Valley
, but an invitation from apple-grower Steve Kludt prompted his next move. Kludt was tearing out his orchards and planting grapes, and he wanted Sandidge for his new winery. Sandidge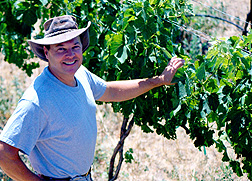 packed up and climbed the Cascade foothills to Lake Chelan. Since then, he's been crafting the wines at Kludt's
Lake Chelan Winery
, as well as for his own label,
C.R. Sandidge
. And the move has been everything he expected.
"Besides the intense physical beauty," he says, "this area is very well situated for wine grape growing."
The town of Chelan, where Kludt's and Sandidge's wineries are located, sits in the heart of the Columbia Cascade, a geologic area stretching from the slopes of the Cascade Mountains east to the Columbia Gorge. The land is rustic, rugged and Rhone-like. The slopes rising out of Lake Chelan have given birth to notable plantings of Alsatian varieties like Riesling, Gewürztraminer, Pinot Gris and Chardonnay, as well as Merlot, Cabernet Franc and Syrah. In 2004, when Sandidge made his move, the Columbia Cascade was home to just a handful of wineries. Today, 25 wineries operate there, and more than 300 acres are planted to grapes.
The Grapes Grow, The Wine is Poured, But the AVA Awaits
An application to designate the area an American Viticultural Area (AVA) is on hold as the Alcohol and Tobacco Tax and Trade Bureau reviews its rules and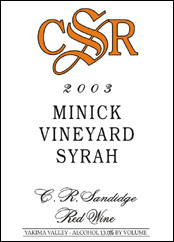 standards, but area vintners are confident about the region's unique characteristics. The lake – 50 miles long and 1400 feet deep – and the mountains work together to create a growing season which averages 3,200 heat units per year, remarkably similar to the Prosser area in the
Columbia Valley
. The 1,100-foot elevations mean more severe winters than those in the lower valleys, but warm air rising from the lake, together with slopes that drain the cold, help mitigate the effect.
But that doesn't mean grapes that love the Columbia Basin will find a home in the mountains surrounding Lake Chelan. "We're trying to grow things the rest of the state can't grow," says Kludt. Cabernet Sauvignon probably won't occupy much acreage because it demands a longer growing season, like that found around Prosser and on the Wahluke Slope. The Columbia Cascade favors grapes with less intense demands. The north shore of Lake Chelan yields lovely
Merlot
and Syrah, says Kludt, while northern-facing vineyards on the south shore are more likely to produce
Riesling
, Pinot Gris or
Gewürztraminer
. "It's all about hang time," he says. "You want the grapes to hang on the vine as long as possible."
Kludt planted his first vineyard in 1999, as the apple market took a steep slide. Today, he has 35 acres on the lake's north shore planted largely to Merlot and
Syrah
, a grape he expects to become a signature of the Columbia Cascade. Lake Chelan Winery's 2004
Merlot
is a complex wine, with aromas of anise and
flavors of dark fruits and oak. But the 2006 Pinot Grigio more distinctly captures some of the traits of the region, with a good balance between acidity and sugar that results in a slightly sweet wine with bright flavors of lemon, peach and apricot.
All told, Sandidge bottles some 15,000 cases a year for Kludt and his own label, as well as for a handful of other wineries across the region. Some of the most intriguing grapes in the Columbia Cascade, he says, include a few surprises like
Sangiovese
and
Malbec
, which he describes as "classic – very structured, good color, with raspberries and red fruit on the nose, and great flavors and tannins." Other stars include Riesling, Pinot Noir and Gewurztraminer.
Larry Lehmbecker was one of the first vintners to open his doors in Chelan. He has seven acres of vineyard in the ground at his winery,
Vin du Lac
, which rises some 200 feet above Lake Chelan. He focuses primarily on white varieties, including
Riesling
and
Viognier
, but he also grows red varieties that are well suited to the area. His prediction is that Columbia Cascade
Cabernet Franc
will be noteworthy, "and Pinot Noir is doing surprisingly well here. It's starting to take on a nice expression."
"We're still very young in terms of growing grapes," he says, but the results – so far – have been good. The summer ripening season offers plenty of heat, but it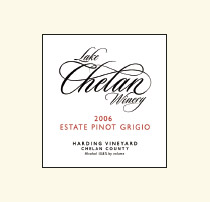 comes more gently than in other areas. Hot sunny days drive up the Brix, while cooler nights help retain the balance and flavor in grapes l