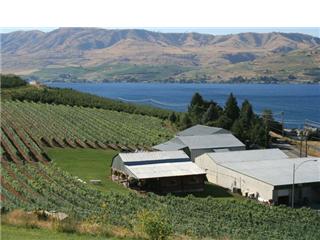 Washington's Columbia Cascade Region: An AVA in Waiting
The slow-in-coming designation of the Columbia Cascade region of Washington as an American Viticulture Area has not stopped the growth of the area's wineries. Just ask Ray Sandidge. He'll tell you all about it.
by Anne Sampson
October 31, 2007
---

n
the late '90s, Ray Sandidge viewed the world from a sun-warmed corner of Eastern Washington, where he worked as a researcher for Washington State University, gathering statistics about various regions in the state. Samdidge scoured records from 50 years of growing seasons, including duration, rainfall, killing freezes, and average temperatures. When he had assembled the data, a picture of the eastern slopes of the Cascade Mountains emerged that was far different than the leafy apple and pear orchards that blanketed the land around Lake Chelan at that time. Sandidge saw wine grapes.