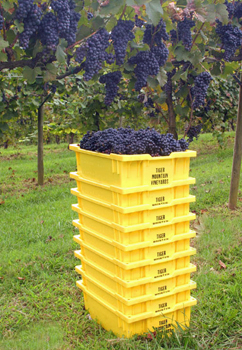 Who Knew? Georgia's unusual grape varieties
by Harry Haff
November 19, 2007
---

or
those of you not familiar with Georgia as a wine growing area, I do need to tell you that "moonshine" and "white lightnin'" are
not
Southern grape varieties, and not all adult beverages here come in mayonnaise jars and cans. A look at a couple of the wineries in the State reveals that the above grapes not only grow here, but thrive in an unexpected confluence of weather and soil and topography, i.e.terroir, that often mirrors the Piedmont region and some parts of southern France.
The two wineries' owners came to their properties by entirely different directions but they are both able to coax some fine results from what can only be described as mostly unknown grape varieties in a site specific terroir.
In
Tiger Mountain Vineyards
, John and Martha Ezzard staked their vines in what was an old family farm. Looking for a way to keep the old homestead productive, Dr. Ezzard, a retired surgeon, spent some time in Virginia at Horton

Vineyards learning about what grapes could potentially do well here in the Southeast. With tutelage from Dennis Horton and armed with cuttings from Virginia, Dr. Ezzard started planting some
Norton
as well as southern European grapes in 1995 through 1997. Petit Manseng was the last to join the vineyard. At an elevation of 2,000 feet, the vineyard is on steep slopes that allow for excellent drainage on a soil that is a mix of decaying granite and red clay. The vineyards face southeast to southwest, which gives them the almost daylong sunshine that is needed at this altitude.
The
Petit Manseng
is fond of where it lives, often able to rise to 23° or 24° Brix at harvest time. The grape thrives in the soil, the temperature and the airflow patterns that discourage bunch rot, and it maintains a pronounced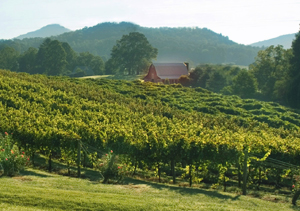 acidity which creates a balanced wine. And unlike Dr. Ezzard's counterparts in the south of France, this Petit Manseng is vinified dry [
See full review of this wine
]. The soil and topography help grow a wine with a floral nose, a firm structure, and light stone fruits on the palette.
At the complete opposite end of the wine style scale is the
Tannat
. Dr. Ezzard says that the same terroir that suits Petit Manseng so well is also capable of producing a red wine softer than its Madiran counterpart, due in part to the thirty month barrel ageing. The soil and climate are so beneficial for this grape that a green harvest is regularly done because the grape gets too productive. The granite helps provide structure and the exposure and warm daytime temperatures provide a flavor profile for this grape that is balanced and fruit forward without the sometimes-overwhelming bitterness of its French counterpart.
Lest you think this is a vineyard of all offbeat grapes, Dr. Ezzard also grows
Cabernet Franc
, which he says is an ideal variety for the East Coast in general; and especially here in the Southeast. It does well in the altitude-moderated climate; and the vineyard slope helps provide good air circulation to discourage lots of pesky vine diseases and fungi.
Blackstock and Barrel
Down the road a piece is
Blackstock Vineyard and Winery
. Owners Dave and Tish Harris have been at the vineyard for twelve years. Unlike Dr. Ezzard, Dave graduated from Fresno State with an Oenology and Viticulture degree and worked with area wineries

before settling on his own little piece of planet Earth. At 40+ acres under cultivation Blackstock is one of the larger growing areas in the southeast.
In 1996, Dave and Tish purchased 90 acres on what is known locally as the Dahlonega Highlands. At an elevation of 1,700 feet, this is a ridge top property that has steep slopes and a classic
terra rossa
Georgia soil of granite over clay. The clay shows a sub-soil that is iron rich and well drained, below a topsoil of differing compositions where different varieties are planted.
Dave also plants better-known varieties in parts of his vineyard where the top soils are of varying composition. For example, in the
Cabernet Sauvignon
block, the topsoil consists of fist-sized stones mixed with clay. This particular mix has the interesting local name of "Tallapoosa Cobbley"! In the Rhone block where
Viognier
and
Mourverdre
live, there is a predominately sand/silt mix over the clay.
The slope provides wind and air circulation that help prevent most rot and mildew on the vines. The slopes, which can be as steep as 30 degrees, provide excellent drainage. As Dave says, "It's remarkable how much disease control...and vine issues are addressed at this stage" of vineyard and grape variety selection. The site-specific terroir certainly makes disease control much easier than would be the case at a lower altitude and on gentler slopes.
As to quality based on the slope of the vineyard, the Blackstock Reserve wines come from steeper slopes with the same clones that produce good wines at a gentler angle but lack some of the added personality which the steeper terrain provides.
In sighting this vineyard, Dave did his homework by taking core soil samples, looking at map overlays of weather and wind patterns and selecting northeast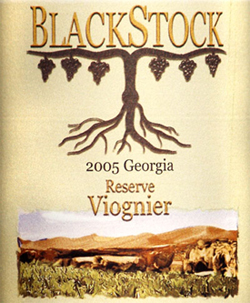 and northwest aspects for the vines. "Matching variety to soil, aspect and slope are keys in a successful sustainable vineyard program." Blackstock is in a sheltered position: the mountains block some of the worst winter weather; the micro-climate receives much less rainfall than neighboring areas. The vineyard is on the eastern slope of the Blue Ridge Mountains and is considerably drier than the town of Dahlonega a couple of miles away on the western slope and at less altitude.
This is a situation similar to
Yakima Valley
, Washington, which is on the eastern side of the Cascades. This specific location creates a rain shadow to make the vines work a little hard