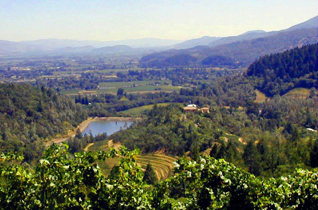 Spring Mountain District ~ Napa Valley (AVA)
The folks on Spring Mountain
'have to know what they're doing'
In the 13th part of APPELLATION AMERICA's The Napa Valley Series , Alan Goldfarb investigates what makes the Spring Mountain District AVA unique among the other Napa sub-AVAs. The answers lie in the region's unique geographic-based micro-climates, as well as its variety of soils.
by Alan Goldfarb
December 14, 2007
---

erhaps
more than in any other of the 14 sub-AVAs of the Napa Valley, one really has to know what they are doing if one wants to grow wine grapes on Spring Mountain.
"It's incumbent upon the people that farm there to know what's going on," says Paul Skinner, who has drawn detailed soil and weather maps of the entire valley, has worked with a myriad of Spring Mountain wineries and growers, and uses a vineyard from Spring Mountain for one of his own wines.
Skinner, who is a soil scientist and founder of
TerraSpase
, a St. Helena-based consulting firm which offers geographic information systems to vineyards and wineries, also has his own brand, which he calls
Sequum
.
As for Spring Mountain, he further concludes, "It's a rather unique appellation. Because of its location in the valley, its altitude, its mixture of soils, and its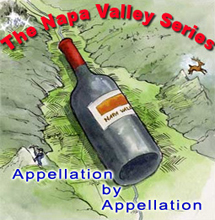 climate, it does impose some very different constraints – both good and bad – for the varietals that are grown up there."
The
Spring Mountain District
is situated on the eastern slopes of the Mayacamas Mountains, which separate Napa Valley from Sonoma Valley and the Santa Rosa Plain. Encompassed within its bounds are about 8,600 acres, of which about 1,000 are planted to vineyards. Red varieties make up about 90 percent of the production on the mountain, with
Cabernet Sauvignon
and
Merlot
predominating. But a small percentage of white varieties (about 65 acres), such as
Chardonnay
and
Riesling
, have been known to produce some of the best wines of their type in California.
Currently the region has just over 30 growers and as many wineries. Among the more well-known wineries are Stony Hill, Pride, Cain, Spring Mountain Vineyard, Marston, Schweiger, Barnett, Newton, Keenan, and Lynch. But other producers such as Ritchie Creek, Smith-Madrone , Guillams, Philip Togni, Fife, Frias, York Creek, School House, and Kongsgaard have garnered outstanding reputations among the cognoscenti.
The appellation boundaries extend from the top of the ridgeline on the western edge, which traces the Sonoma/Napa County border, down to the 400-foot contour line at the eastern base of the hillside (generally considered the dividing line between hillside and valley vineyards in Napa Valley). The southern boundary is Sulphur Creek and one of its tributaries, while the northern boundary is Ritchie Creek.
Elevations range from 400 to 2,600 feet, with a predominantly eastern exposure. As compared to the Napa Valley floor,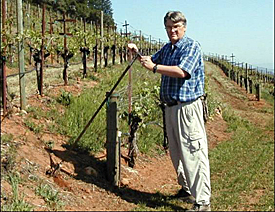 the region has a more moderate temperature range during the growing season - cooler days and warmer nights - as a result of the typical daily cycle.
Most Spring Mountain vineyards lie above the fog line, while afternoons are cooled earlier by maritime winds from the Pacific. These unusual afternoon breezes direct from the ocean - over the mountain rather than up the valley from San Pablo Bay - do not occur as often in other areas on the eastern slopes of the Mayacamas.
Spring Mountain also receives 10-15 inches more annual rainfall than the Napa Valley floor or the eastern slopes of the valley. Total precipitation can range as high as 70 to 95 inches in some of the wettest years. Additionally, Spring Mountain isn't called Spring Mountain for nothing. It has a plethora of underground springs that pepper the area.
"The whole aspect of the water there is something," Skinner says. "There are some vineyards that can survive without water. They are fed by springs that flow down the mountain. It's something to be taken into consideration when planting a vineyard up there.
"Scattered springs there have been good for 100 years. Vines are not as stressed as some mountain vineyards are. Most properties have one spring or they are close to a spring."
As for soil depths, they vary but tend to be deeper than in nearby mountain terrain, although the preponderance of soil is only 20 inches deep. To the north, in the
Diamond Mountain District
, soils are almost entirely of volcanic origin. To the south, in Mount Veeder, soils are primarily sedimentary.
The Spring Mountain Distinction:
How does all of this manifest in the bottle and in your glass?
According to Skinner's research, Spring Mountain's Merlot is perhaps the most distinctive in the Napa Valley. "If you start with Merlot, you have a variety that can develop a lot of flavors, and a little bit lower sugar readings
because of its ability to ripen slowly there," he told
APPELLATION AMERICA
. "It has a different flavor with more red fruit. Some (other) areas struggle to do that because it's too warm. Merlots on Spring Mountain are very distinctive because of the moderate and long growing season."
As for the Cabernet harvest, Skinner surmises, "It can be out until the end of October under conditions that allow it to ripen, flavor-wise, without pushing the alcohol and sugar as compared to warmer areas. The Cabs on Spring Mountain tend – in good years – to have a lot of jammy, black fruit flavors and good acidity, which tends not to be available in warmer areas."
Additionally, he says, "The soils are shallow so they contribute to a lot of tannin. It's a challenge to growers and winemakers as to how to deal with their high levels of tannins."
He uses the Cabernet from the Pride Mountain Vineyard in his Sequum Four Soils red blend. Pride's Cab is grown on top of the mountain and on the boundary line that straddles Napa and Sonoma counties. The Pride grapes are the only Spring Mountain fruit Skinner uses for Four Soils, which are also sourced from the valley floor from Rutherford, St. Helena and the Stags Leap districts.
What does the Pride Cab do for his blend that the others don't? "It does have a higher level of ripe tannins and it brings something to the middle of the wine and the finish," he says. "It's not as aromatic as some of the others and has a lower aroma profile; it doesn't stand out. It's contained a little bit more and takes longer to open up. But it does give a very complex component to the wine because it has an interesting mid-palate profile. It gives t