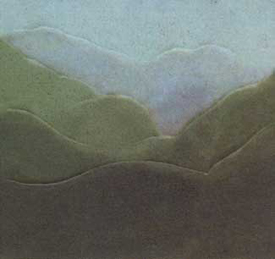 Howell Mountain ~ Napa Valley (AVA)
What is Howell Mountain?
(A) a logistical nightmare
(B) a winemaker's dream
by Alan Goldfarb
January 4, 2008
---

here
are certain obvious advantages to being the hometown boy. You know the drill: people know you, you know them; and you know your way around the block. When he was looking for his corner of the neighborhood, Dennis Johns parlayed all of these resources into a successful career on top of Howell Mountain, just above St. Helena where he grew up.
After starting out at the now defunct Hans Kornell sparkling wine house, and then moving on to Sterling and St. Clement - where he was winemaker for 18 years - Johns purchased 63 acres at elevations of 1,700 to 2,000 feet on the then little-known Howell Mountain.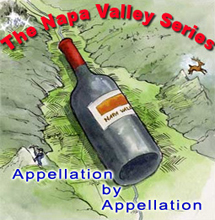 But before he did, Johns asked just about everyone he knew if Howell was the right place to throw in his lot.
"In 1989, Howell Mountain was fairly unknown except for
Randy
Dunn (
Dunn Vineyards
). It was quietly getting some interest, so I looked at this property and got every grower I grew up with to come up there. And they thought the rocky soils would be suitable for big reds," explains Johns as to why he wound up on Howell Mountain.
The next year Johns planted 28 acres and in '93 he made his first wine under the
White Cottage Ranch
imprimatur. Along with the aforementioned Dunn, Mike Beatty at Beatty Ranch, Joyce Black Sears and Jerre Sears (Black Sears Vineyard), W.H. (Bill) Smith (La Jota), Bob Lamborn (Lamborn Vineyards), and the Brakesmans (Summit Lake Vineyards), Howell began to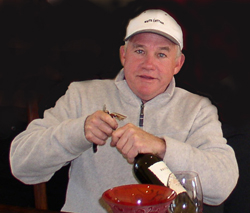 garner efficacy. In 1983,
Howell Mountain
gained AVA (American Viticultural Area) status, becoming one of the first in the Napa Valley to do so.
Today, there are about 600 acres planted by approximately 25 wineries and 20 growers. One of the salient points about Howell Mountain is that the region was laid out along boundaries of elevation, which makes it unique among the Napa Valley's 14 sub-regions.
Anyone paying close attention to the climate of Howell - as Dunn and Bill Smith did when they began discussing the parameters for their AVA - soon realizes that the fog ceases its encroachment from the Pacific at the 1,400 foot elevation above the valley floor, where Deer Park Road meets White Cottage Road. Above the fog line, something happens to Howell Mountain's fruit that makes it discernible from other mountain areas of
Napa Valley
.
Although it gets nearly twice as much rainfall as the valley below, Howell's soils tend to be dry,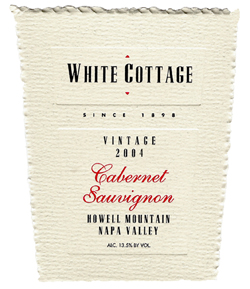 because the rocky, porous soil conditions allow for adequate drainage and less accumulation. Seasonally, cooler spring temperatures cause buds to break later than average, and warm summer nights produce fruit that demonstrates a balance between acidity and sugar.
There are two main soil types. The first consists of decomposed volcanic ash, called "tufa", and the second is red clay that is high in iron. Because both soil types are nutrient poor, they stress the vines, producing intense wines from small clusters and berries.
The conventional wisdom on top of the mountain is that Howell is harder to farm, retains less water, and yields are naturally lower.
It is from here that the black fruit seems wild and brambly and more untamed, perhaps because of the rocky soils that don't hold much water. On top of that, there seems to be a dried herb quality – perhaps sage – that lends a hand in further defining the
Cabernet Sauvignon
,
Merlot
and
Zinfandel
, that flourish up there above the town of St. Helena, the hometown of Dennis Johns.
"There seems to be this core of wild black fruit quality that's inherent in all of the wines (from Howell)," speculates Johns. As for the herbal notes, he characterizes them as being of "Wild black spices – clove and sage with black pepper. There's an intensity of fruit … and a certain minerality from the tuffs (tufa)."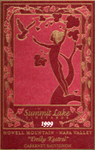 A wide selection of Howell Mountain wines
are now conveniently available
Directly from the Wineries
in the
APPELLATION AMERICA
online wine store.
Furthermore he says, "How it can be this intense and elegant just wows me. People seem to recognize (Howell Mountain wines) perhaps differently from other areas."
And in the glass?
"I can tell you that in this appellation, all the wines from all of my neighbors - the consistency of whatever or what Howell Mountain is - is stamped very hard," he says emphatically. "There's a distinctiveness that I haven't seen in other appellations.
"I'm a champion of sense of place, and it's important to have a wine that smells and tastes of these mineral and rocky environments."
Former
Duckhorn Vineyards
winemaker Mark Beringer summed up all that Howell has to offer: "Growing grapes on Howell Mountain can be a logistical nightmare. Water is scarce, cultivation is challenging and yields are low. Yet working with the grapes from this mountain is a winemaker's dream."
---
Coming up: The Final Chapter of the Series: Diamond Mountain District

Read about all of Napa Valley in the first part of

APPELLATION AMERICA

's The Napa Valley Series.
---
Photo courtesy of White Cottage Ranch