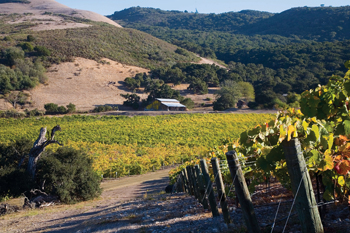 The Pursuit of Perfection:
The Evolution of
Sanford and Benedict Vineyard
by Dennis Schaefer
January 9, 2008
---

anford and Benedict Vineyard
was born out of necessity in the late 1960s, after Richard Sanford and Michael Benedict began talking seriously about "getting back to the earth," and starting a winery. At that time, the wine grape supply was not what it is today; the two partners looked around and found available and quality grapes lacking on the Central Coast. The obvious solution was to plant their own vineyard.
An independently minded contemporary,
Josh Jensen
of Calera Wine Co. fame, drove up and down the California coast looking for limestone outcroppings before finally settling in San Benito County. Richard Sanford made that same trek, with temperature gauge in hand.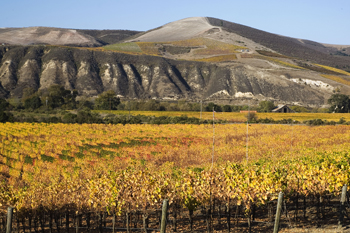 A geology major in college, he was looking for a cool climate, after studying historical weather information on both Burgundy and Bordeaux. What he found was cool fog rolling in off the Pacific Ocean at the western end of
Santa Ynez Valley
at Lompoc. The partners bought what they thought would be an ideal piece of property for their purposes and planted the vineyard in 1970, using the best practices information available to them at the time.
Although the wines were successful, the partnership fizzled in the late Seventies. Benedict bought out Sanford's interest in the winery and vineyard. It was bittersweet, but Sanford went out in 1981 and established his own eponymous label. Later, in a strange twist of fate, Sanford and Benedict Vineyard was sold to Britishers Robert and Janice Atkins, who in turn put the vineyard's fruit back in Sanford's hands, as well as selling to other quality producers. The Atkins were the sellers to
Terlato Wine Group
, which also owns Chimney Rock, Alderbrook, Episode, Rutherford Hill and Terlato Family Vineyards.
Today, the 500 acre Sanford and Benedict Vineyard has 135 acres under vine, including 66 acres of
Pinot Noir
, 51 acres of
Chardonnay
and small amounts of
Viognier
and
Pinot Gris
. The contiguous La Rinconada Vineyard is a 438 acre ranch, with 130 acres planted in 1995: 60 acres of Chardonnay and 70 acres of Pinot Noir (Mount Eden, 115, 667, and 777 clones).
A Perfect Appellation for Pinot Noir
Sanford and Benedict was the original
Sta. Rita Hills
appellation vineyard, long before there was a designated appellation. The fact that it has changed hands again demonstrates that the interest in the appellation, and acquiring acreage, is at an all time high.
For Anthony Terlato, chairman of Terlato Wine Group, "Timing is everything, and this was the time" for solidifying his position in the appellation. "We are always open to looking at opportunities to add to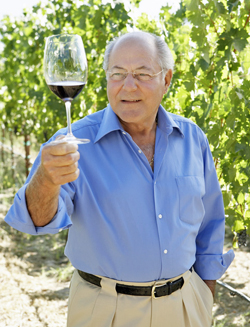 our remarkable vineyard holdings. We are focused on this marvelous planted vineyard and beginning to plan our strategy for maximizing the quality of what this unique parcel of soil can produce."
"Greatness is possible," he said, upon the formal announcement of the Sanford and Benedict purchase. He then elaborated on what he meant and his vision for the future. "During the 50-some odd years in this industry as a retailer, importer and distributor, I have been privileged to sell, taste and drink thousands of wines from numerous vintages and producers, including the 1930s and 40s, up through the current releases. If a person sees enough thoroughbred horses in his life, he can recognize one when he sees one.
"Some of the Pinot Noir I've tasted from Sanford & Benedict Vineyard (and) from Sanford and other vintners using its fruit were thoroughbreds. We know good wines can be made in this vineyard and so we challenge ourselves not just to make good wines, but to make great wines. Wines that can be put on a table with the best in the world, tasted double blind and win!"
The vineyard is, however, one of the oldest in the county and, by some accounts, is showing its age. Terlato is aware of that and is willing to spend the money in the vineyard, where it counts, using the latest viticultural thinking. "Like any great vineyard, there needs to be a logical replanting plan," he said. "Over the next seven years we will most likely replant the majority of the vineyard. I believe Pinot Noir is the point of the sword in Sanford & Benedict with Chardonnay. So, at the moment, we will concentrate on those varietals. There is no plan to graft the Viognier and Pinot Gris. Besides, I love the dried fruit flavors of Viognier.
The importance of acquiring Sanford and Benedict Vineyard was not lost on Doug Fletcher, vice president of winemaking for Terlato Wine Group; he oversees all the Terlato projects and he's taking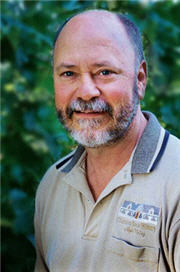 a special interest in this property. "Thirty years ago I started in the wine business by making Pinot Noir at Martin Ray, one of the first wineries in California to pioneer Pinot Noir," he noted. "It is exciting to return to making Pinot Noir after all these years and to have an opportunity to do it under such a prestigious label as Sanford. It is like having a chance to make Chambertin in California."
Terlato and Fletcher brought on Steve Fennell to become production winemaker at Sanford Winery in February of 2006. He's also delighted to be able to work with such a historic vineyard. "We at Sanford Winery are extremely excited that the Terlatos have purchased Sanford and Benedict. The family has demonstrated over the years that they are committed to producing quality wines, and they know that this begins with growing great fruit. With the Terlato family's passion for great wine and their understanding of the financial requirements of redeveloping and managing a "Grand Cru" vineyard, I believe we can make truly outstanding wines from this property," he said.
Reuniting the Vineyard with its Winery
Everyone agrees, including locals in the winemaking community, that it makes complete sense to reunite the vineyard with its original winery. "I believe the purchase of Sanford and Benedict Vineyard will be a good thing for that vineyard and everyone involved with it," offered vintner Rick Longoria, who sources fruit from the vineyard for his
Longoria Wines
. "I expect that they will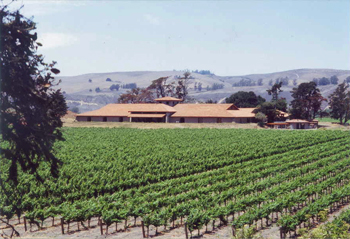 READER FEEDBACK: To post your comments on this story, click here
Print this article  |  Email this article  |  More about Sta. Rita Hills  |  More from Dennis Schaefer