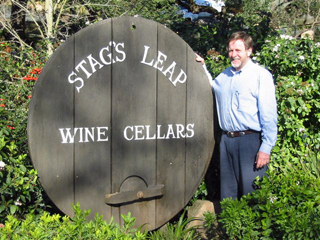 Stags Leap District ~ Napa Valley (AVA)
The Owners Have Changed
at Stag's Leap...Has Anything Else?
Senior Editor Alan Goldfarb takes a look at the changes at Stag's Leap Wine Cellars since its $185 million purchase by Ste. Michelle Estates, along with its Italian partner in this venture, Antinori. Goldfarb finds the more things change, the more things stay the same.
by Alan Goldfarb
March 12, 2008
---

s
I walk to my car with Jeff McBride, the new general manager at
Stag's Leap Wine Cellars
, a couple of tourists pass by - the man is dressed in an outlandish azure print shirt and shorts on this unusually warm late February afternoon – and nothing appears visibly different at the winery.
And why should it? Everything seems in place: The tasting room is the same, the wines are still the same, and most of the personnel are still in place. Even the tourists are the same.
Outwardly, not much has changed at Stag's Leap since the stunning sale last July of one of America's most iconic wineries. Warren Winiarski - Stag's Leap's founder, leader and visionary - still lives on the property. For another 28 months, he'll periodically give his input to SLWC's new owners and lend his expertise on every inch of the property on the Silverado Trail that he's known so intimately for the last 36 years.
McBride, who now oversees the facility's production and vineyard operations, would be meshugah, pazzo, and just plain nuts if he changes more than a hair or two of Stag's Leap, a property that he calls California's "the first growth" winery.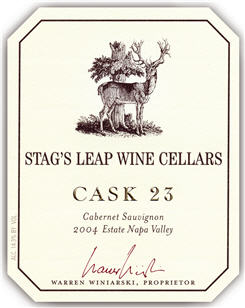 The winemaker, who has made the wines for
Conn Creek Winery
just a few miles up the Trail for the past five years, and will continue to do so, doesn't think SLWC is one of California's best wineries; he believes it's the top winery.
Count on it, the culture at Stag's Leap will change. Ste. Michelle, along with its partner in this venture, Antinori, (together they paid dearly - $185 mil – for Stag's Leap) is the nation's ninth leading wine company and moving up fast as a result of this acquisition. The company let go six of Winiarski's people, all of whom were in the sales and accounting departments.
Everyone, according to McBride, is still in place on the wine side, including winemaker Nicki Pruss, who has been at the helm for about 10 years. McBride tells me he doesn't intend to change much of anything apropos how the wines are made.
There will be a state-of-the art sorting machine that air blasts all of the MOG (the inside baseball acronym for "material other than grapes"). McBride says that the change in the winemaking infrastructure over the next couple of years will make the processing of the fruit gentler.
The changes, he insists, are "all to preserve the integrity of the estate vineyards." This must be a comfort to Winiarski, who knows that soil like few vintners do, as he disengages – albeit as a very rich man – from the winery for which, I know, his passion had no bounds.
McBride acknowledges that new sources of fruit will be added for the Hawk Crest brand, as well as the SLWC-branded
Sauvignon Blanc
,
Merlot
, and Artemis Cabernet. But the troika of signature
Cabernet Sauvignon
– Fay, SLV, and Cask 23 – that so define SLWC and its founder, with few caveats, will continue unsullied.
This is a brave stand, considering that some of those latter wines have taken it in the shorts lately.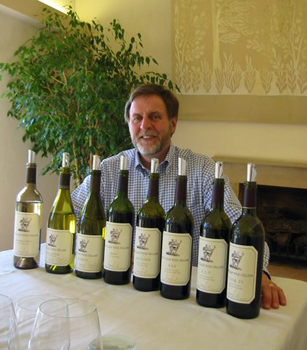 At least one influential critic (but not this one), seems to be saying, if one reads between his lines, that these wines have, in recent vintages, lost their way.
"The wines have not slipped, but there are others that are being recognized as the shining stars," is the way McBride, a soft spoken, erudite, and fine winemaker, begins to address the subject. "Perhaps they've been passed by from the critics' point of view, but there's still incredible brand loyalty."
"I don't think that these wines speak to some of the critical analysis that they've received, as something you want to be proud of," he continues, when I press him further. "However, the most important mission is to take away those evaluations over time, so that those evaluations will never occur again.
"It's not that I condone or admire the critical analysis, but I do pay heed to it. We can't work in a vacuum."
I tasted those wines from the 2004 vintage (made long before the sale), and on balance, they are everything you'd want in world-class (read expensive) Cabernets from a wonderful vintage. The most high-priced of the three, the Cask 23 at $175, has the entire package from SLWC's storied estate vineyards. If I have a quibble, it's that the finish falls off somewhat precipitously, although McBride attributes that to its youth.
The Fay ($80) packs the most power and balance – and the least amount of stated alcohol, 13.9, of the trio – and subsequently, is my favorite.
Nonetheless, after all that, McBride tells me it would be imprudent not to take a closer look at how the company, in going forward, intends to produce those wines.

"We want to give (them) a new set of clothes and enhance those vineyards. (So), it shouldn't be construed that it will be status quo," he says. He also insists that prices in the short-term won't increase. "We hope it will be recognized as an enhancement. … You won't see changes in style."
So, as yet another small Napa Valley family winery gets enveloped by bigger commerce, I can only hope that the sensibility and tenor remain.
---
Photos by Alan "Sharpshooter" Goldfarb