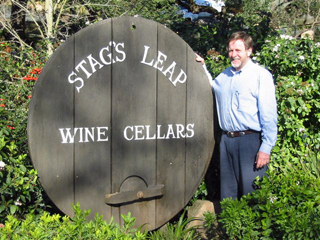 Stags Leap District ~ Napa Valley (AVA)
The Owners Have Changed
at Stag's Leap...Has Anything Else?
Senior Editor Alan Goldfarb takes a look at the changes at Stag's Leap Wine Cellars since its $185 million purchase by Ste. Michelle Estates, along with its Italian partner in this venture, Antinori. Goldfarb finds the more things change, the more things stay the same.
by Alan Goldfarb
March 12, 2008
---

s
I walk to my car with Jeff McBride, the new general manager at
Stag's Leap Wine Cellars
, a couple of tourists pass by - the man is dressed in an outlandish azure print shirt and shorts on this unusually warm late February afternoon – and nothing appears visibly different at the winery.