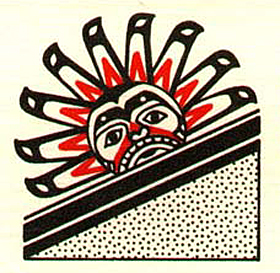 The Sun Shines Bright
On Klipsun Vineyard
David and Patricia Gelles named their vineyard with a Chinook Indian word for sunset, but their fruit is never in the shadows. They planted grapes on Red Mountain more than 20 years ago, and they've been reaping high praise ever since.
by Anne Sampson
April 18, 2008
---

he Cascade Mountains
bisect Washington State like a stripe painted down a two-lane highway. Life on one side of the divide is wet – cool, rainy, coastal. On the other side, sunshine reigns. The arid shrub steppe of Eastern Washington burns hot and dry for a good part of the year. Sagebrush anchors miles and miles of untouched, sandy earth, and native grasses compete with wild jackrabbits and rattlesnakes for the land's resources.
At least, that's what it looked like in 1982 when David and Patricia Gelles planted
Klipsun Vineyard
. Today, Klipsun's 120 acres of grapes are part of a patchwork of vineyards scattered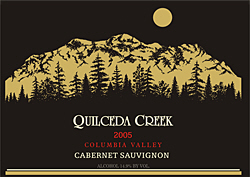 across
Red Mountain
, the smallest AVA in the state and birth place of some of Washington's most legendary wines, many of which are made on the damp west side of the state. But when winemakers like Paul Golitzin of
Quilceda Creek
or Chris Camarda of
Andrew Will
go looking for fruit, they look to the east. The Gelleses are among the first they call.
Red Mountain's name is somewhat misleading. The mountain is little more than a huge sandy hill rising out of the Columbia Basin, just west of the Tri-Cities of Richland, Kennewick and Pasco. Its name comes from the rust-hued native grasses blanketing its surface, although it also conveniently evokes a picture of the prized red wines that grow there. The AVA encompasses 4,040 acres, but only about 700 are planted, the rest left untouched while potential vintners hope for the release of more water rights. Like much of the Northwest's agricultural land, water here is scarce. Those who have access to it, the early growers like the Gelleses and neighboring vineyards Kiona and Ciel du Cheval, have the ability to take a rough piece of earth and turn it into a gem.
And Klipsun is among the mountain's crown jewels. In 2002, the vineyard was included in a list of 25 of the top vineyards in the world by
Wine & Spirits Magazine
. It was the first of several Washington acreages to receive such acclaim. Klipsun grapes flavor bottles from a venerable list of wineries – L'Ecole No. 41, Owen-Sullivan, Betz Family Winery, Delille Cellars, Seven Hills, and Januik Winery, to name a few, along with Quilceda Creek and Andrew Will. The fruit is powerful, concentrated and structured. These grapes command some of the highest prices in the state, and are often used judiciously in premium blends, where the best elements of the fruit can create a wonderful harmony. "Quilceda Creek is a prime example of that," David Gelles says.
In its earliest seasons, the vineyard was heavily weighted with whites. "In 1982 we made the decision to plant only those grapes whose wine we were willing to drink, in case we didn't sell all the grapes," David recalls. "People tried to convince us to plant Riesling and Chenin Blanc, but we ended up planting
Sauvignon Blanc
,
Chardonnay
,
Cabernet Sauvignon
, and a year later, some
Semillon
."
The earliest harvests came in full and strong, and they had no problem selling the grapes. But as the vineyard expanded, the Gelleses turned more and more to red varieties.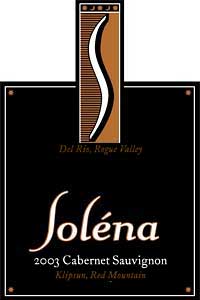 Part of that decision reflected their earliest business plan, to grow only the wines they like to drink, but a big part reflected the growing recognition among winemakers that Red Mountain was producing some of the best red wines, in particular Cabernet Sauvignon, in the state. Red Mountain growers have learned to treasure their appellation's long hot growing season, significant diurnal variations – the swings between daytime highs and nighttime lows - and meager rainfall. The mountain is a paradise for complex red wines. Today, reds at Klipsun outweigh whites by five to six.
"As we expanded, we only expanded with red," Patricia says. "We planted more Cabernet, more Merlot, and then in 1996 we had a pretty bad winter." A deep freeze destroyed a good portion of the Washington grapes that season, and left Klipsun with only 10 percent of its normal crop.
"Our Chardonnay was knocked to the ground," she says. They replanted a small portion, but eventually pulled it all out. "In a hot year, Chardonnay is too hard to grow on Red Mountain. It's really a cold-climate grape. It does better up the valley."
"In a cooler year we could grow Chardonnay that was about average, but we weren't interested in growing something that was just average," David continues. "So eventually we pulled out the Chardonnay and replaced it with
Syrah
and Cabernet."
Moral: Stick to Your Own Roots
The 1996 freeze devastated much of the industry, but it also revealed one of Klipsun's strengths. Unlike many American vineyards, Klipsun vines are planted on their own rootstocks, enhancing the distinctive character of the fruit. But it also enables the vines to survive a killing freeze. "You get back what you put into the ground," Patricia says.
The vineyard today encompasses 120 acres, spread across the low rolling base of the mountain. Vines at higher elevations can more easily survive a winter cold snap, but "we chose to grow on the hillside because it's so much easier to grow on the flat," David says.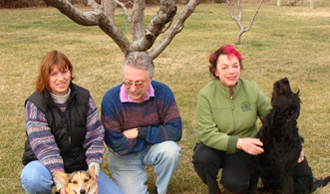 The vines are trellised in a vertical shoot position, but an unusual offset pruning gives them a little extra protection from the sun. The tops of the cordons are aligned facing each other and only a hand width apart, explains vineyard manager Julia Kock. "You end up with this wonderful opening at the top, so the vine is exposed to dappled light from the top of the canopy. There's more sun to help ripen the fruit, but you don't get any sunburn. And it's great for air moving through the canopy. Our vines don't look like other systems, but they do very well for where they are."
Kock took over management of the vines in 2005, and she focuses on maintaining the quality of the fruit without disturbing its natural strengths. "The old vines have kind of come to equilibrium," she says. "They just do what they're going to do. My job is not to over-manage it."
Kock is implementing sustainable viticultural practices wherever she can, eliminating chemicals and instead opting for organic solutions to problems. She recently covered an eroding hillside with a mixture of wildflowers