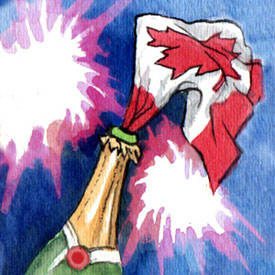 Canada Sparkles
If you think Canada = Icewine, you'd be right.
If you think of Canada for world-class sparkling wines, you'd be right again. Really.
by Tony Aspler
July 11, 2008
---

ot since
New Zealand hijacked the Sauvignon Blanc grape has one country so successfully dominated the international market with a wine style. That's what
Canada
has managed to accomplish in a mere decade or so with Icewine.
Eiswein is a German invention that dates back to the late eighteen century when a freak drop in temperature froze the Late Harvest grapes in Franconia before they could be picked. Today true vine-frozen Icewine (Eiswein) is made in Germany, Austria, Czech Republic, Hungary, Luxembourg, New Zealand, Romania, Slovenia and Switzerland; but it is Canada that has co-opted Icewine and made it its own.
Icewine comprises a good 80 per cent of Canadian wine exports. It was originally made from Vidal or Riesling, but today you can get it in virtually every variety that's planted. You want Semillon Icewine? Pillitteri has it. Chenin Blanc? Inniskillin Okanagan. Shiraz? Konzelmann. Meritage? Royal de Maria.
But you cannot sustain an industry in the long term on a single wine, especially one that has its major market in the Far East. China will soon be making Icewine in its own vineyards. And when that happens, they'll be undercutting the price mightily for the rest of the world.
A Sparkling Alternative to Ice

I have always believed that Canada should be a major producer of sparkling wines. In many vintages growers cannot get optimum ripeness to produce balanced table wines; but the grapes for sparkling wines are picked with lower sugars and higher acids than table wines.
---
The following chart prepared by Hanno van Schalwyk and Eben Archer from the Department of Viticulture and Oenology at the University of Stellenbosch shows the grape composition components that determine optimum ripeness in various wine styles.

Wine type
Sugar Concentration
(°Brix)
Acid Concentration
(g/l)
pH
Sparkling wine
18.0 - 20.0
7.0 - 9.0
2.8 - 3.2
White table wine
19.5 - 23.0
7.0 - 8.0
3.0 - 3.3
Red table wine
20.5 - 23.5
6.5 - 7.5
3.2 - 3.4
Sweet wine
22.0 - 25.0
6.5 - 8.0
3.2 - 3.4
Dessert wine
23.0 - 26.0
5.0 - 7.5
3.3 - 3.7
---
E
ven in poor years Canadian growers can achieve the requisite sugar and acid levels for sparkling wines. So why don't we play to our strengths? The sparkling wine category is growing internationally - the Champenois can't keep up with demand and are not only planting new vineyards but are looking north to Sussex and Kent in England to buy vineyard land.
The move to sparkling is already beginning to happen in
Nova Scotia
. A key player is French winemaker Rafael Brisbois, whose resumé includes making Champagne for Piper Hiedsieck, starting up the Omar Khayyam sparkling house in India, consulting to Iron Horse and Piper Sonoma in California and Blue Mountain in BC. Brisebois is now working with
Benjamin Bridge Vineyards
, a new winery in Nova Scotia's Gaspereau Valley. Ontario's Peter Gamble, who is also consulting on the project, believes that Nova Scotia could soon be making sparkling wine in the classic Champenois style. "You're getting minerality as opposed to fruit here. It has tremendous potential. We're planning to leave (our) wine six or seven years on the lees. The objective is to make something on the level of Grande Marque champagne. We haven't even disgorged the 2002 Brut Reserve. We're still tasting off the lees."
Planted in Benjamin Bridge's 27-acre vineyard are the grapes the Champenois use - Chardonnay, Pinot Noir and Pinot Meunier, each on three or four different root stocks and three or four different clones. Brisbois and Gamble have also done sparkling wine experiments using Vidal and L'Acadie Blanc (a variety unique to Nova Scotia). The wines I tasted from 2002 and 2004 are stunning and could stand up proudly in a blind tasting of Champagnes.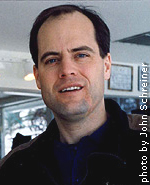 Bruce Ewart, former winemaker at BC's Hawthorne Mountain and Summerhill, now has his own totally organic winery,
L'Acadie Vineyards
, located five minutes outside of Wolfville, Nova Scotia. True to the name, Bruce makes bottle-fermented sparkling wine from this winter-hardy varietal.
Perhaps Nova Scotia will ultimately rival and surpass
Ontario
and
British Columbia
whose winemakers are doing a great job with sparklers made by the Champagne method. If you haven't tried Henry of Pelham Cuvée Catharine (both white and rosé), Château des Charmes Brut, 13th Street Blanc de Noir or Hillebrand Trius Brut from Ontario, you're in for a treat.
The Speck brothers at
Henry of Pelham
made their first bubbly in 1992. "We spent some years perfecting the art and the vineyards," recalls Paul Speck, "and produced Cuvée Catharine Brut and Brut Rosé in 1999. It was released in 2002 after 30 plus months in the bottle."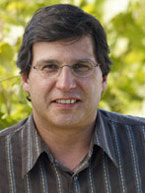 Henry of Pelham currently produces around 50,000 bottles of both sparklers. "Our belief in sparkling grew from the viticulture fact that Chardonnay and Pinot Noir are two strengths for Niagara. Both are very consistent from year to year for table wines. They winter well and can be relied on to produce great wines every year. Despite what many people think, I believe Chardonnay is our best white.
"Since we pick sparkling wines slightly immature, they not only make sense for the region but most importantly make sense for the wines. Great acidity with lots of ripeness. We also can thin vineyards that then make our Reserve Chardonnay and Reserve Pinot Noir and Speck Family Reserve wines."
Out in western Canada, the best sparklers you