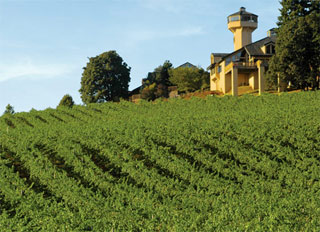 The Willamette Valley
Pinot Noir Story
The producers of Willamette Pinot Noir have a 40-year track record and with new clones in the ground, and newly designated sub-appellations that they feel will transcend marketing stratagems, they are ready to face the future.
by Alan Goldfarb
August 4, 2008
---

ain? What rain?
Criss-crossing the two-lane country roads in the verdant northern
Willamette Valley
of Oregon at the very beginning of summer, I was awestruck by the beautiful weather. Not at all what I had expected.