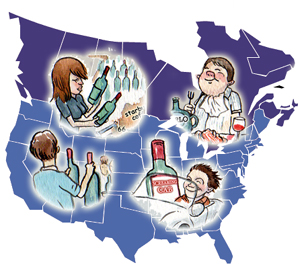 Best-of-Appellation™ Evaluation:
Seeing the Need, Part I
Building Diversity
Despite the endless roll out of over-generalizations and trend revelations in the media, there is no "typical" North American wine consumer. As an industry, we disrespect their diversity at our own peril.


by Roger Dial
October 28, 2008
---
A
PPELLATION AMERICA
's Best-of-Appellation™ Evaluation Program is designed to repair the chronic disconnect between the structure of the wine industry in the US and Canada, as it has developed through diversification over the last four decades, and our under-developed appreciation of how to effectively market that diversity.