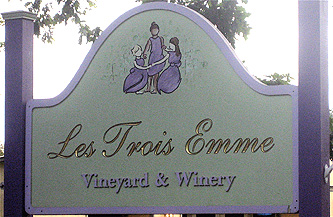 Massachusetts (State Appellation)
Les Trois Emme:
Finding a Niche in the Berkshires
As realtors say, it's location, location, location!
by Eleanor & Ray Heald
November 25, 2008
---
Appellation America:
What varieties are you growing in your Berkshires location vineyard?
Wayne Eline (WE):
Seyval Blanc
, Cayuga White and
Marechal Foch
(often referred to simply as Foch) and Chancellor (which was severely pressured by powdery mildew and subsequently grubbed in 2007). The first three varieties are produced as stand-alone varietal wines, selling for $15.
AA:
Did you try Chambourcin?
WE:
I was tempted to, but we decided that we'd stick to the three varieties that were doing well.
AA:
Don't you also make wines from elsewhere outside Massachusetts?
WE:
Currently, I lease three vineyard acres in the
Seneca Lake
AVA of the Finger Lakes for Cayuga White. While waiting for these vines to produce a sizeable crop, I'm buying this variety from Hazlitt Vineyards (on the east side of Seneca Lake). We make a significant amount of Cayuga White wine.
AA:
What, in your opinion, has improved the image of Cayuga White as a wine?
WE:
Cayuga
came out of Cornell University in 1948 and I believe it has changed over the years, so that today,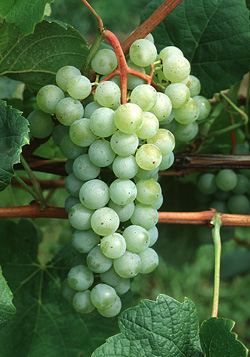 we're purchasing newer clones of the variety. Viticulturally, we've learned to grow it better and winemaking methods have certainly improved as people pay more attention to it.
AA:
You've been successful with hybrid plantings and wine, but what about Riesling in the Berkshires?
WE:
I just planted 150 vines to find out. In some years, we get a lot of rain. We'd like to be as successful with the variety as the Finger Lakes AVA.
AA:
Do you plan to expand beyond your three-acre vineyard in the Berkshires?
WE:
Financially, I can't. When I bought the land, I paid $1,000 per acre and now land sells for $45,000 to $80,000 per acre. People are buying what was former dairy land to build summer homes. Eighty percent of the taxes paid in our town (New Marlborough, Mass.) are paid by people with second homes.
AA:
Does the area have a winter advantage also?
WE:
There are four ski areas within 20 miles. But that does not help us as a winery. People ski during the day when we'd be open. Our best tourist months for winery visitors are July 4 to the week before Thanksgiving.
AA:
You're giving us the impression that you're not in this from a business point of view.
WE:
From a business aspect, it's nothing. If you're looking at what it has done for us, it's fantastic. There's a serendipity to this whole venture. I challenge anyone who asks, show me another couple with five children, all in their 40s, who have a common goal with their parents – and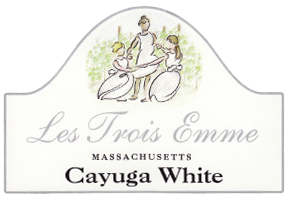 that goal is here. They want us to make enough money so that they can leave their jobs and come and work here. Only one of our children does not espouse working here eventually. There's a whole additional business waiting to happen.
AA:
What is that?
WE:
Would you believe weddings? People want to get married on the hill above the winery, within view of the vineyard. To capitalize on this, we need a full-time person to manage that aspect of a secondary business.
AA:
To increase Les Trois Emme production, what grapes do you buy from California?
WE:
We do have a California connection and purchase Cabernet Sauvignon, Syrah and Old-Vine Zinfandel from the Hopland area (Mendocino AVA) and Centurion from Lodi.
Authors' note:
APPELLATION AMERICA
'S GRAPE INDEX comments on Centurion: "Looks like you will just have to be content with dull old seats on the Central Valley town council." Based on its success in a Les Trois Emme blend, it may be time to look at this grape variety in a new light.
AA:
Are these varieties blended or are they stand-alone varietals?
WE:
Les Trois Emme Shiraz-Cabernet is a 60/40 blend: Cabernet Sauvignon which we age in oak for 18 months, and a gold-medal winning Old Vine Zinfandel.
AA:
How did you make a California connection?
WE:
It began with a middleman, but we had essentially no control over quality. Then I met a grape sales manager from Brutocao Cellars in Hopland, Calif. We now have a direct source for better grapes and one of my sons takes the opportunity to check on grape quality at the source. We have a gentleman's agreement.
AA:
Under what quality conditions are the grapes shipped to Massachusetts?
WE:
Ten tons are picked and the temperature is dropped to 38 degrees for shipping. In 1,000-pound containers, it arrives here in three to four days. Juicing that occurs in the container bottom is analyzed to check soundness when it arrives. It has not started to ferment.
AA:
What are the biggest challenges?
WE:
Growing our own grapes is the biggest challenge. The second is the Massachusetts wine laws. The legislature is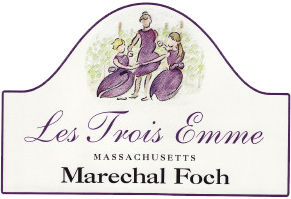 unfriendly to the 25 farm wineries in the state, half of which make only fruit wines. For years, the major state distributors have had their way when wine laws have been written. We cannot sell our own wines off this property. We can sell wine to a retail store because we've purchased a distributor's license. We are not allowed to have wine festivals. Sure, we can go to wine events in Boston and pour our wine, but we can't sell it there.
That's why two years ago, I encouraged the formation of a wine association under the name Massachusetts Farm-Winery Producers and Growers and we have our own lobbyist.
AA:
And the advantages of a western Massachusetts winery in the Berkshires?