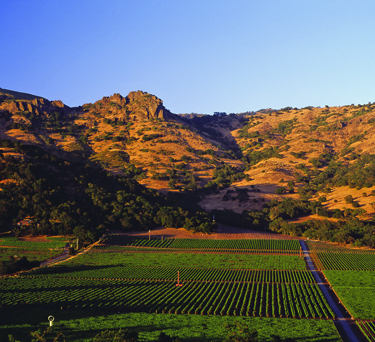 Idle or Vital: It's your vacation
Wine country tourism is really about the diversity a region presents visitors. Each region has differences. Certainly the wines and winemaker; but also the accommodations, the flair and style of their regional foods to the natural or historical attractions present. That total experience is what fuels the intrigue of visitation.
by Mike Ribaudo
January 6, 2012
---
<!> Any late Friday afternoon you arrive at your destination—a winery that creates a bond between the environment and the self. Kicking back on porch with your feet up in the air, a cool breeze rushes past your body temporarily cooling the warm grapefruit-size-sun that is setting in the background of the lovely vineyards as they're motioning to and fro in the distance. To one side is a tasty, savory Pahrump Valley Wine Symphony which is a very unique and rare find, soothing your taste buds as the flavor profile explodes with every sip and to the other side is that one book or magazine that you have been dying to read but haven't had the time read or even glance at. Even though you may not finish that book at least you know that you brought it with good intentions and it's actually a symbol for positive relaxation, rest and recharging that will be in effect as that's the common thought of going on a wine vacation.  Soon the day's end will come and an excellent meal waits as the kickoff to a much deserved relaxing weekend, your perfect wine vacation.
You come into your vacation with the notion that you will enjoy the spa and massage you've set up for your relaxing getaway yet something comes over you as the opportunities to experience much more than just staying in your B&B, a quaint Victorian set on the hillside. The activities that are out there are in abundance as you get that urge, a vivacity to play 18 holes and bike out to the far reaches of the county roads and maybe play a few sets with the neighboring visitors. The perfect vacation is the ability to be able to choose to make your getaway sporty and active or resting and relaxing. The great food and wine is a staple of any holiday out to the vineyards. With your Pahrump Symphony you can absorb yourself in clever cuisine as a seared Alaskan Halibut in a beurre blanc sauce with avocado relish compliments a unique wine with unique flavors. Whatever you think a perfect wine vacation is, it's out there for you to experience since there is no limitations on the activities provided. One day you can be immersed within pampering yourself while the next day you can push your body to the limits by activating the energetic side and complimenting the previous day of rest with a day of action.
To say that a weekend is more than enough to experience one winery or a small group of them in one area is just the start to experiencing as many as you can. The weekend escape to a beautiful area where the food is extravagant, the views are top-notch and the wine is more than your beverage. There are infinite perfect getaways out there as you could take every other weekend to immerse yourself in the offering s of different wineries within different appellations. Depending on what time of the year you'd like to go, any season will create a special get away. Whether a fall excursion with the changes of the colors of leaves from trees in north of New York's Hudson River Valley and Catskills, as the sea air is funneled through sheer palisades giving an exceptional blend of air and water and where delicate European grapes thrive you can experience a Cabernet Franc. On the flip-side travelling in spring warmth where you're accompanied by your special someone to initiate relations of new beginnings within that sweet aromatic air of Pahrump Valley as their unique Symphony wine details an exclusivity to your trip. There are plenty of elite destinations with top-drawer distinctive wine varieties in complimentary form to caress your body and enrich your soul.