---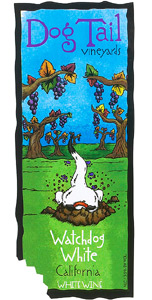 Dog Tail Vineyards
NV Watchdog White
(California)
I first encountered the Symphony grape in Hawaii (where it actually grows on the Big Island). I had moved there from Manhattan to get away from it all for a while. As a sommelier at Windows on the World I had the opportunity to taste the best wines from new world producing regions, but the real prize was cutting my teeth on the classics – Bordeaux, Burgundy, great German Rieslings, and so on. What was I thinking, heading to the land of pineapple wine? What I learned after a bit of research, though, was like many other areas of the world that are spectacularly beautiful but not suitable for vineyards, they bring grapes in on tankers! If Malta didn't do this with copious amounts of Southern Italian grapes, they wouldn't have a wine industry.

The Symphony grape, which only makes up 10% of this non-vintage blend, is a cross between Muscat of Alexandria and Grenache Gris that was developed in California in the 1960's. To the blend (the remaining 90% is Chardonnay, which very well could have made just another innocuous wine) it adds tantalizing notes of guava, tangerine, watermelon, pineapple, hay, and candied violet. The wine is soft and fresh like a summer breeze, and has a very pleasant, tingly finish.
Reviewed January 17, 2007 by Catherine Fallis.
Other reviewed wines from Dog Tail Vineyards
---
Winery: Dog Tail Vineyards
Vintage: NV
Wine: Watchdog White
Appellation: California
Grapes: Chardonnay (90%), Symphony (10%)
Price: 750ml $8.99



Catherine Fallis

Founder and President of Planet Grape LLC, a company committed to bringing the joy of wine, food, and good living into the lives of everyday people, Catherine is creator of the "grape goddess guides to good living," a series of books, television presentations, seminars, and e-learning programs. The fifth woman in the world to become a Master Sommelier, grape goddess Catherine Fallis is still very much down-to-earth.