---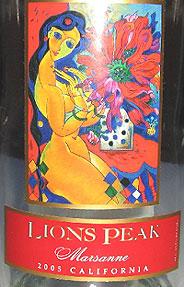 Lions Peak Vineyards
2005 Marsanne
(California)
The experience of this wine starts out with an incredibly eye-catching label, from a painting called "Beauty and Flowers," by an artist named Jiang. It is exceptionally captivating. Fortunately, the wine lives up to the packaging. The labels for this winery are always magnificent: owners Ken and Jennifer Soni admire fine art and aspire to make wine that matches their ardor for perfection. He's a dentist and she's, well, a winemaker. Their tasting room in Paso Robles is a converted bank: something of an oddity in Paso Robles, but let's face it, how many banks fold and leave you their beautiful wooden counter complete with mirrors? It has a very chic feel that complements their wine very well.

The nose on this wine is incredibly honey-rich, with aromas of baked Bosc pears and butterscotch. There is a faint hint of botrytis. On the palate, this could easily be a baked pear and walnut crisp or an almond and apricot tart. It's dessert-like, for sure, but not sweet. The ripe pineapple finish is very satisfying: in fact, everything about this wine is big and robust. Not a slender white girl, this. It's not Audrey Hepburn or Faith Hill. No, it's more like Bette Midler or Aretha. This wine is built like the woman on the label: gorgeous, curvy, and so well-endowed that she hasn't seen her feet in years.

You won't need to see your feet with this one – you only need to see your glass. And add a slice of apricot stilton with a lovely crisp flatbread, and you'll be all set.

(Alc: 13.5%, Retail: $20)
Reviewed February 15, 2007 by Laura Ness.
Other reviewed wines from Lions Peak Vineyards
---
Winery: Lions Peak Vineyards
Vintage: 2005
Wine: Marsanne
Appellation: California
Grape: Marsanne
Price: 750ml $25.00



Laura Ness

A wine writer and wine judge for major publications and competitions around the country, Laura Ness likens wine to the experience of music. She is always looking for that ubiquitous marriage of rhythm, melody, and flawless execution. What is good music? You know it when you get lost in it. What is good wine? It is music in your mouth.