---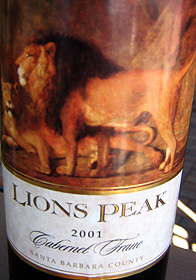 Lions Peak Vineyards
2001 Cabernet Franc, San Miguel
(Santa Barbara County)
It's rare to find any 2001 Cabernet Franc available for sale in California, so if you are a fan of this varietal, this might be a wakeup call to make a purchase. And you don't need to age it any longer, although it still has some distance to go. There's still a bit of tannin left here, and a nice core of acid, which thank goodness, characterized the 2001 vintage in CA.

Thus, the flavours exhibited by this wine are quite like those of their French cousins from Chinon, on the Left Bank, and that would be France. Sourced from the rather significant family planting (that would be grapevines) south of San Miguel, Jennifer and Ken Soni have one of the oldest vineyards in the Central Coast. Their estate, of 120 acres, is just a few miles from the Mission San Miguel Archangel, founded in the 16th century by Franciscan Padres. The vineyards are planted on hillsides at 1200 feet above sea level.

But…back to the wine. The aromas are perfumey cherries, raspberry-laden, with big hints of mint and lavender, and the flavours are an elegant melange of pie cherries, bright raspberries, tarragon, cedar, chervil and breakfast sausage well-made with dill and fennel. It's pure Franc: lean and clean with that wonderful arrow-straight swoosh across the palate, cleansing it of everything, and leaving nothing behind to get in the way of the next bite. The finish is lovely and smooth, leaving nary a trace, like a butler (think Peter Whimsey) with white gloves. Quaff this with a nice filet of buffalo or perhaps a few well-seasoned sausages accompanied by sautéed fennel and leeks. It would also do handsomely with a roast beef and truffle-cheese panini on sourdough with a slathering of cilantro-basil mayonnaise.

Bear in mind that this wine also only $28, and the going price for most Francs these days is north of $40.
Reviewed December 7, 2007 by Laura Ness.
Other reviewed wines from Lions Peak Vineyards
---
Winery: Lions Peak Vineyards
Vineyard: San Miguel
Vintage: 2001
Wine: Cabernet Franc
Appellation: Santa Barbara County
Grape: Cabernet Franc
Price: 750ml $30.00



Laura Ness

A wine writer and wine judge for major publications and competitions around the country, Laura Ness likens wine to the experience of music. She is always looking for that ubiquitous marriage of rhythm, melody, and flawless execution. What is good music? You know it when you get lost in it. What is good wine? It is music in your mouth.