---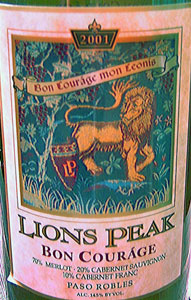 Lions Peak Vineyards
2001 Bon Courage
(Paso Robles)
Blends, in this taster's opinion, show a winemaker's true colors. You can really discover what kind of palate a winemaker possesses by peeking into their blends. While this is not a far out or unusual combo by any means — it's actually a pretty nice Right Bank Bordeaux experience — this wine really is a classic.

In fact, I think of it as a "holly & ivy" wine — replete with nice berries and spice, featuring tart cranberries and dried cherries, currants, and an enticing hint of cinnamon and nutmeg. Aromas are of cedar and cigarbox: the texture is firm, yet smooth, like merino wool. With some age on it now, this wine starts out lean and terse, like a conversation with an economist, rather than a philosopher. However, as it opens up, it gets smoother and more delightful, and begins waxing professorial. The sophisticated coffee finish is quite rewarding: all that aging on 100% French oak really pays off. So many Paso Robles Cabs and Merlots lack balance and complexity: yet this one has it all.

I liked this wine so much when I tasted it for the first time two years ago that I brought it to my 50th birthday dinner. It is just about perfection now, especially if served with grilled London broil, topped with sautéed onions and mushrooms that have been finished off with balsamic vinegar and a splash of fine olive oil. Winemaker Jennifer Sonni says Bon Courage reminds her of the Merlot-dominated wines of Pomerol and St. Emilion. Can't argue with her on that one. Bon appetit!

(Alc: 14.5%, Retail: $35)
Reviewed March 12, 2007 by Laura Ness.
Other reviewed wines from Lions Peak Vineyards
---
Winery: Lions Peak Vineyards
Vintage: 2001
Wine: Bon Courage
Appellation: Paso Robles
Grapes: Merlot (70%), Cabernet Sauvignon (20%), Cabernet Franc (10%)
Price: 750ml $35.00



Laura Ness

A wine writer and wine judge for major publications and competitions around the country, Laura Ness likens wine to the experience of music. She is always looking for that ubiquitous marriage of rhythm, melody, and flawless execution. What is good music? You know it when you get lost in it. What is good wine? It is music in your mouth.