---
Vellum
2009 Vellum Black
(Napa Valley)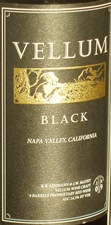 Vellum Wine Craft winemaker Karl Lehmann and partner Jeff Mathy have set out on a different path than most Napa Valley producers of Cabernet Sauvignon and Petit Verdot, one inspired by the wines of St. Julien and seeking moderately low alcohol. The 2009 Vellum Black is their first release of Petit Verdot and the beginning of a long term program to ajoin their Cabernet Sauvignon offerings.
Vellum Black is comprised of 85% Petit Verdot and 15% Cabernet Sauvignon, used to add structure and bring the wine back to mid palate. Lehmann is looking for a certain austerity in Petit Verdot that will lead to beauty over time. Notes of blueberry, wild blackberry bramble and tabacco are there to be found with a tannin finese, like finely woven linen, dropping over you.
Bottled unfiltered and unfined this wine will pair very well with lamb or beef selections and can be counted on for definite ageworthy capacity.
Reviewed January 13, 2013 by Roger King.
Other reviewed wines from Vellum